8 Tips for Renting a Storage Container
When it comes to renting a shipping container (also known as an ISO container or CONEX box), most businesses prefer to rent instead of buy. It's more affordable and convenient. Besides, not everyone wants to own a huge steel box! But before you start shopping for rentals in your area, read these helpful tips. You don't want to make a rental mistake you will regret.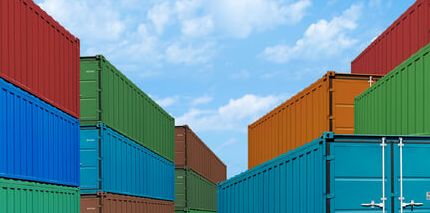 1. Find out if you need a permit.
Permitting requirements will vary, based on your city, county and neighborhood codes (if applicable). In most cases, if the container is not going to be a permanent structure on your property, you will probably need to obtain a temporary use permit. But in some cases, a permit may not be required.
The general rule of thumb is this: If your property is near a residential area, the permitting requirements will usually be stricter. Not everyone likes staring at a steel container from their kitchen window. But if your property gets low traffic or is located in a rural area, the legal requirements will usually be more flexible.Common city requirements include:
A 90-day maximum on your property
Placement must be 5 to 15 feet away from the property line
No graffiti
Most local container suppliers will be familiar with the legal requirements for your area. But it is always a good idea to contact your local authorities, just to be sure. Read our article: Storage Container Permits.
2. Find out the delivery fee.
One area where hidden fees can quickly add up is in the cost of delivery. The delivery fee is usually determined by the mileage between the container and your property. The greater the mileage, the more you are going to pay.Many suppliers charge a flat fee for anything within a 60-mile radius of their location, then increase their rate per mile for anything outside of that radius. Be sure to get quotes for delivery before signing a contract with any seller/supplier. The cost of delivery can make a huge difference in your total price. Learn more about Storage Container Delivery.
3. Decide how long you need the container.
Some suppliers offer better rates if you sign up for a long-term contract. Other suppliers offer a rent-to-purchase option for long-term rentals. If you're not sure how long you will need the container (as your needs may change), ask your supplier if they offer a month-to-month contract.
Be sure to find out how much advance notice the supplier requires to terminate a contract. Many suppliers are flexible and will allow you to extend the rental contract beyond the initial term with enough notice. But in some cases, the monthly rate may be adjusted to reflect market value.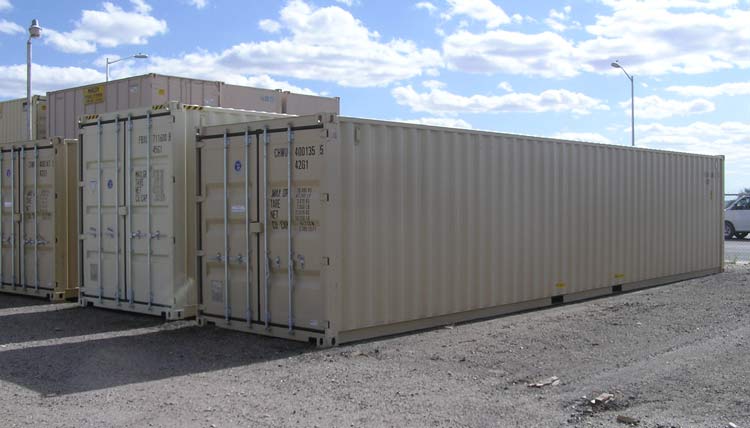 4. Figure out what size you need.
Storage containers come in two standard lengths: 20 footers and 40 footers. But some suppliers offer customized sizes. These sizes are created by either cutting the containers down or welding them together. Keep in mind that non-standard sizes usually cost more.Standard container dimensions:
20' long x 8' wide x 8'6" tall (160 sq ft)
40' long x 8' wide x 8'6" tall (320 sq ft)
Custom dimensions (varies per supplier):
15' long x 8' wide x 8' 6" tall (120 sq ft)
25' long x 8' wide x 8' 6" tall (200 sq ft)
45' long x 8' wide x 8' 6" tall (360 sq ft)
Some suppliers offer an extra wide option that is usually 10 feet wide. The additional 2 feet of width allows two wooden pallets to be stored side by side and still provides a walkway between them. If you have bulky machinery or equipment that won't clear an 8-foot entrance, you might consider the extra wide sizing.
Unsure of what size conex box will accommodate your cargo? Read: How Much can a Storage Container Hold? Remember, you can always talk to a few local suppliers. Many of them have years of experience in the industry and can help you determine the right size for your business.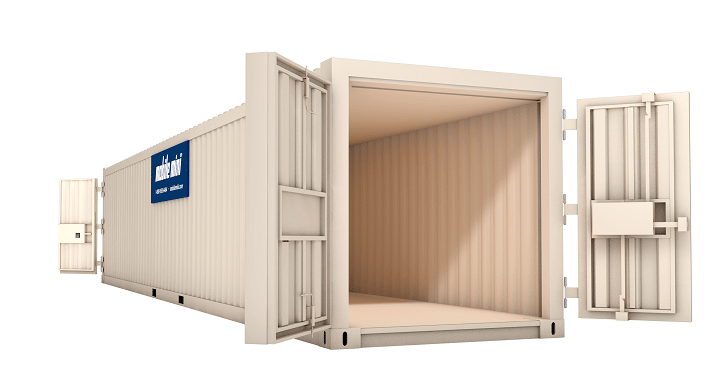 5. Determine what features are important to you.
Many suppliers offer a wide range of features, commonly known as 'add-ons' that can be included for an additional fee. Some of the most common features include:
Premium locking mechanism
While most containers come with a standard lock, some suppliers offer an advanced locking mechanism. This is usually an internal locking system that works very similar to a bank vault. Unlike a standard bolt lock that can be cut through by a determined thief, the advanced lock can only be accessed with a key that will release the internal mechanism. In other words, you can't break into it from the outside. If you are planning on storing expensive machinery or equipment, it might be worth investing in a good lock.
Doors
Another popular feature of storage containers are the different types of doors. Many suppliers offer the option of single or double entry doors. If you plan on accessing the container on a regular basis and will need to load/unload items from both ends of the container, a container with a double entry might be a good fit for you. In the retail industry, for example, there is often a need to access fall/winter items on one side of the container and spring/summer items on the other. Double entry doors allow you to avoid the hassle of climbing over piles of inventory you don't need in order to get to the ones you do need.
Some suppliers also offer an option of single or double doors, as well as roll-up doors or open/shut doors. Depending on the type of items you plan on storing, you might want to consider a specialized door. Read More: Storage Container Features
Storage/Office Combo
Another popular customized feature is the storage/ground level office (GLO). Similar to a mobile office, the ground level office serves as a temporary work space. The difference: it's a storage container that's been converted into an office, not a wooden siding structure constructed into an office. Because the raw material is steel, it's much more durable than your typical mobile office and especially popular in the construction industry. Many businesses use the ground level office for a dual purpose: storage and office space. Read More: How Do I Decide Between GLO vs MO?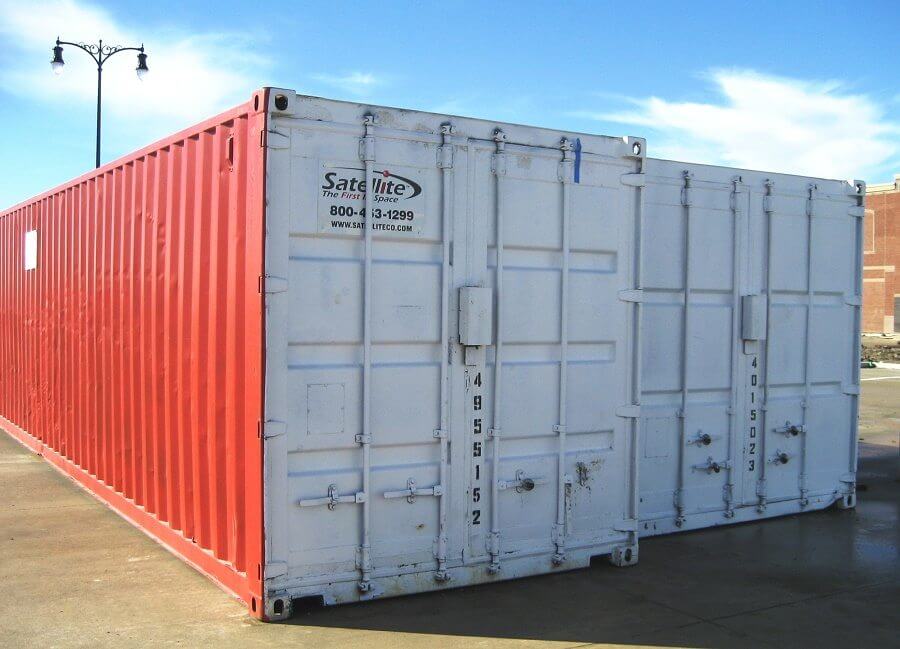 6. Inspect the container.
In the world of storage containers, it's important to know this:
NOT ALL STORAGE CONTAINERS ARE CREATED EQUAL.
Even with rentals, it is helpful to physically inspect the container before signing a contract. While it is typical to expect some wear and tear with rentals, especially if you are renting a used container, there are a few important things to look for:
Dents– Some dents are to be expected, but if they are deep, they could potentially hold water that will lead to rust and leakage. Be sure to inspect all sides of the container and even ask to see the top of the container. Some suppliers will offer to bang out dents upon request or for an additional fee.
Severe rust– Rust is going to happen, but severe rust will eat away at the steel and cause holes to form in your container. In many cases, a fresh paint job can prevent rust.
Holes– If there are holes in your container, that's not a good sign. In some cases, they can be plugged, but large holes are difficult to repair. A good way to find out if there are holes: walk into the container during the daytime, shut the door and see if there are any areas where light gets through.
Chemicals– Most shipping containers have been chemically treated to ensure they are water-proof and wind-tight for shipping cargo. It is helpful to find out what chemicals were used and if there have ever been any spills. If you plan on regularly accessing the container or using it as an office space, you don't want to risk exposure to harmful chemicals. In some cases, chemical residue can be removed with certain treatments.
Inspection– If you cannot physically inspect the container yourself, you might consider hiring an inspector to do the job for you. If you are renting long-distance, it's important to know what quality of container you are getting before signing a contract. Another option is to request pictures from the supplier. Be sure to request pictures from every angle of the container, including the top. Make sure the pictures are of the actual container you will be renting, not just one 'like yours.'
Find out the grade of a container. Every ISO shipping container is given a grade based on condition, age and miles traveled. Many suppliers have this information, but they may not offer it unless you ask. While the grade should not be the only determining factor when renting, especially if it has been refurbished and repaired, it is helpful to know the age and history of the container, especially for long-term rentals.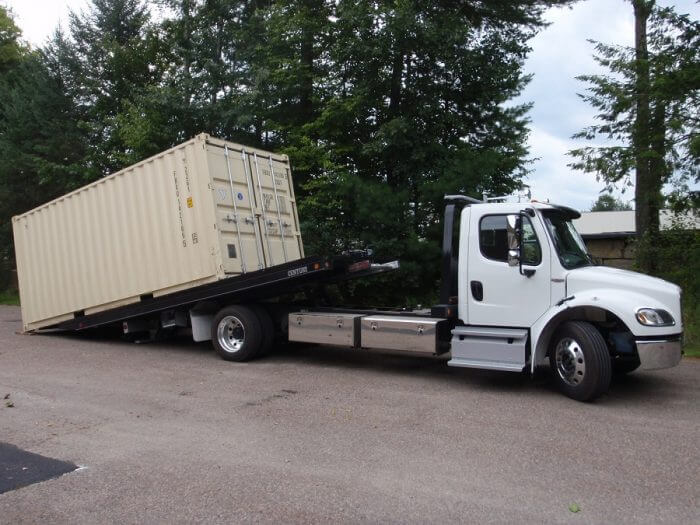 7. Find out what site prep is necessary before delivery.
In most cases, some basic site prep is required before you can store a container on your property. If the property is relatively flat, there usually isn't more than some basic leveling needed. In many cases, you can probably do this yourself or with some minor assistance. But if the site is extremely rocky, hilly or muddy, you may need to hire a construction team to prep the site. Some suppliers offer site prep assistance for an additional charge. Read More: Things to Know Before Delivering a Storage Container.
8. Talk to multiple suppliers.
When you rent a container, there are usually a number of local suppliers to choose from. How do you decide who to go with?
Here are some helpful questions to ask them:
How much is your rental fee? How long is a rental contract?
How much notice do you require to terminate the contract?
Do you offer a discount if I commit to a longer term?
What is the delivery fee? Where are your containers shipped from? How many miles from my site?
Do you know if a permit is required to place a container on my property? Do you help with this?
What sizes and features do you offer?
What is the condition of your containers? Can I personally inspect the container before renting it?
Do you offer a theft or damage waiver?
What are your available hours? Are you available on the weekends? Who do I call if I have a problem (weather damage, AC goes out, theft, etc.)? When I call, will I be transferred around a lot or will I speak to the same person?
How long does it take to deliver/remove a container?
Note: When talking to suppliers, take note of how they answer your questions and the level of service they provide. You can often get a good feel for their level of customer service based on just one phone call.
Check out our Storage Containers Buyer's Guide for absolutely everything you need to know about conex shipping containers.