In every category of construction, there are usually RFPs (or requests for proposals) that construction companies have to deal with. Navigating RFPs is a time-consuming process for those that issue the RFP and for those companies that choose to respond. One of the most helpful tools for this process has been the construction management software RFPs, or rather, construction management software with RFP features.
What is an RFP?
As stated above, RFP stands for request for proposal. These documents are issued by organizations looking to find information regarding how construction companies or vendors will complete a construction project. Construction companies and vendors will then create a proposal (sometimes these can also be called an RFP) detailing how they plan to accomplish the construction project.
Most RFPs identify key questions for a project and help construction companies identify if they can achieve the stated goals of the project. Some identifying questions may relate to:
Materials used
Costs associated with building
Design Concepts
Bids
And more!
Companies then use this RFP to create a competitive proposal. Once all RFP requests have been fulfilled, an organization will decide on the company with the best proposal. RFPs are necessary as they provide competition amongst construction companies and ensure better rates for projects. Both organizations and construction companies are using construction management software RFP to simplify this process.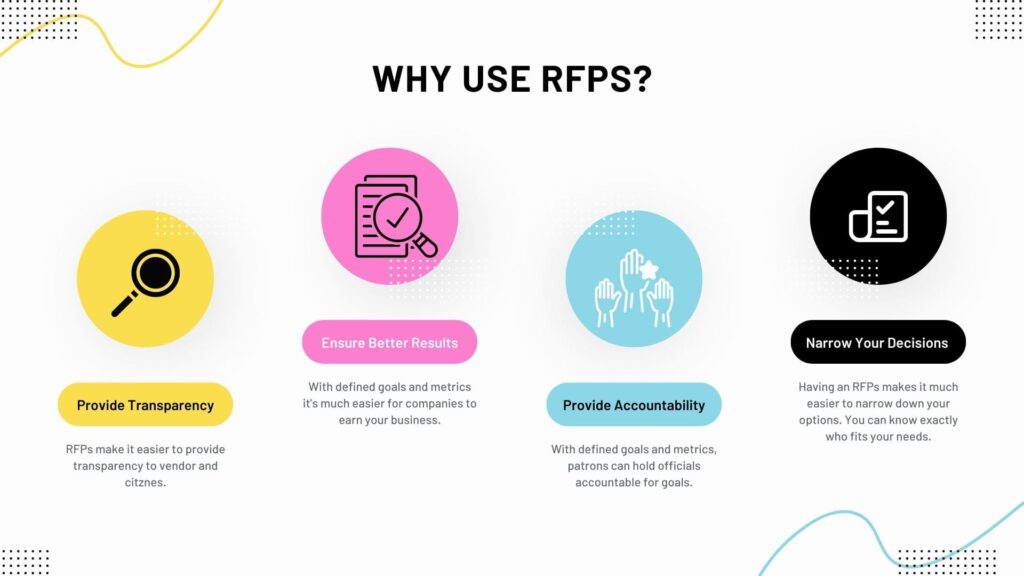 How Construction Management Software Helps Your Create RFP
Whether you are an organization creating an RFP or responding to an RFP, construction management software RFP tools can help you in multiple ways.
RFP Templates
Would you like to speed up the process of creating and responding to RFPs? Construction management software does just that with the use of RFP templates. Most software comes with pre-loaded templates, but you can also import and export your own custom template. Most companies have their own way of doing RFPs which is why most services offer you the ability to create your own customized templates for your business. Not only will this save you time, but it will keep your RFPs consistent with your branding.
Review and Approve Changes with Ease
Construction management software RFP acts as a central hub to manage your RFPs and other documents. You can monitor who has access to which document and track the changes made to a document. This can help you better manage how your teams interact on a project as well as manage who is completing work.
Take Your Work on the Go
Most construction management software RFPs also provide ease of access to the documents you need even while on the go! You can view and edit documents right from a tablet or smartphone. This can provide construction managers with invaluable resources as they travel between job sites.
Cloud-Based Applications
Again, many construction software RFPs also use cloud-based storage to keep files synced. Cloud storage allows companies to work on the same document even from remote locations. Companies or organizations also don't have to invest in physical storage on their site.
Why is Construction Management RFP Software Helpful?
Construction management RFPs provide tons of features for organizations and construction companies, but does that translate into better business practices? We think so!
Helps Better Track RFP
For many companies, creating an RFP or response is a long process involving many different departments. Oftentimes, this process can be dragged out due to poor tracking between departments. Construction management software not only speeds up the process of RFPs with the use of templates, but it also makes it easier to track the progress of an RFP. You can know which parts of an RFP have been completed, in which time frame, and by who.
Manage Who Has Access to Which Documents
Construction management software allows you to track who has access to RFPs and other documents. You can also track changes made to the document by an employee. This is usually done by the employee signing in to interact with a document. Think of it like track changes in Microsoft Word or Google's Docs ability to have users edit a document with a simple link.
Reduce Redundancy (eliminate multiple documents and workloads)
Would you like to simplify your workload and reduce multiple documents tackling the same project? With construction management software, you'll be able to collaborate on one document. You can also set up folders or dashboards to handle documents and other construction contracts. This makes it easy to know which documents have been completed and which have not. Team members can easily see which documents have already been completed and reduce duplicates.
Are You Looking for Other Construction Tools Like Storage Containers?
If so, 360MobileOffice can help! We pair high-quality suppliers with buyers every day! Just fill out our 1–2-minute form and we'll contact you to verify your information and needs. From there, kick back, and let up to 5 free quotes roll in for the products you need. It's that simple!