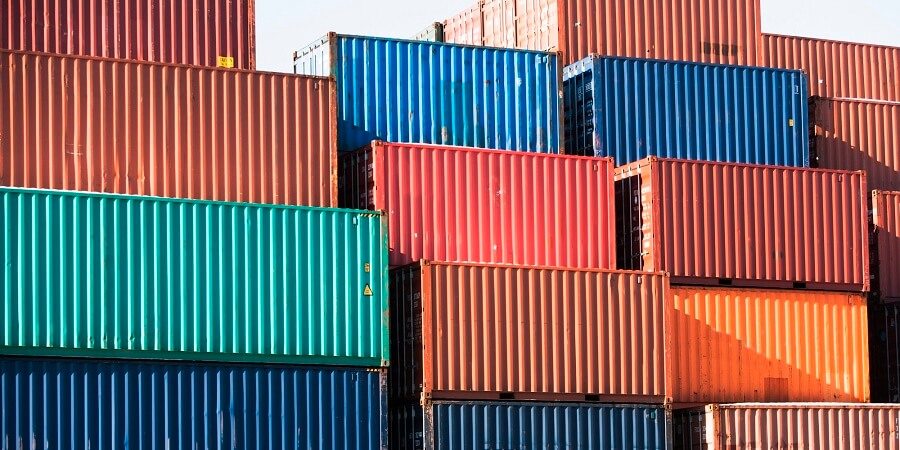 What are shipping containers?
Storage containers (also known as freight containers, ISO containers, intermodal containers, shipping containers, high-cube containers, portable storage units, conex boxes or sea cans), are industrial-grade steel containers that provide temporary storage space for both commercial and residential needs. Read more: What are storage containers made of?
Why use them?
They are SAFE. With thick walls made of industrial grade steel, a storage container's design protects your belongings from theft and harsh weather. When storing things like expensive equipment and machinery, you want to know your belongings will be secure.
They are DURABLE. Storage containers are steel boxes meant to endure the harshest of weather conditions. Over time, they may rust or dent, but some wear and tear is normal. It is helpful to find out the history of a storage container before signing a contract.
They are AFFORDABLE. Use of a conex box for more than a couple of years can make purchasing a unit more cost effective than renting. The purchase price ranges from $3,000-$5,000, depending on whether you buy new or used and how much the delivery fee will be.
Who uses shipping containers?
Any business or individual that needs temporary storage space. Common industries and uses include:
Agricultural – farming equipment, machinery, and supplies
Education – athletic equipment, documents, and records
Construction – equipment, supplies, machinery, temporary office space
Government – disaster relief, temporary shelters, security offices, military supplies
Financial – documents and records
Medical – equipment and supplies
Residential – household goods, tools, supplies, furnishings, non-perishable items
Retail – seasonal inventory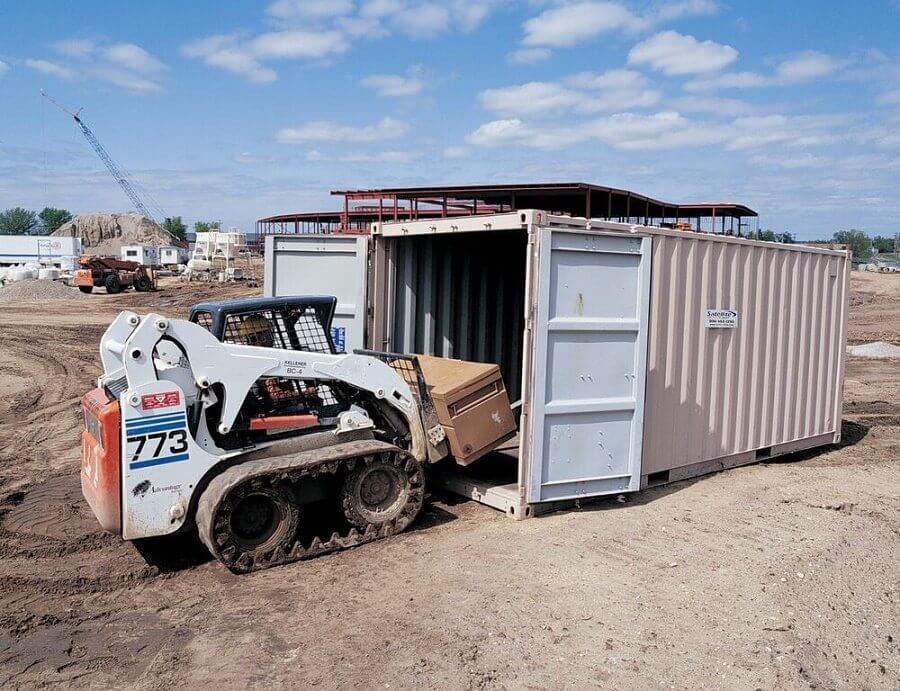 Shipping containers as livable space.
Storage is the not the only use for shipping containers. Over the past few years, more and more businesses are converting conex shipping containers into livable space. Some popular uses include residential homes, offices, studios, restaurants, shopping malls and portable event sites. Because they are durable, cheap and environmentally friendly, used shipping containers make great raw building materials.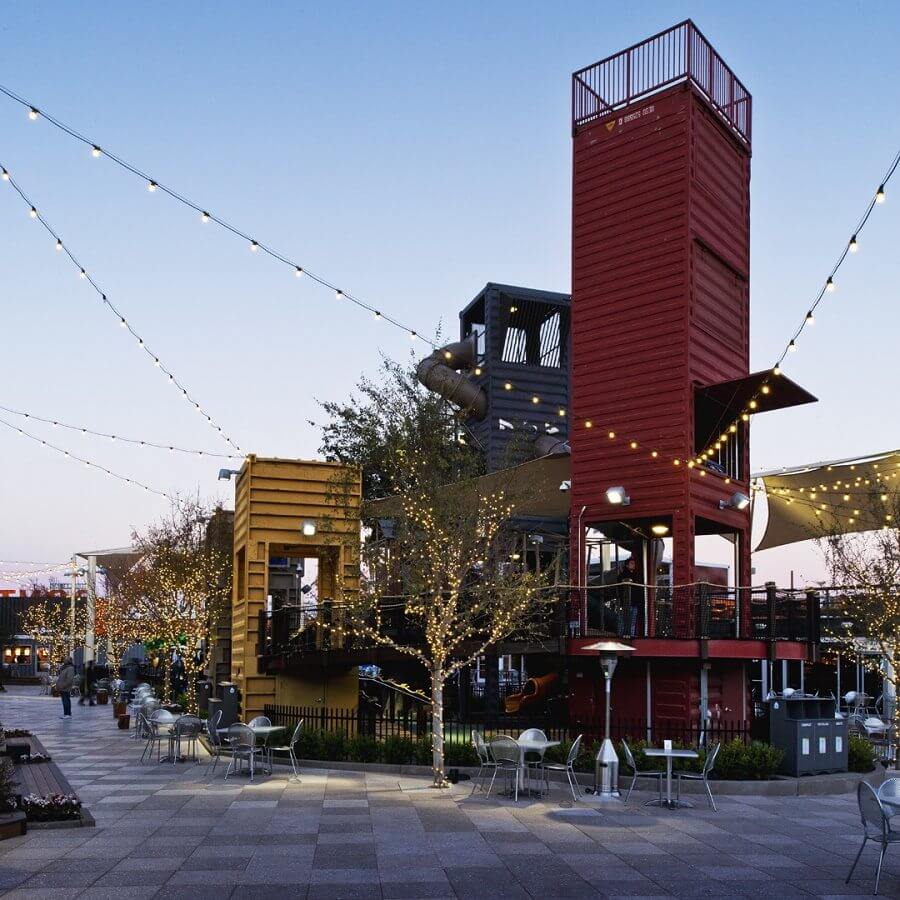 How long do people use a storage container?
It depends on the needs of the business or individual. The length of use is unique to each client's project or requirements and can range anywhere from a couple of months to several years. If a customer has an uncertain timeframe for usage, renting may be a better option than buying a storage unit. Read more: 8 Tips for Renting a Storage Container.
What are my options?
When it comes to shipping containers, you can choose from a wide range of sizes, colors, and features. Just keep in mind that the more modifications you make, the more you are going to pay.
Length
The most common shipping container lengths are 20 footers and 40 footers. You can also find shipping containers with custom lengths of 10, 15, 25 and 45 feet. Length options will vary depending on the supplier. Some suppliers will cut apart or weld together used shipping containers to meet your specific needs.
Height and Width
Standard shipping containers usually have the same height and width dimensions: 8 feet 6 inches high by 8 feet wide. Some suppliers offer an extra wide option that is usually 10 feet in width. A 'high-cube' shipping container is 9 feet 6 inches tall.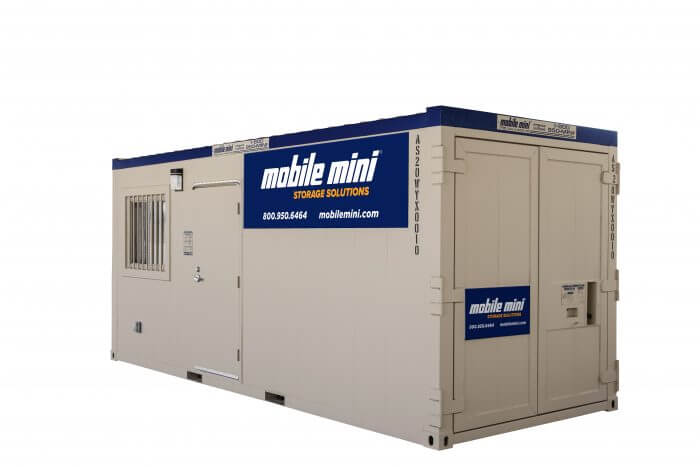 ---
Custom Features
Many suppliers offer 'add-ons' or other customized features. Some of the most common modifications involve:
Size
Paint Color
Locking mechanism
Doors
Roofing
Shelving
Flooring
Interior finish-out
Ramps
AC/Heating
Turbine vents
Insulation
Windows
Partitions
If you are looking for specific shipping container features, find out what different suppliers offer. Some features are only available on shipping containers for purchase. Some add-ons are limited to a certain size or width of container. Be sure to confirm what features are available for the shipping container size you want before signing a contract.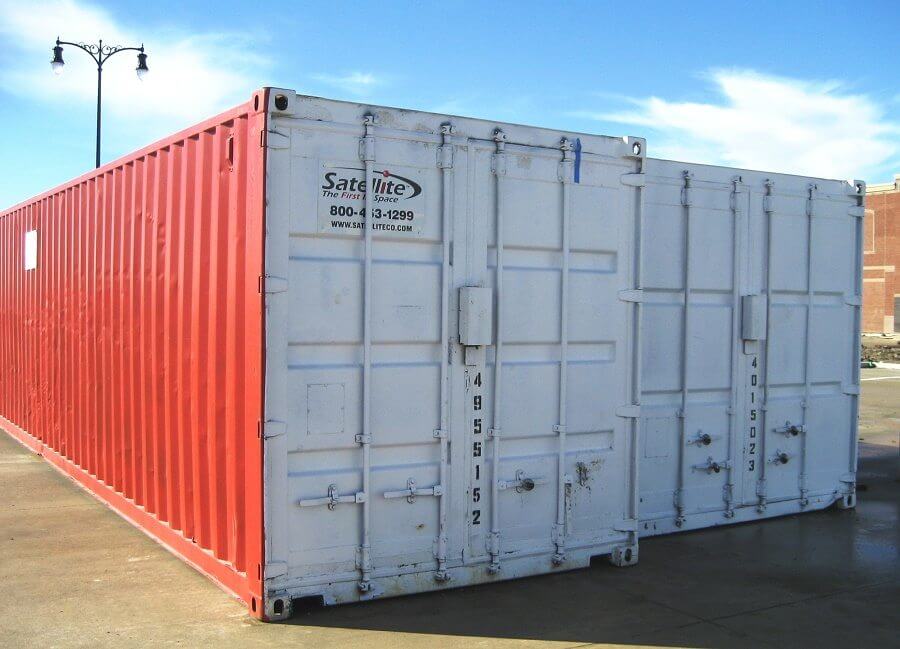 Will my belongings be safe?
Security is one of the main concerns customers have. They want to know things like, will my belongings be safe from:
Rodents
Thieves
Flooding
Rust
Heat
Snow
Hail
The answer: it depends on the quality of the portable storage unit and the locking mechanism you choose to purchase.
Quality
Not all storage containers are created equal. It is important to visually inspect the storage container before purchasing it. In some cases, portable storage containers have been damaged in transport or corroded by rust. A few dents or rust does not necessarily affect the functionality of a storage container, but it is important to pay attention to the condition of the portable storage unit and find out its history before signing a contract.
Locking mechanism
Another factor to consider when it comes to security is the quality of the locking mechanism. Some locks are better than others are. Typically, the sturdier the lock, the more it will deter thieves from trying to break into your storage container. Some storage container suppliers, like Mobile Mini, offer a premium locking mechanism that is included with all of their portable storage containers. Other suppliers offer rod locks or padlock hasps for an additional fee. If your property is highly secure, then you may not need to invest in a premium lock. If security is a concern, a good lock may be worth the cost.
If your portable storage unit has windows, you might also consider adding metal bars to deter thieves. Many businesses use storage containers to store valuable equipment, machinery, and supplies on their job site. If those items are stolen, it can mean a huge financial loss – not only to replace the stolen equipment but also to cover lost time on the job.
How much does a shipping container cost?
It depends.
Shipping container prices are based on the following factors:
Age
Availability
Size
Delivery Fee
Features
Condition
Supplier
The condition of the shipping container is usually the weightiest factor. A new conex container may have incurred more damage than an older, used shipping container; it just depends on how the unit has been used and the conditions it has been exposed to.

Do I rent or buy a storage container?
The answer: it depends on your needs.
Generally speaking, if you plan to use a storage container for more than 3 years and you can fork over the cash up front, you might want to buy. The break-even number for buying versus renting will depend on the purchase price of the portable storage container (plus delivery, tax, and any permitting fees) versus the monthly rental fee. Usually, you will break-even after 3 years of renting, with some give and take based on the market. It is helpful to do the math before you decide to buy. If your storage needs are temporary and your cash flow is limited, renting is probably your best option.
The Pros and Cons of Buying a Shipping Container
Pros:

Ownership – You have permanent on-site storage and complete ownership of the shipping container.
Investment – There is the potential to save long term if you buy. You can always sell the shipping container if you decide you do not need it any longer.
Options – Many for-purchase shipping containers come with a wider range of custom features than rentals.
Cons:
Expensive – A standard 20-foot shipping container can cost anywhere from $3,000 to $5,000, depending on whether you buy new or used.
Hassle – A shipping container is a bulky item to own. Not everyone wants to worry about how to deliver and store a steel box, much less how to maintain it after years of sitting outside in the elements. What happens if you decide you do not need it anymore? You are responsible for selling it and having it removed.
Responsibility – If your shipping container is damaged, vandalized or broken into, you are on your own to cover any losses. Find out what the supplier's responsibility is versus yours before signing a contract.
Legwork – Keep in mind that the more expensive option does not always mean better quality. It is important to find out how the used shipping container was previously utilized and under what conditions it was stored.
Need a Shipping Container? Get Quotes from Suppliers in your Area.

The Pros and Cons Renting a Storage Container

Pros:
Flexibility – If you don't know how long you will need the container, renting is a great option. You can shorten or extend the contract as needed. Most suppliers offer a month-to-month open-ended contract with a one-month advance notice for cancellation.
Cost-effective – There is less upfront cost if you choose to rent instead of buy. Rental fees range between $75-$200, depending on the supplier, size, and condition of the container you choose. Read more: How Do I Pay?
Convenience – When you are done with the container, all you have to do is make a phone call. The vendor will schedule a pick-up, usually within 3-5 day business days of your call. You are not responsible for selling the container or having it removed from your property.
Hassle-free – If you have a problem or need repair work, many suppliers will offer assistance as part of their rental agreement. When you own the container, you are on your own when it comes to damage, vandalization or theft.
Cons:
Monthly Payment – Just like with anything that you rent, you are responsible for a monthly payment. If you find your business doesn't need the container for as long as you expected, you could lose money. Similarly, if your business needs the container for longer than you planned, it may have been more cost-effective to buy. It's important to consider the long-term needs of your business before buying or renting.
Limited options – When it comes to renting, there are a limited number of options available. Customized features and sizes that are available to buyers are not always available to renters. If your business needs a storage container in a specific size or with certain modifications, be sure to ask the supplier what options are available in their rental fleet.
Quality – Because you are dealing with used storage containers, the quality of the containers can vary. Some containers have been damaged by rust, rodents or accidents during transport. It's important to research what you're getting before you get locked into a contract. Typically, the supplier will take you on-site and let you inspect the container before renting.
In some cases, suppliers will even offer a buyback or lease-to-purchase option if you decide to extend your rental contract beyond a certain number of months. If you aren't sure what you need, it might be a good idea to rent because you can always change your mind. Read more: 8 Tips for Renting a Storage Container.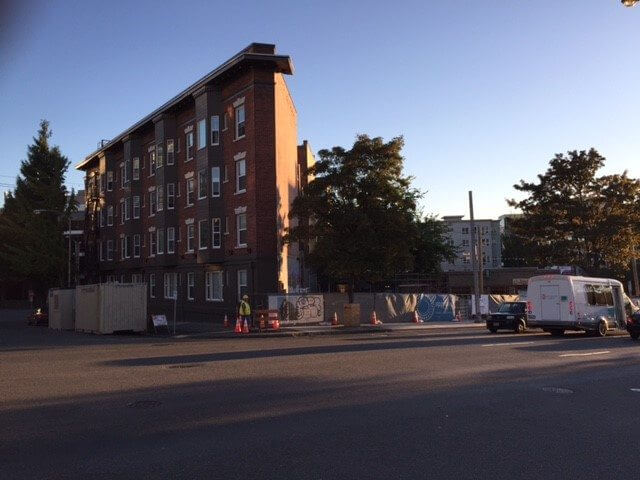 How do I determine the condition of a used shipping container?
Here are a few questions you can ask the seller/supplier to help determine the condition of a container:
How old is the used shipping container? Look for the CSC (Container Safe Convention) plate, usually mounted on the left-hand door of the shipping container, which will tell you the date of manufacture.
What grade/category is the used shipping container? Typically, a grade/category has been assigned to the shipping container based on its age, miles traveled and condition.
How many miles has the shipping container traveled? A newer shipping container may have traveled more miles than an old used shipping container that has been sitting in a shipyard. Find out the mileage of your shipping container and under what conditions it has traveled (icy, humid, hot, rainy, etc.).
How has the used shipping container been handled? Used shipping containers can incur damage such as dents or holes during transport. Find out if the shipping container has ever been dropped or had repairs.
Have there been any shipping container cargo spills? Carefully inspect the floors for any evidence of cargo spills and ask the supplier if they know of any history of spills. Most floors are chemically treated as part of the weatherproofing process, so it is helpful to find out what kind of chemicals were used and whether or not they are harmful in the case of regular exposure.
Under what conditions has the used shipping container lived? Find out the conditions where the shipping container has spent most of its life. Harsher climates will obviously create more wear and tear on the shipping container.
What is the quality of the doors? If you are planning on entering and exiting your shipping container on a regular basis, high-functioning doors may be important for you. Be sure to test the doors by opening, closing, locking and unlocking them. Doors can be misaligned due to damage in transport.
Note: If you choose to rent or buy a used conex container from a local supplier, ask for a copy of the marine surveyor records. This document shows the inspection history of the used shipping container. If you choose to purchase from a third party seller like Craigslist or eBay, it is less likely that they will have any record of the used shipping container's history. In that case, you may have to do some of the legwork on your own.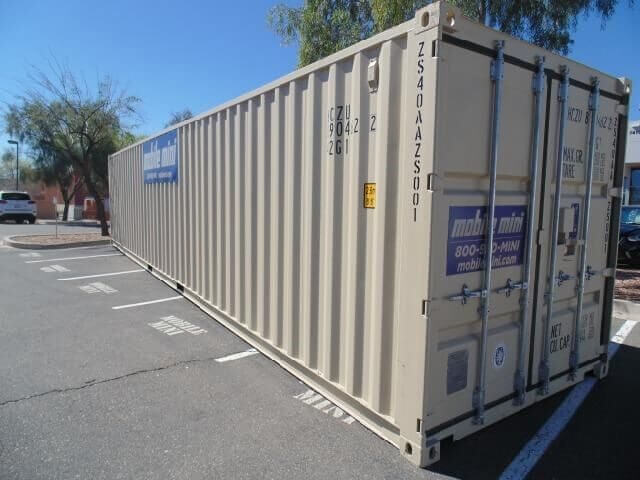 What is the delivery process?
Storage containers are usually delivered on a tilt-bed truck and trailer. Here are a few key factors to consider before scheduling a delivery on your property:
Road conditions
Width of entryway/gates
Pasture/ground conditions
Weather conditions
Cattle guards
Overhanging trees
Overhead wires
Once the truck arrives on your property, the driver will back in and lower the tilt-bed until the portable storage unit is touching the ground on one side. At that point, the tilt-bed will pull straight out from under the storage container until it lays flat on the ground.
Note: if you order a portable storage unit with doors on one end, be sure to clarify which way you want the doors to face before delivery of the storage container. Read more: Things to Know Before Delivery.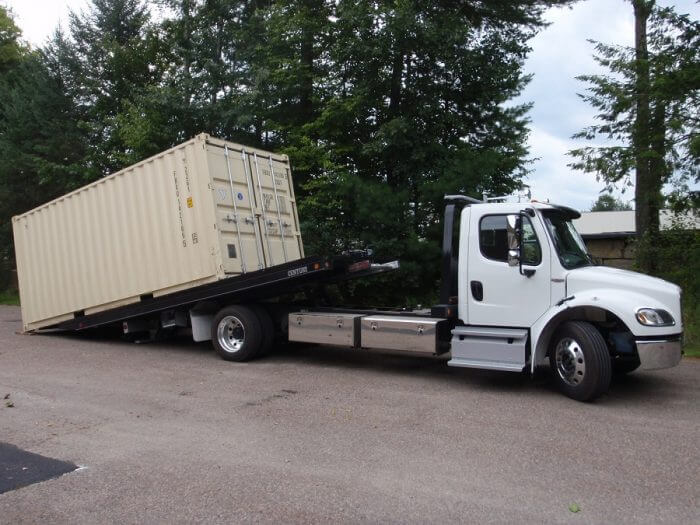 Who is liable if my container is damaged?
In most cases, the container and its contents are the customer's responsibility once it is on their property. However, some suppliers will offer an add-on feature that renters can purchase known as a Loss Limitation Waiver. Usually this involves a high deductible, but it may be worth the cost if you are storing expensive machinery, equipment or inventory on your property. Some liability waivers cover damage from theft, break-ins, fire, windstorms, earthquakes or flooding, depending on the supplier. Be sure to ask if a liability waiver is an option and if not, find out what is their responsibility versus yours before signing a contract.
What factors should I consider when choosing a supplier?
Before committing to buy a storage container from a seller/supplier, it is helpful to ask a few important questions. Gathering this information in advance can save you time and money in the end.
Options
Do you sell and rent storage containers?
Do you offer new and used portable storage containers?
What size of storage containers do you have?
What custom features do you offer?
What features are available if I am buying vs. renting?
Do features differ based on the size of the storage container?
What features would you recommend based on the needs of my business? Why?
Quality
Where do you get your shipping containers?
How old are your used shipping containers?
Do your shipping containers range in price? What factors affect the price?
Can I see the shipping container before purchasing it? If not, can I get pictures of every angle of the shipping container, including the roof and interior?
How long has the used shipping container been in use?
How many times has the used shipping container been rented and transported (and how many miles)?
Has there been any damage to the conex container (in transport, cargo spills, or weather)?
Where has the used shipping container resided and in what kind of climate?
Is there any visual damage to the used shipping container – rust, dents, holes?
Do you have a copy of the marine surveyor records for this shipping container?
Fee
Is the cost of delivery included? If not, do you charge per mile or per a certain mile radius?
Will there be any permitting fees involved?
Do you offer a liability waiver or one-year warranty for the storage container?
Customer Service
What are your available hours, including weekends?
What happens if there is an emergency (weather damage, HVAC goes out, theft)?
Will I get in touch with a live person when I call, or does my call go to voicemail?
When I go through the order and delivery process, how many different people will I talk to and are they local?
What is my responsibility vs. yours when it comes to permits, site prep, liability, and delivery?

Table of Contents
Related Articles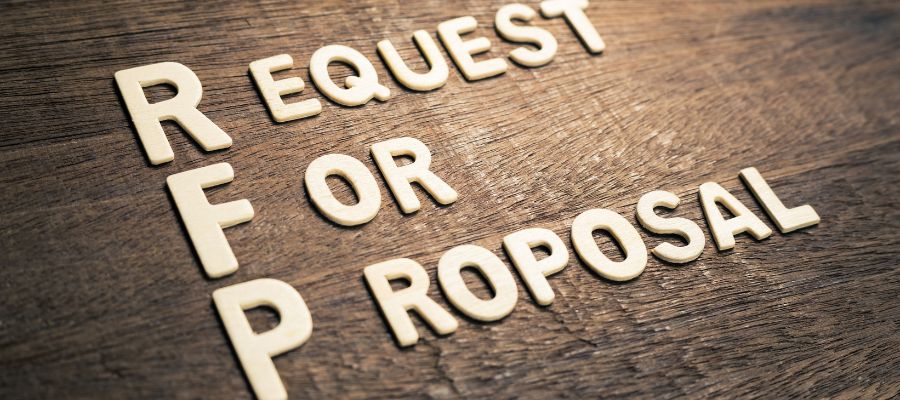 Construction Management Software RFPs
In every category of construction, there are usually RFPs (or requests for proposals) that construction companies have to deal with. Navigating RFPs is a time-consuming process for those that issue the RFP and for those companies that choose to respond. One of the most helpful tools for this process has been the construction management software […]
Read more