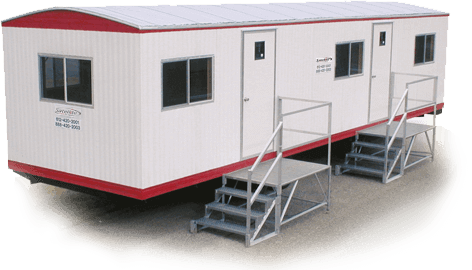 What is a mobile office?
A mobile office is a pre-manufactured portable building that provides temporary office space for your commercial needs. Similar to a modular building, a mobile office is assembled in a controlled environment and delivered to a specific location. Local mobile office suppliers generally keep an inventory of mobile office trailers on hand. This makes them available with a quick turnaround.
If you need a work space in a hurry for a temporary period of time, a mobile office is a practical and affordable solution.
Who uses a mobile office?
Mobile offices are designed with flexibility in mind. They are an excellent solution to anyone's temporary office space needs. This makes them popular among a wide range of industries which includes, but is not limited, to the following:
Administrative
Construction
Education
Energy & Power Plants
Financial & Banking
Government
Institutional
Medical, Healthcare, & Dental
Petrochemical & Refineries
Religious
Why use a mobile office?
Convenient
A mobile office can be set up just about anywhere as long as there is a sufficient amount of space. There isn't a lot of site prep required before delivery, as long as the land is level and not prone to flooding. Upon delivery, the office may be mounted on cinder blocks to stabilize and level the structure. Read more: Mobile Offices: How to Prep Your Site For Delivery.
Affordable
If you need a temporary workspace, leasing a mobile office is an affordable solution. Unlike a permanent build, a mobile office is ready to go as soon as it is delivered. This can reduce your cost as much as 30% compared to a traditional build, which is usually a much longer process.
Flexible
Because the office is portable, it can be brought to you for the time you need it and then hauled away once you are finished with it. You can customize the layout and features of your mobile office to best meet the needs of your business.
Should I lease or buy?
Leasing
Many businesses choose to lease, rather than buy when it comes to a mobile office because:
1) It is the most affordable option.
2) Most people don't want to own a mobile office.
Additional benefits to leasing include:
Flexibility– When you decide you don't need the office anymore, you can call someone to have it removed (rather than having to organize and schedule its removal yourself).
Quality– When you choose to buy a mobile office, especially if you are buying used, you don't always know what you're getting. When you lease from a local supplier, you can research the company and read customer reviews to determine the quality of their product before signing a contract.
Liability– Many suppliers will offer a liability package so that in the case of theft or damage, they will help cover some of the cost.
Maintenance– Many suppliers offer maintenance and repairs as part of their leasing package. If your HVAC goes out or your windows are leaking, you can call the mobile office supplier and they will come fix it.
Buying
While leasing is usually the most affordable option, in some cases, it might make more sense to buy.
Do you:
1) Plan to use the mobile office for more than 3 years?
If so, the cost to lease will usually break even with the cost to purchase around that time. Most mobile office suppliers offer the option to purchase. Some suppliers offer a lease-to-purchase option, so be sure to ask your local suppliers about their available options.
2) Need a highly customized office to fit your specific needs?
If you are looking for a highly customized office space, it might make more sense to buy, especially if your supplier is charging an arm and a leg for every additional feature. Some suppliers are willing to build exactly what you want. Others don't have the capability to be flexible with the office configuration. If you have a specific design in mind and your local suppliers can't meet your needs, it might be a good idea to buy. Then you can hire a general contractor to build exactly what you want.
Keep in mind that if you choose to buy, you are responsible for things like theft, damage, maintenance, permits and transporting the office.
Buying Used
If you are interested in buying a mobile office, but can't afford to pay full price, you might consider buying used. Some suppliers offer this option. In other cases, you can shop the market online via third party vendors.
Note: Make sure you do a thorough, in-person inspection of the structure before agreeing to buy. Mobile office trailers are often sold "as-is." This means the office may have incurred damage, rust, leaks, holes or dents. If you can't be there in person to inspect before buying, you might consider hiring someone to inspect it for you or requesting pictures from every angle of the structure. Be sure to confirm that the pictures are of the specific mobile office you are buying (not just one like yours).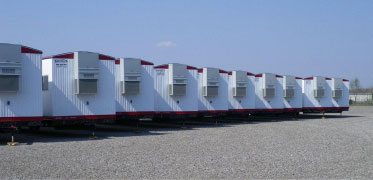 What are my options?
Mobile office trailers come in many different sizes with a wide range of features. Depending on your needs, here are some of the options to consider:
Size
8' x 20' (160 square feet)
10' x 30' (300 square feet)
10' x 40' (400 square feet)
12' x 50' (600 square feet)
12' x 60' (720 square feet)
14' x 64' (896 square feet)
24' x 60' (1440 square feet)
Electricity/Data Connection
Mobile office trailers come already wired for your basic electricity needs. They include overhead lighting, usually fluorescent lights. Newer models will likely have hook ups for phone and data connections. If you need data, make sure to ask if the mobile office trailer has the proper connections.
Interior
Depending on your needs, the interior of a mobile office can be outfitted with furniture, built-in file cabinets or desks for workstations. Big plan tables are available for holding and reviewing blueprints. The interior is often quite customizable, with various walls and conference table options.
The interior can be customized to suit your needs based on how you intend to use the mobile office trailer. For example, if you are using your trailer as a classroom trailer, you will likely need multiple desks and chairs for your students. If you're using it as a construction site office, you obviously won't need that many desks, but will need a workspace for your blueprints and such. Suppliers will be able to walk you through all the specific options they provide to make sure your needs are met.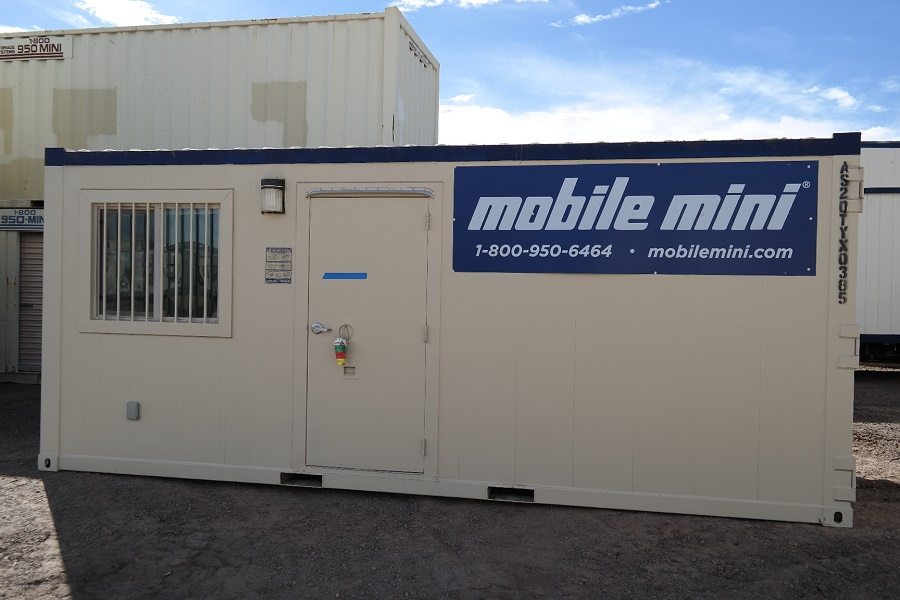 Storage
If you are working on a construction site, you may also need space to use as storage for tools and equipment. Some suppliers offer office/storage combinations. They are smaller trailers that provide both an office and storage space. Read more: Mobile Office vs. Ground Level Office: How Do I Decide?
Restrooms
Mobile office trailers can also be designed with water and sewage connections. Bathrooms are available, including ADA (Americans with Disability Act) bathrooms. If you need an ADA bathroom, you will also need suitable ramps. If your site allows for water and sewage connection, you will have running water instead of a stand-alone chemical toilet. Although, some smaller offices may only offer the chemical toilet option.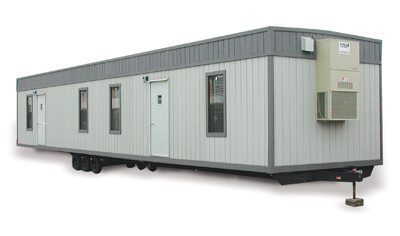 Heat and Air Conditioning
Typically all mobile office trailers will include some kind of heat and air conditioning option. Smaller models may have electrical baseboard heating and through-wall air conditioning. Some may even offer propane heat which can be cheaper than electrical heat.
Newer models commonly have central HVAC systems that can be set to a comfortable temperature of your choosing and keep your utility bills low. Mobile office trailers are generally insulated, but not as well as permanent structures. Depending on what time of year you intend to use the mobile office trailer, be sure to consider the heating or cooling costs.
Exterior
Depending on the use, you may or may not be concerned about the outward appearance of your mobile office trailer. For example, appearance is generally important for sales offices. If the appearance is important to you, make sure you ask about what exterior options are available. Some mobile office trailers can have vinyl siding, louvered windows, and shingle roofs. They don't all have to look like a construction office.
To cover the cinder blocks that are leveling the mobile office trailer, you can get a skirt. A skirt is a strip of material that covers the gap between the bottom of the trailer and the ground. This hides the wheels and anchors underneath the trailer for a more aesthetically pleasing look. You may also need to rent a set of stairs for each door.
If the mobile office trailer you're using is open to the public, you will need to make sure your building complies with the Americans with Disabilities Act (ADA). You will need ramps to all entrances, wheelchair-accessible bathrooms, and possibly more. If you're uncertain, you may ask a representative at a qualified supplier. They can answer any questions you have.
Security
Security can be an issue anywhere, particularly at construction sites. Fortunately, many mobile office trailers come with various security features to prevent crime and keep your workspace safe. Some office trailers include exterior lighting to deter thieves. You may also consider installing security cameras, an alarm system, and a high-quality lock. Ask your local supplier about their security options.
How much does a mobile office cost?
If you are interested in buying a mobile office trailer, you can expect to pay anywhere from $15,000 to $45,000. If you are interested in renting a mobile office, you can expect to pay anywhere from $200 to $900 per month.
The price is greatly influenced by these main factors:
Geographic Location
Seasonal Demand
Delivery Fees
Length of Contract
Size of Mobile Office Trailer
Geographic Location
The location of your mobile office trailer will definitely have an impact on the cost. Prices will vary by state and region. You can generally expect to higher rates on the West Coast and in the Northeast due to demand, space and permitting costs. Additionally, if it is difficult to access your site (mountainous region, gravel roads, remote farmland, etc.) this will affect the cost of delivery.
Seasonal Demand
The law of supply and demand applies to the mobile office trailer leasing industry just like any other industry. The construction industry is one of the most common industries for leasing mobile office trailers. The construction business is in full swing during the spring and summer months. During those months, inventories tend to go down for mobile office suppliers, which means higher prices for you. During slower months when inventories are higher, prices will be lower.
Delivery
The cost of delivery is generally determined by the number of miles from the shipping location to the delivery site and the width of the trailer. The further away your site is, the higher cost you will pay for shipping. The cost per mile will vary.
Length of Contract
How long you intend to rent will affect the price. Some renters require 3-month minimum lease terms. If you intend to rent for a longer period of time, you may get a price reduction. With a 1-year rental, you may save as much as 30% over the term of the lease compared to a 3-month rental.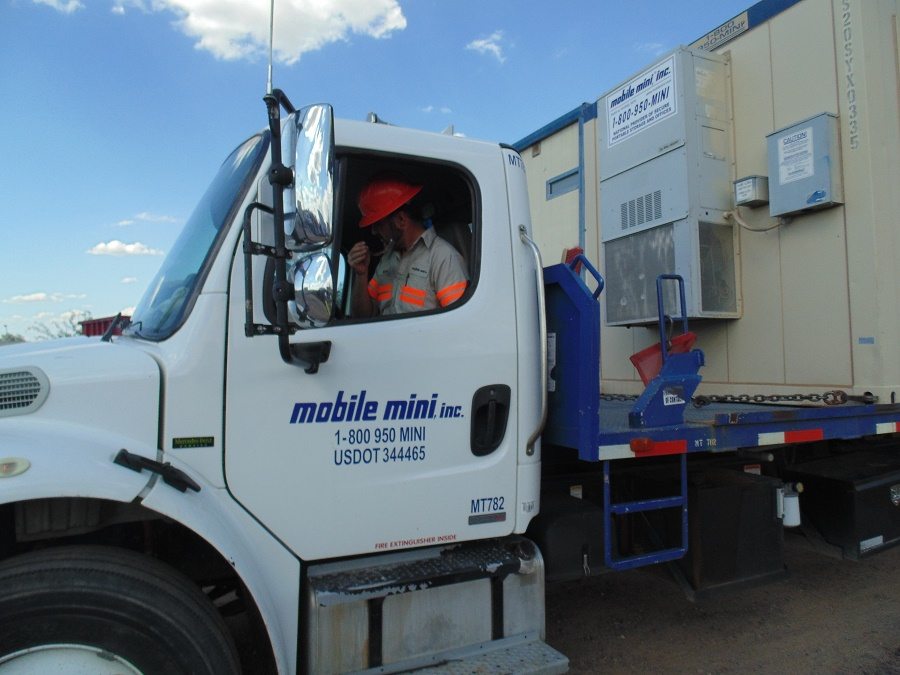 What is the delivery process?
Since suppliers keep popular mobile office trailer sizes in their inventory, delivery can occur in about 5 to 10 days. If you need a mobile office trailer sooner than that, some suppliers may be able to provide rush shipping, depending on their inventory and your geographic location. Rushed shipping will likely cost more, so always try to be proactive and plan ahead.
Installation
If you want to know the total cost for delivery and installation, it's important to ask your supplier what is and is not included. Ask your supplier about all of the following:
Delivery – Based on miles shipped, the width of trailer, etc.?
Setup – Based on soil conditions? The size of the trailer?
Electrician/Plumber – Additional fee to set up electrical/plumbing connection?
Skirt – Included or considered an add-on feature?
Steps – Included or add-on?
Ramps – Included or add-on? Does my mobile office need to be ADA-compliant?
Before the end of your lease is up, it is important to know what is your responsibility vs. the supplier's regarding the removal process. Find out who handles all of the following and whether it's included in the total price or for an additional fee:
Unblocking
Removing anchors
Skirt removal
Shipping (you have to pay to ship it back)
What factors should I consider when choosing a supplier?
Before committing to lease or buy a mobile from a seller/supplier, it is helpful to ask a few important questions. Gathering this information in advance can save you time and money in the long run.
Options
Do you lease and sell mobile offices?
Do you offer new and used?
What size offices do you have?
What customized features are available?
What features are available if I am leasing vs. buying?
Do features differ based on the size?
What features would you recommend based on the needs of my business? Why?
Quality
Where do you get your mobile offices?
How old are they?
Do they range in price? What factors affect the price?
Can I see the office before purchasing it? If not, can I get pictures of every angle of the office, including the interior?
How long has the office been in use?
How many times has it been leased and transported (and how many miles)?
Has it incurred any damage (in transport, weather)?
Where has the office resided and in what kind of climate?
Is there any visual damage – rust, dents, holes?
Fees
Is the cost of delivery included? If not, do you charge per mile or per a certain mile radius?
Will there be any permitting fees involved?
Do you offer a liability waiver or one-year warranty?
Contract
How long is a leasing contract?
How much advance notice is required to terminate the contract?
How long can I extend the contract?
Customer Service
What are your available hours, including weekends?
What happens if there is an emergency (weather damage, HVAC goes out, theft)?
Will I get in touch with a live person when I call or does it go to voicemail?
When I go through the order and delivery process, how many different people will I talk to and are they local?
What is my responsibility vs. yours when it comes to permits, site prep, liability, and delivery?
Table of Contents
Related Articles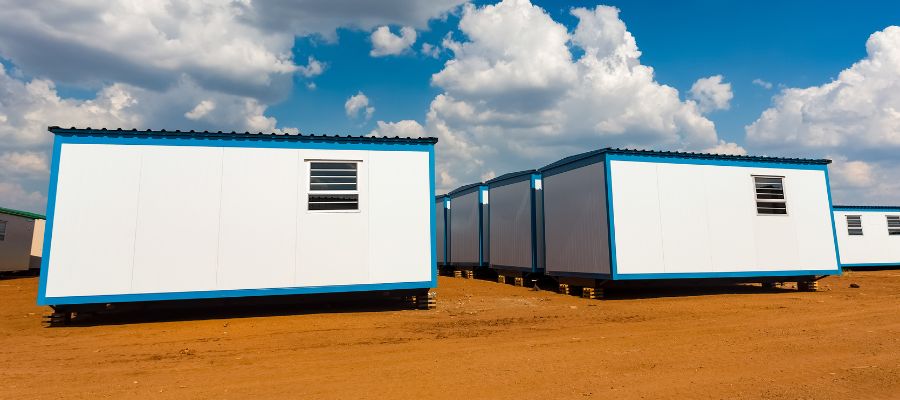 8×24 Office Trailer
8×24 mobile office trailers are some of the most common sizes used by companies for their temporary office space needs. If you are looking for an 8×24 office trailer and want to know information like dimensions, benefits, cost, and more, we've got you covered. Dimensions of an 8×24 Office Trailer  The length of the office […]
Read more