Having a reliable and secure internet service for a construction trailer can prove to be a challenge. However, there are several ways to secure an internet service to suit your needs effectively. Internet service for a construction trailer is an essential need for any modern construction site. Companies and contractors need the internet to receive quotes, correspond with customers, view building information modeling, and even track time for billing purposes.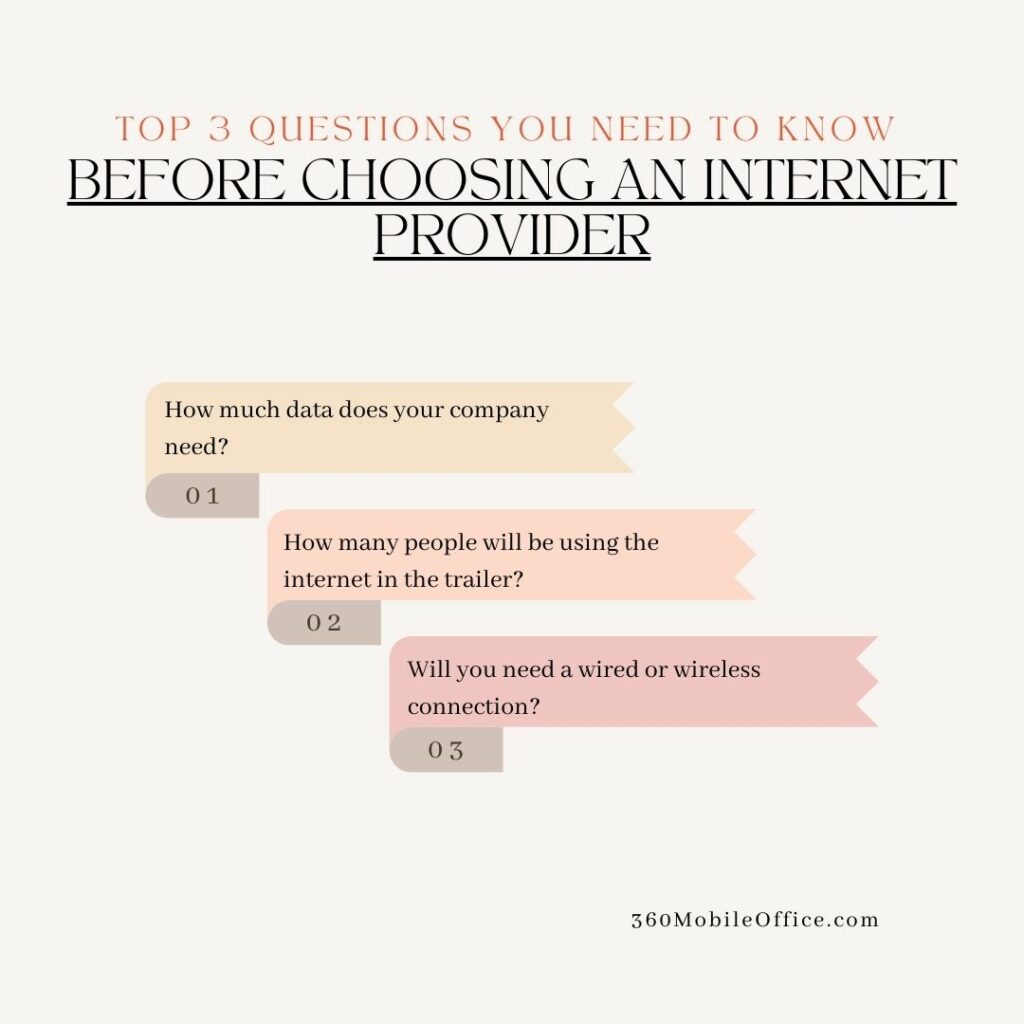 3 Best Ways for Establishing Internet Service for Construction Trailers:
When it comes to having internet on a construction site, our measures are targeted at large-scale operations with multiple trailers. Knowing your internet needs should be viewed as an integral part of your construction planning. Here are the 3 best ways you can install the internet on your job site.
Traditional Commercial Internet Service:
One of the most reliable methods for having internet service for a construction trailer is to use a traditional internet service provider. This requires you to have a physical address and phone line just like any other commercial business. While this can be a great option for those working on long projects (think multiple years at a time), it's not necessarily suited for most of the construction industry. Most jobs last only a couple of months or maybe a year at most, not to mention, you'll also need access to a phone line.
Cost: $100-$400/month + setup costs
Type of Provider: Commercial internet businesses such as Verizon, AT&T, Spectrum, Xfinity, Comcast, and other businesses targeted at commercial businesses.
Benefits:
Provides the most stable internet connection
Long contracts periods
Dedicated customer support
Drawbacks:
Need a physical address
Needs a dedicated phone line
Not designed for short-term construction projects
AirCards:
An AirCard is a portable device that provides a connection to the internet. It is a type of modem that is inserted into a computer, laptop, or tablet and connects to the internet using 3G or 4G network signals. AirCards are convenient to use and can provide a secure and reliable connection to the internet for construction companies. While construction companies could buy AirCards individually for each member of the company, they are usually best paired with a router to amplify connection for multiple users. This method can also save you money. Not to mention, AirCards can be deployed much quicker and requires much less setup time than that of traditional internet commercial providers.
When shopping for AirCards, make sure your devices are compatible. Some devices may have special requirements regarding AirCard usage.
Cost: $60-$200/device + Internet provider costs
Type of Provider: Internet providers such as Verizon and NetGear offer AirCards. Additionally, you can find prepaid versions online as well.
Common Features of AirCards:
Portability: AirCards are portable, making them a good option for construction companies that need internet access at multiple locations.
Wireless connectivity: AirCards provide wireless internet access, allowing users to connect devices such as laptops, tablets, and smartphones.
Data limits: Many AirCards have data limits, which can be a consideration for construction companies that use a lot of data.
Coverage area: AirCards are only as good as the mobile network coverage in a given area, so it's important to check the coverage map before purchasing an AirCard.
Speed: AirCards can offer different speeds depending on the provider and plan, so it's important to choose a plan that meets the needs of your construction company.
Security: AirCards can offer secure communication, with options for encryption to protect data transmission.
Ease of use: AirCards are easy to use, with simple setup and connectivity for devices.
Point-to-Point Wireless Networks:
Point-to-point (PTP) wireless networks are increasingly becoming the go-to method for internet services for construction trailers. You are creating a network that transmits data securely through a link. This "link" is usually an antenna that has a direct line of sight to the other antenna. A construction company might use point-to-point wireless networks to quickly and easily set up a secure, reliable, and cost-effective network connection between two distant locations.
This type of network could be used to connect a job site to the main office, to allow multiple teams to easily collaborate on projects, or to enable remote access to the company's data and applications. Point-to-point wireless networks also provide a convenient way for the construction company to share files, give remote access to key systems, and monitor the progress of projects. There are also point-to-multi-point wireless networks that can do the same thing without requiring a line of site.
Point-to-point wireless networks offer incredible speeds and can ensure multiple construction trailers have access to the internet. Remember, a secure connection is critical for dealing with those pesky requests for change orders.
Cost: For most PTP providers, you'll be dealing with custom pricing for your network system. Every business is different, so your pricing will fluctuate. Generally speaking, this is the most expensive option as you will need to invest in the hardware to run this system. However, PTP wireless networks can be a cost-effective option for construction companies, particularly for those with multiple sites that need to be connected.
Types of Providers: There are many providers in the PTP space, from established services like Verizon, AT&T, Viasat, BlueWireless and others.
Common Features of PTP:
High-capacity connectivity: PTP wireless networks can offer high-capacity connectivity for transferring large amounts of data and supporting multiple users.
Line-of-sight requirement: PTP wireless networks require a direct line of sight between the two points, which can be a challenge in construction environments where there may be obstacles such as buildings or equipment.
Fast deployment: PTP wireless networks can be quickly deployed, making them a good option for temporary construction sites.
Scalability: PTP wireless networks can be easily scaled up or down depending on the needs of the construction company.
Security: PTP wireless networks can offer secure communication, with options for encryption to protect data transmission.
Reliability: PTP wireless networks can offer reliable connectivity, with low latency and high uptime.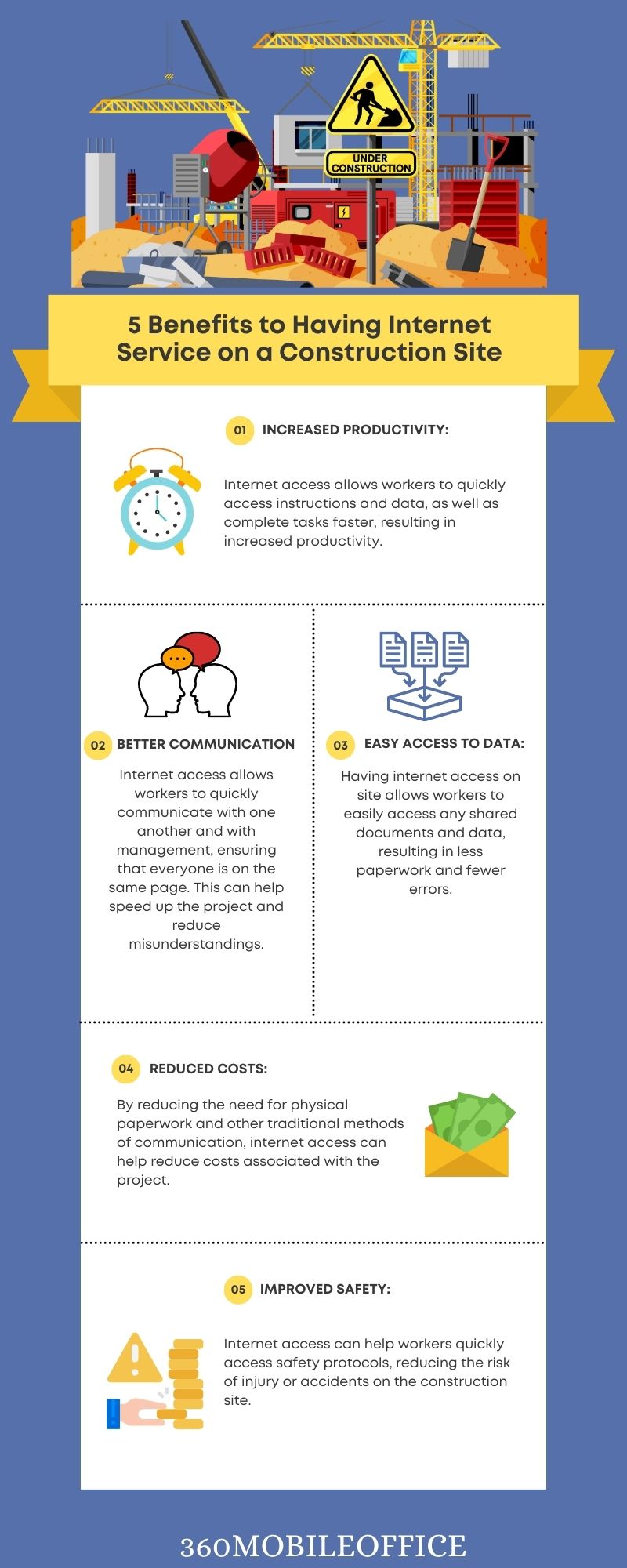 Factors to Consider When Choosing Internet Service for a Construction Trailer
Coverage area: Make sure the provider has coverage in the area where your construction company is located.
Speed: Choose a provider that can offer high-speed internet, as you will likely need to transfer large files and use video conferencing.
Data caps: If your company uses a lot of data, make sure the provider you choose does not have low data caps that could limit your usage.
Reliability: Make sure the provider has a good track record of uptime and reliability.
Cost: Compare the costs of different providers to make sure you are getting a good deal.
Customer support: Choose a provider that offers good customer support in case you encounter any issues with your internet service.
Contract terms: Carefully review the contract terms before signing up with a provider, including the length of the contract and any early termination fees.
Scalability: If your company is growing, choose a provider that can scale with you and offer more bandwidth as needed.
Security: Securing your documents and information should be a top priority of any construction company. Make sure your internet provider is secure with your data, Applied Tech has a great article on security measures you can check here.
What's Next?
Now that you have all the best information to get internet service for a construction trailer, you may be wondering "where can I get a good construction trailer that can adapt to my needs?" Don't worry, we've got your back! 360MobileOffice helps customers find high-quality suppliers every day! Just fill out our 1–2-minute questionnaire, and we'll contact you to verify your needs and information. From there you can relax as up to five free quotes come your way! It's that easy!