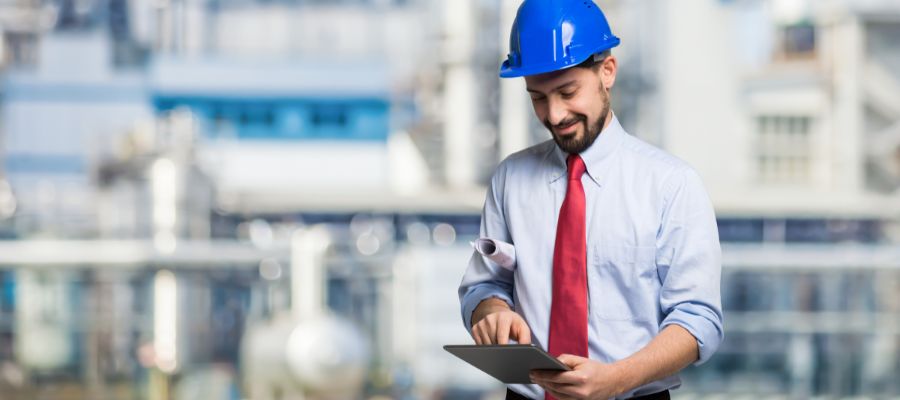 Construction project management software has become an integral part of almost every project. More and more construction companies require this valuable piece of technology even during the construction planning phase. For many in the industry, it is the best way to keep construction projects on time, on budget, and set clear expectations.
What is Construction Project Management Software?
Construction project management software is a software tool designed to handle all of a construction project's planning, tracking, and processes. This tool makes it easy for project managers and business owners to stay on top of tasks and create a paper trail. There is no set standard for construction project management software. Every company has its own set of features for its specific software. It's important to understand exactly the features you need when you choose a software provider.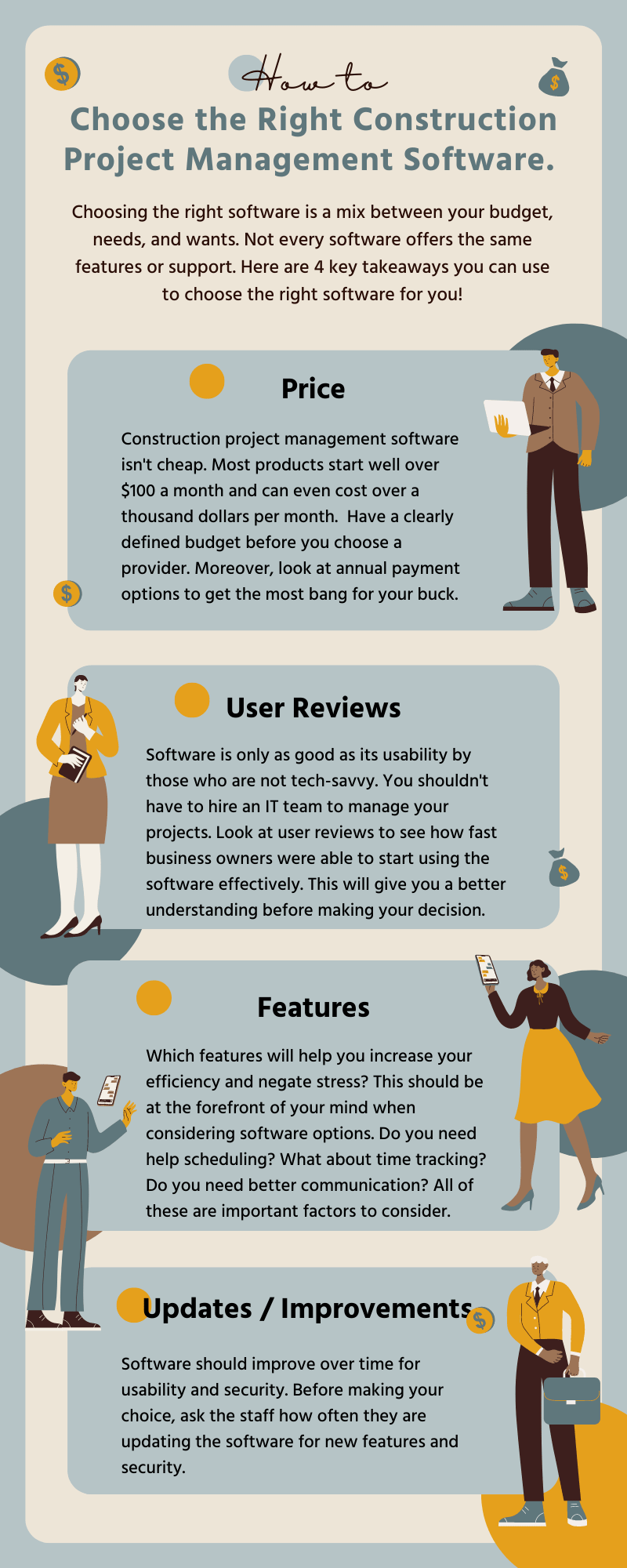 8 Features of Construction Project Management Software
As mentioned above, each software will have its own set of features dependent upon the company. However, here are some of the more common features he will find in construction project management software:
1. Cloud Document Storage
One of the key features of construction project management software is document storage. You can store your construction documents all in one place with cloud storage. All these documents are stored on remote servers with encryption. Most software will also allow you to set password protections for access to documents. You can store and share documents such as:
Designs
Photos
Contracts
Communication Documents
Receipts
Estimates
Submittals
Time Sheets
Cloud-based storage means you don't have to buy external hard drives that cost hundreds of dollars. Instead, everything is stored in the cloud. You can grant access to documents to stakeholders or other involved personnel. Cloud storage also makes sharing items easy with link sharing and permission-based access.
2. Punch Lists
Punch lists are critical for staying on top of tasks, especially at the end of a project. With project management software, you can create a customizable punch list to help you stay on top of all your duties. Furthermore, a customizable punch list allows you to personalize your punch list to your project goals. You can also keep stakeholders informed about the progress you've made as well as the milestones you need to hit.
3. Manage Submittals
Much like other documents, you can share/export, or receive submittals from contractors or other invested parties. This makes it easy to verify products or designs before they hit the field. without this feature, you may be misinformed about a project or not have the exact details that you need.
4. Reporting
Tracking your progress and reporting goals is essential to keeping the project moving and stakeholders happy. Most construction project management software comes with some reporting tools as well as the ability to make graphs or easily share data. Financial reporting is also crucial, and construction project management software makes it easy to track receipts and purchases. Stay on budget and stay on task with project management software.
5. RFIs (request for information)
If you've ever managed a construction project, then you know how important RFIs are. It is one of the most common construction tasks a project manager handles. Construction project management software makes it much easier to submit these requests for information. the software will also store and create a paper trail of those communications. Many software options automatically come with RFI templates to speed the process.
6. 3rd Party App Integrations
These days, construction project software often integrates other third-party applications. Having this capability allows you to upgrade your project management while still using the tools you have learned and mastered. For example, Procore offers several 3rd-party integrations such as Google Drive, Microsoft Project, and DocuSign. Before deciding on a provider make sure they have the integrations you need. Project management software can also integrate marketing tools and other helpful apps like CRM.
7. Tracking Plan Markups
In construction, plans can change for a variety of reasons. Keeping track of those changes, including plan markups, is easier said than done. Fortunately, with project management software it is much easier to track changes as well as catalog who made those changes. As the project progress, you can easily manage and update documents with a couple of clicks.
8. Client Billing Tools
Sometimes you must bill the client for certain items or processes has been completed. While this is not in every construction project management software, it can be an extremely useful feature. You don't have to use separate software. Instead, you can keep it all in one place.
4 Benefits of Construction Project Management Software
Construction project management software provides multiple benefits to stakeholders, engineers, architects, contractors, and even project managers! Even if you choose basic management software, you can still improve your speed and planning accuracy. Here are some of the major benefits you can expect.
1. Stay Organized with Document Storage
When it comes to project management, you will have to manage hundreds or even thousands of documents. Construction project management software makes this easy. You can assign documents to folders with ease and store your documents in the cloud. Not only are these items more accessible, but you reduce the need for cabinetry and physical filing. With document storage, it's easy to store receipts and track costs for materials for purchases.
2. Keep Others Informed
Do you have trouble staying in touch with your team? Do you wish you had a platform to talk to stakeholders, contractors, and engineers? If so, project management software can help you manage all your communications on one platform. You can integrate 3rd party applications and email into most systems.
3. Keep Track of Progress / Improve Accountability
Setting goals and tracking progress are easy with construction project management software. You can set reminders and mass notifications to be sent out to workers. The software automatically tracks the progress made and establishes a paper trail for accountability's sake. Construction project management software also makes it simple to create schedules and export them. It's also easy to adjust schedules with automatic updates sent to team members.
4. Negate Mistakes
Finally, construction project management software will help you stay on top of all of your duties. More importantly, it can negate mistakes before they even happen. Whether that be the use of document storage to keep track of receipts, or adjusting your scheduling, you can prevent problems before they arrive. You don't have to worry about a missed meeting or a missed document, the software can keep you on track.
Top Providers of Construction Project Management Software
Look at just about any list of providers and you'll find Procore at the top or near the top. Procore serves a wide range of construction-related projects and boasts a whole host of features. Some of their most prominent features include:
Automatic Syncing
Mobile Application
RFI's
Transmittals
Time Tracking
Project Meeting Tools
And so much more!
Procore is a highly rated company with software that was designed to tackle some of the largest projects in the world. The software makes it easy to navigate spreadsheets, communication, and documents all from one location. You can even view this data on your mobile device! Procore offers custom pricing based on the type of work you do and the features you need.
Want to get your project management up and running in two minutes? Buildxact is the program for you! The software makes it easy to start a new project, import tools or templates, and add others to your project. Whether you are a builder, contractor, or modeler, Buildxact can help you achieve your projects on time and on budget. You'll gain access to features like:
Create Estimates
Send Quotes
Track Costs
Scheduling Tools
Sync Accounting Software
Unlimited Support
And more!
Buildxact provides free training to all those who use the software as well as one on one consultation services. Pricing starts at $149/month and goes up all the way to $399/month depending on the features and number of users.
Many people know the Houzz brand to find contractors or hunt for that special item to complete their living room. Recently, Houzz launched a new program called Houzz Pro which offers project managers an all-in-one tool for marketing, CRM, and project management. Houzz may not be as feature-rich as some other options on this list, but you can still have tools like:
Timeline Scheduling
Unlimited Document Storage
Mobile Application
Takeoff
Estimating Tools
Change Order
Retainers & Credits
And more!
The best part? Houzz Pro is one of the cheaper options on this list. Starting at $49/month for the essential packages with a max payout of $99/month to track your project. Houzz Pro can be the perfect option for more budget-friendly buyers.
Another top construction project management software is Buildertrend. On just about every list you will find this company, and they are a major competitor to Procore. Buildertrend helps simplify workloads and improve communications among team members. Their software is highly rated and offers some notable features such as:
Change Orders
Daily Logs
Mobile Application
Photo & Video Upload
Owner Portal To Manage Projects
Takeoff
Estimates
Invoicing
Online Payments
Time clock
CRM
Email Marketing
And more!
With over five hundred employees, Buildertrend is one of the largest platforms for project management software in the nation. They handle large-scale business as well as international business. Pricing starts at $399/month and tops out at $1,299/month.
Looking for Other Construction Tools?
360MobileOffice has your back! We connect buyers with high-quality suppliers every day for mobile office trailers! Just fill out our 1–2-minute form and we will contact you to verify your information. From there you'll receive up to 5 free quotes from businesses that know your needs! It's that simple!