Construction management requires a significant amount of administrative and project management tools to get the job done. With more complex jobs arising and better market competition, construction companies have turned to software to optimize their services. Construction contract management software is the solution for many companies. From reducing costs on storage to improving your customer service, this software can help your next construction project reach new heights!
What is Construction Contract Management Software?
Construction contract management software is a computer application that businesses the ability to manage their construction administrative work. The software's purpose is to provide ease of access to documents, and templates, and provide a paper trail. There are two main ways you can gain access to construction contract management.
As standalone software. While this software may integrate 3rd party apps, it is a standalone piece of technology.
Part of construction project management software. These programs combine construction contract management with other project management software duties.
There are some general features you will find in construction management software; however, a full list of features will depend highly on the product you choose.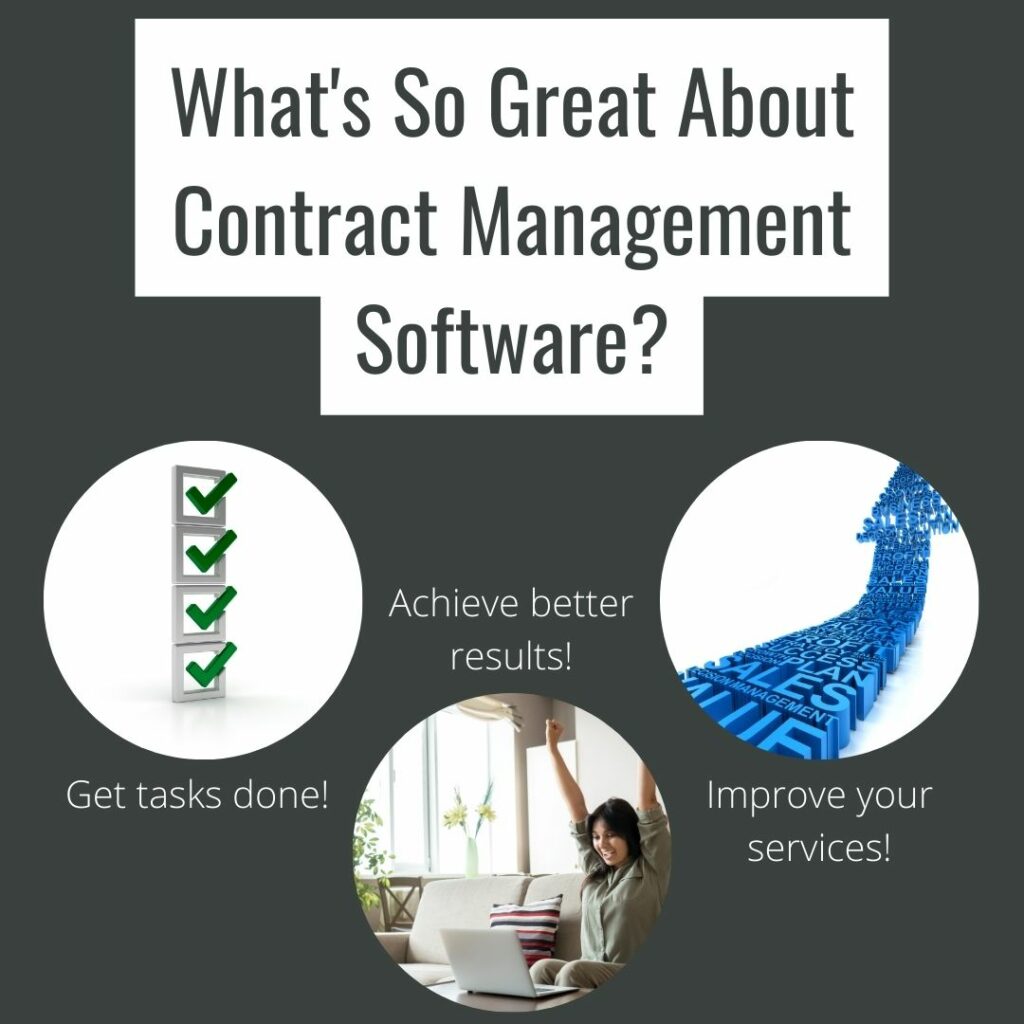 5 Features of Construction Contract Management Software
1. Create Contracts, Purchase Orders, & RFIs
Construction contract management software is great for creating the documents you need. The software makes it easy to create and send contracts, purchase orders, and RFIs (requests for information). More importantly, contract management software makes creating these documents easy with the use of templates or pre-determined forms. These tools can save you time and headaches when it comes to keeping a project on track.
2. Tracking Tools
But how are you going to keep on top of all these documents, requests, and other administrative tasks? With tracking tools of course! Construction contract management software makes it easy to track the progress of documents, set reminders for items, and even spot mistakes or forms that aren't correctly completed.
3. Cloud Storage & Mobile Application
Cloud storage makes construction contract management software a no-brainer! All of your documents are stored remotely on a secure server instead of in physical storage. These files are stored securely with robust encryption and data protection features. Cloud storage allows you to access your documents anywhere with your login information. You can view your documents on your computer, tablet, or phone which provides you with the ultimate flexibility. With a mobile application from certain providers, you can sign documents, makes changes, and more with just a couple of swipes. Cloud storage provides many benefits and is a win-win for everyone involved.
4. 3rd Party Integration
Most businesses need a combination of multiple applications to get the job done. Fortunately, most construction contract management software will integrate 3rd party apps or integrate with other software such as project management software. This makes it easy for companies to synchronize activities all in one app. No more closing apps or trying to get everyone on the same page. With just a couple of clicks, you can get what you need.
5. Receive & Send Payments
You need software that can empower your business and save you time. With payment sending and receiving through software you are able to move at breakneck speed. Don't let your software hold you back from the things you need to do.
6. Electronic Signature
Get projects done, improve your service, and help stay on task with the electronic signature feature. This feature makes it easy and simple to get the signatures you need whether you are out in the field or working remotely.
Additional Reading: Construction Asset Management Software 101
5 Benefits Of Construction Contract Management Software
1. Keep Files in One Location
Construction contract management makes file management simple and easy with cloud storage. Instead of sifting through hundreds of documents in a file cabinet, you can just search for the name of the document and you're off to the races.
2.Streamline Activities & Communication
Construction contract management software makes it easy to streamline all of your activities. You can view documents, send out requests, and more with a couple of clicks of your mouth. Furthermore, with the mobile application, you can more easily talk with co-workers and others without switching between apps. meaning everyone is staying informed.
3. Create Rules & Procedures
What do you have a program in place oh, you can start the craft procedures and rules around that software. This not only allows you to set restrictions but also protects your business. These rules and procedures can also help you better manage your workflow and keep track of who is completing tasks.
4. Stay on Budget
If you want to stay on budget for a construction project, you'll need to stay on top of your administrative work as well. Wasted administrative hours or miscommunication can result in hundreds if not thousands of dollars lost. Stay on task and on budget with construction contract management software.
5. Automation & Customization
Lastly, one of the best parts of contract management software is the ability to customize reports or documents for your company. Once you do customize the documents, you can transform them into templates. This saves you time and helps create less confusion surrounding a project. You have a procedure to guide you to success.
Price of Construction Contract Management Software
The price of Construction contract management software varies wildly. There are a couple of factors that will determine how much you will pay for the software:
Number of users
Features
Integration with project management software
Subscription model
Most services will charge a subscription per user starting around $25 dollars on the cheap side and increasing to several hundred dollars. Usually, the more established brands with more features will charge well over $25 per user. Again, many companies are combining contract management software with project management software, so you may be able to get both items for the price of one. Some options for construction contract management software include:
Procore is a construction project management tool with robust document management features. While priced higher than simple contract software, Procore brings a whole host of features to the table such as:
Bid management
Cloud storage
Accounting integration
Invoicing
And more!
If you are looking for a program to handle all your construction needs, you can't go wrong with Procore. This is not a fully exhaustive list of their services as they can help you plan and manage almost every aspect of the construction phase.
Fluid contract manager was built for construction planners and managers. For document storage and mobile usage, Fluid Contract Manager makes this easy with their intuitive software! Fluid makes it simple to find documents with a couple of clicks or talk with coworkers through the mobile application. With Fluid Contract Manager you'll gain usage of features like:
Permission-based access
Document tracking
Budget tracking
Cloud storage
Order changes
And more!
Fluid Contract Manager prides itself on being "simple construction software" and we believe them. They crafted this software to complete tasks with ease and in as little time as possible.
GenieBelt is like Procore in that it is a construction project management platform and has a ton of the same features. GenieBelt also is highly rated and used by some of the leading companies in the space. They provide themselves on bringing a streamlined experience for the user, even when switching between multiple tasks. You'll gain access to features like:
3rd party app integration
Mobile application
Cloud storage
Progress reports available directly from workers
Itemized task tracking
And more!
If you like to check out the top providers of project management software, you can find those here:
Construction Project Management Software Explained
Need Other Construction Supplies?
At 360MobileOffice, we help customers every day with finding mobile offices for their construction sites. Just fill out our 1- 2-minute form and we'll contact you to verify your information and needs. From there, you'll receive up to 5 quotes for FREE!