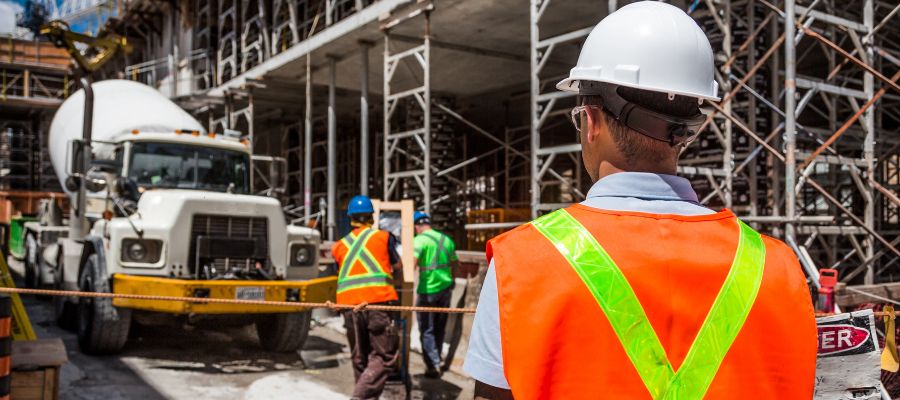 Every construction job has a lot of moving parts, which provides many opportunities for inventory to go missing. Multiple teams and large complex jobs make it hard to track how your tools and supplies are being used. Whether you are trying to track small items like hammers or large items like bulldozers, companies need construction inventory management software. Is it right for your business though? We believe it can be!
The Breakdown
Construction inventory management software provides you the ability to track tools, supplies, vehicles, and other assets.
Construction inventory management can decrease costs associated with loss and theft.
The price of the software will be determined by the features you need and the size of your business.
What is Construction Inventory Management Software?
Construction inventory management software is a software application that tracks your tools, inventory, supplies, vehicles, and other items. Most inventory software does this with the use of barcodes and scanners, although some use other methods for tracking. You can view items like:
Who checked out an item
When they checked out an item
How often has this item been used
Maintenance checks
Stock levels
Out of stock alerts
And more information!
Construction inventory management software isn't just limited to small tools. You'll be able to track things like:
Wood
Flooring
Concrete
Nails
Hammer
Nails
Drills
Bulldozers
Backhoes
And more!
Features of Construction Inventory Management Software
Not every construction inventory management software is made the same. You'll find a wide range of features depending on the type of inventory management software you choose. However, there are some common features you'll find across the board with most suppliers.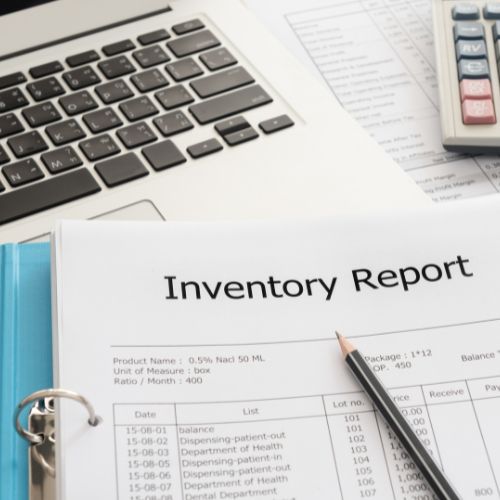 Track Inventory Levels
Even the most basic construction inventory management software makes it easy to track the levels of stock. Most often this is used with barcodes, QR codes, or tags of some kind. You would then scan this barcode to track when it is being used or when it is returned. Some software may incorporate GPS technology or even more complex asset management. Like most inventory software though, you'll be able to track inventory levels, set reminders for restocking, and be notified when a certain stock is low.
Simple Tracking
When people think of inventory management, they often think of a complicated set of software and tracking tools. Inventory management software has come a long way. Many companies can track tools with a simple scan from a scanner or even their phone! It's a fast and simple process that automatically logs tracking data across devices.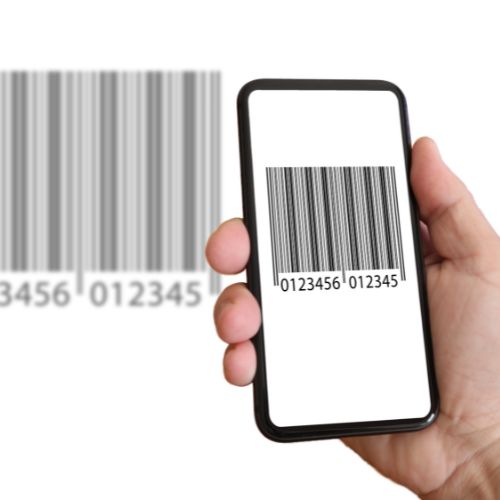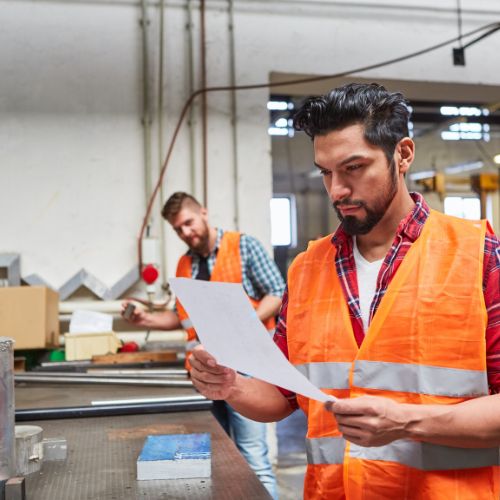 Work Order Creation and Templates
Most inventory management software for construction will allow you to create work orders. They will also allow you to create work order templates as well to speed up the process. Don't let simple administrative work slow you down.
History Reports
One of the best use cases for construction inventory management software is knowing the history of an item. You can look up the history of an object such as:
Prior owners
Maintenance checks and alerts
Past usage
And more!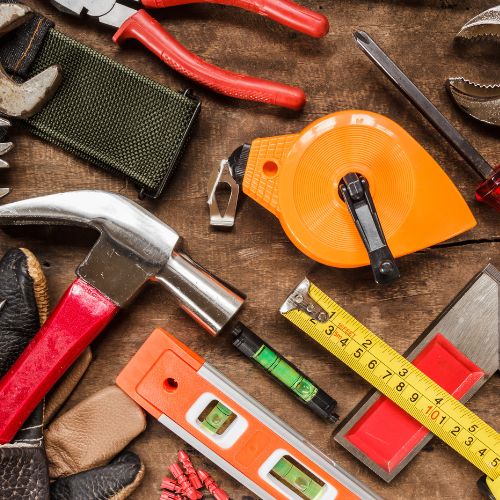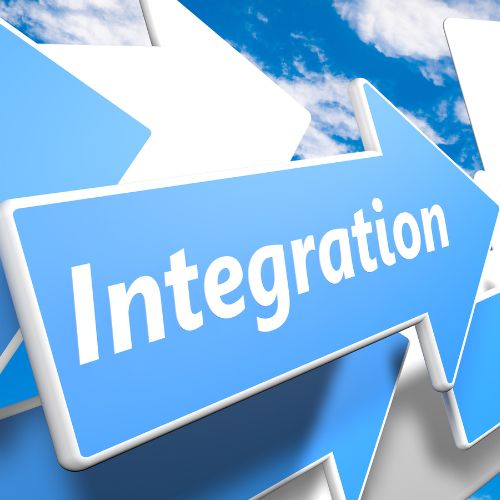 3rd Party Integrations
Most construction inventory management software will allow 3rd-party integrations into the software. This can be accounting software, construction CRM, or even project management software. Before choosing a provider, make sure to check what they do and don't allow.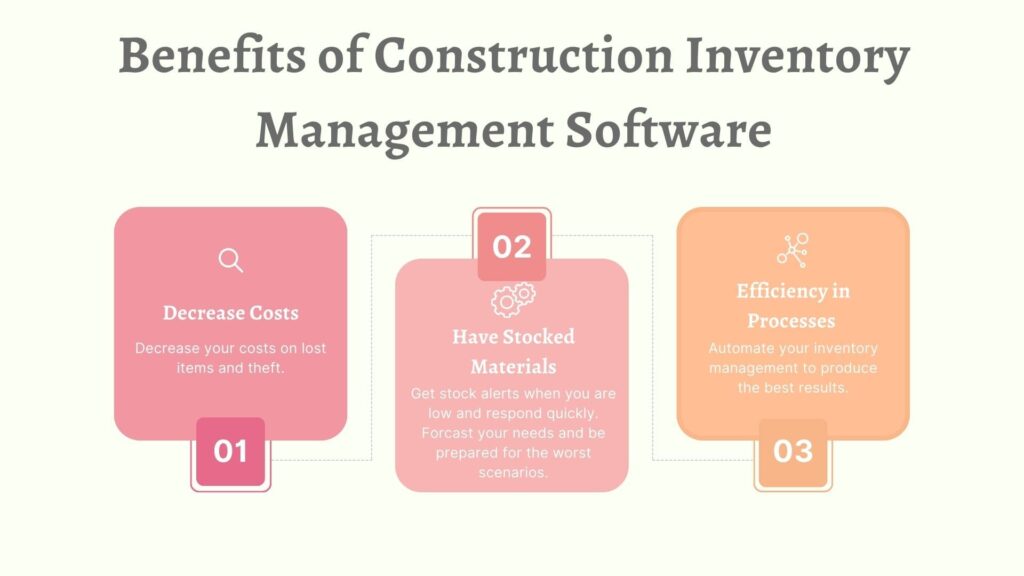 Best Construction Inventory Management Software in 2022
The suggestions for the top inventory management software are based on reviews from Software Suggest and GetApp. Also, some construction asset and project management software also incorporates some inventory management.
While not explicitly designed with the construction in mind, Oracle NetSuite ERP is one of the premier software applications for inventory management. NetSuite ERP bills itself as an all-in-one cloud platform for your business management needs including inventory management. The application also houses several other useful features such as order processing, accounting tools, and distribution tools into one application for easy access. NetSuite ERP can handle large volume inventory management with location-specific data analysis.
Pricing: Oracle NetSuite ERP is custom pricing based on your licensing fee. This licensing fee is produced by three key factors:
Your core platform
Your optional modules
Your number of users
NetSuite ERP also charges a one-time setup fee for its services. This product is best suited for those with multiple locations and a global presence. The software and pricing are designed to mix and match services and features based on what your company needs.
Zoho is an established player in the cloud software sphere, offering CRM software, IT software, and even inventory management software. It can be a great option for those who are already invested in the Zoho platform. You'll have access to things like inventory updating across channels, barcode scanning, third-party Integrations, and end-to-end tracking with over 25 different shipping services. Zoho has a simple interface and is consistently rated as one of the top inventory management applications on Capterra, G2, and GetApp. With over 20 different features ranging in warehouse management and order fulfillment, Zoho inventory can help you get the job done.
Pricing: Zoho inventory starts at $0/month, but the software limits you to only 50 orders/month, 50 shipping labels/month, and 50 after-ship tracking/month. Most companies need more than this. Their standard plan starts at $59/month and includes a bit more in terms of features. Their most expensive plan is currently $329/month, which will give you full access to all their features and integrations. However, the most popular plan is priced at $159/month and includes many of the features you would need for inventory management.
While Zoho and Oracle are designed with large businesses in mind, Sortly takes a different approach. They target small business platforms and try to provide a platform that is one of the simplest and most intuitive on the market. Not only is most information viewable in one dashboard, but Sortly makes it easy to automate your inventory management. Whether that be through communication tools, work orders, tracking levels, sending reminders, and more. With Sortly, you'll find useful tools such as barcode and QR scanning, inventory importing, low stock alerts, asset management, activity reports, and much more!
Price: Like Zoho Inventory, Sortly offers a free plan with limited features. They also offer two more plans priced at $49/month and $149/month respectively. Additionally, they offer custom pricing for enterprises that are looking to customize their experience. Sortly can be one of the most affordable options on the market for the features you receive. Furthermore, the transition can be made easier with their import tools that automatically identify data.
Do you already use QuickBooks for your construction business? If so, Acctivate Inventory Management could be the right solution for you. Acctivate is powered by Quickbooks and can help businesses implement an inventory management system with products they are already familiar with. Acctivate will help you track inventory levels, send low stock alerts, automate purchase orders, label pre-committed inventory, and will supply you with a history of your stock. Like Sortly, Acctivate targets small businesses and tries to simplify the inventory management process by using tools they are already familiar with.
Pricing: Acctivate does offer a free trial of its services. However, they offer custom pricing based on your needs and features.
Looking for Other Construction Tools?
If you were looking for other construction tools or equipment, such as mobile office trailers, 360MobileOffice can help. We pair high-quality suppliers with interested buyers every single day. all you need to do it's fill out our 1–2-minute form. We will then contact you to verify your information and needs. From there, you can sit back and relax as up to five different quotes come your way.