Construction trailers, most commonly referred to as mobile office trailers, job site trailers, or construction site trailers, are temporary mobile offices for construction sites. Construction companies use construction trailers to hold administrative staff, provide shelter from the heat and cold for employees, and more. These mobile offices come in many sizes and price points depending on the need. They are relatively inexpensive but provide immense value for construction companies and other industries as well.
Furthermore, construction trailers provide companies with easy to access office space. These trailers can serve multiple functions and can even be moved if need be. There are both rental and buying options, so companies have many ways to acquire a construction trailer.
Common Features:
In the past, a construction trailer may have been a small shack to house supplies. However, construction trailers have come a long way since those days. You can find many features and upgrades that you would find with any other building. The best way to think about a construction trailer is to think about a "mobile home." Instead of bedrooms, you have office spaces and break areas at a much cheaper price. Even with the increase in features, rental prices continue to stay relatively low. They provide construction companies with a cheap way to add office space to a job site without breaking the bank.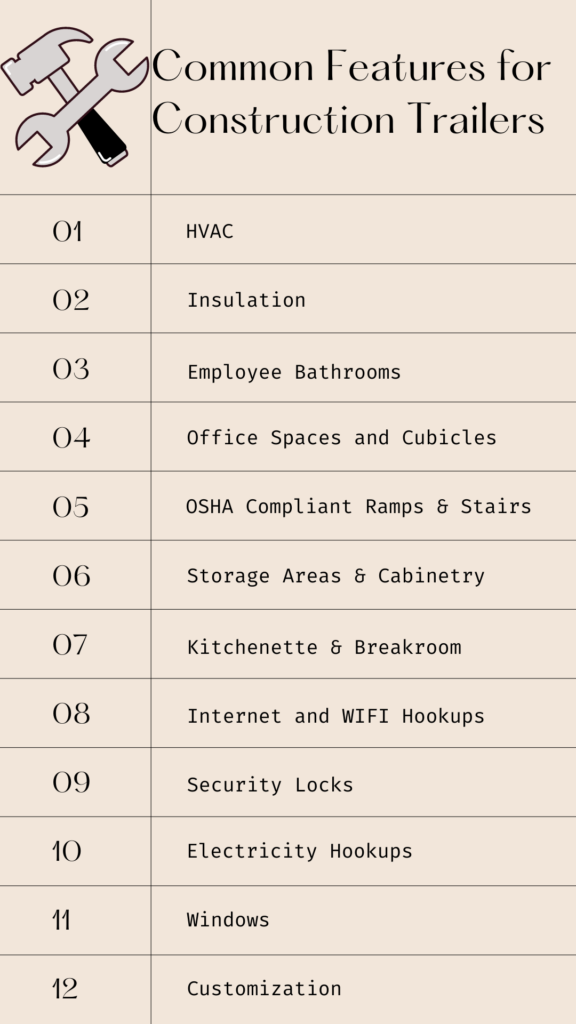 Who Needs a Construction Trailer?
It seems obvious, but construction trailers are best for companies who work in the construction field. People like:
Real Estate Developers
Disaster Relief Companies
Architects / Designers
General Contractors
Engineers Firms
Construction Management Companies
However, construction trailers are not only applicable to the construction industry. Many types of businesses and government entities can also use construction trailers for temporary or unique building options. In the right circumstance, construction trailers can be perfect for industries such as:
Education
Hospitals
Government Disaster Relief and Security
Event and Entertainment.
Additional Reading: Top 6 Reasons to Consider Mobile Office Trailers for Events and Festivals
Benefits of Construction Trailers
At first, construction trailers may seem simple. You need temporary office space and construction trailers provide that. Except, there are many benefits to renting or owning a construction trailer not only for administrative tasks but for people-oriented tasks too.
Affordable and Temporary
Let's start with the most attractive part of construction trailers, their affordability. You can rent a construction trailer for around $200 to $400 with some of the smaller sizes. This means that you can maximize every dollar when it matters most. Depending on the supplier you choose, there are a lot of features that can be included with that rental price. Moreover, most construction trailers can be set up within a couple of days with the right site preparation. Construction trailers provide you with instant access to the necessary facilities you need. Once you're done, the supplier will come back and pick up the construction trailer. You don't have to worry about managing an asset now that you're done with the job. You can move on to the next job.
Keep Your Files Secured
There is a ton of paperwork and confidential documents that need to be stored securely, even when on a job site. Construction trailers can often come with security locks and special storage to help keep items secure. You'll be able to safely stow away your items under lock and key. Having a construction trailer also gives you a central location to house all your documents. You can even institute a sign-in form to monitor who is accessing forms and when. You don't have to stop at just files though, construction trailers can be a great way to store valuable equipment or employee belongings.
Customizable and Specific to Your Needs
While there is a lot of flexibility in price, there is also a lot of flexibility in the features that you choose for your construction trailer. From extra storage space to a kitchenette, you can find a construction trailer that can fit almost any need. Furthermore, the space can serve multiple purposes. It doesn't have to be just office space, but it can be a break room, a meeting space, or even a hydration station to keep workers cool during hot parts of the day. If you're looking for office space that can be flexible to your needs, a construction trailer is the way to go.
Safe Area for Employees
A construction site can be dangerous for employees. They'll be exposed to the elements and hard labor. investing in a construction trailer for your job site means that employees have a safe space to go to should they end up hurt. They can use the bathroom, receive first aid, and shelter from the elements. Construction trailers provide a valuable tool to keep employees safe and documents safe as well.
Size and Cost of Construction Trailer
Size, features, and the specific supplier you choose will all influence the price of your construction trailer. To rent, you can expect pricing for the three sizes to be around:
8'x20' / $200-$450 a month
10'x44' / $300-$500 a month
12'x60' / $500-700 a month
Additional Reading: What Size is Right for Me?
According to Streamline, purchasing a construction trailer could land you anywhere between $12,000 and $48,000. Again, this will be based on features and optional additions. You can also buy used or choose to rent to own. You'll also want to account for delivery, set-up, and removal This will cost you around an additional $1300-$2500.
Ready for a Construction Trailer for Your Job Site?
Do you think that a construction trailer would be the right choice for your company? If so, 360Connect can help you. We help buyers find high-quality suppliers in their area and help you get the best deal for your needs. Fill out our questionnaire and we'll be in contact with you. It's that simple!
Still not convinced? Check out some more content here: