Standard Office Trailer Sizes
When it comes to finding temporary office space, mobile office trailers are a great option. They are affordable, easy to set up, and can be tailored to meet the specific needs of your business. Office trailers come in a variety of sizes and floor plans with standard or custom options. Of course, the size you choose will depend on the needs of your business. The most common dimensions are listed below, along with a list of questions to help you determine the right size for you.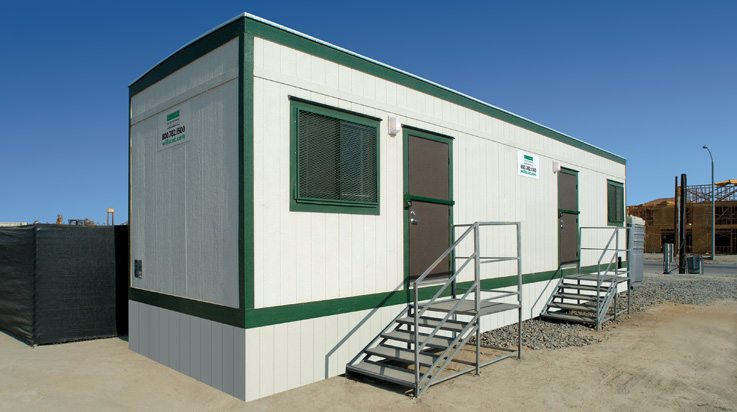 Mobile office trailers are commonly referred to as one of the following:
A single-wide is generally a mobile office trailer that is 14' wide or less.
A double-wide is a mobile office trailer that is 24' wide.
A triple-wide is a mobile office trailer that is about 42' wide.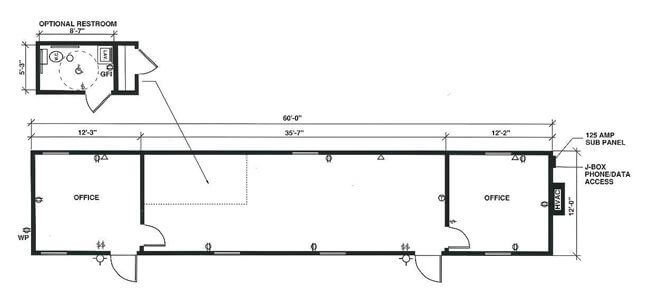 Single-wide
The most common mobile office size is the single-wide unit. Generally speaking, the single-wide unit provides enough space for one private office and an open area that can be used either for storage or another smaller office. The larger the dimensions, of course, the larger the space.
Note: The availability of specific sizes and dimensions will vary depending on the supplier. Be sure to ask in advance what is included in their inventory if you are looking for a specific size.
Single-wide dimensions can include any of the following:
8'x20' (160 sq ft)
8'x28' (224 sq ft)
8'x32' (256 sq ft)
8'x36' (288 sq ft)
10'x40' (400 sq ft)
10'x50' (500 sq ft)
12'x32' (384 sq ft)
12'x44' (528 sq ft)
12'x56' (672 sq ft)
12'x60' (720 sq ft)
14'x45' (630 sq ft)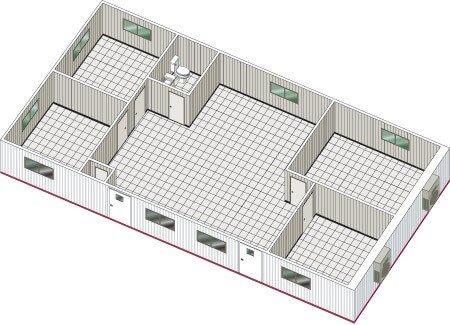 Double-wide
Double-wide units are typically two single-wide units welded together to create one large unit. Double wide units can have up to four separate areas, as well as a large open area. Many double wide units include a kitchen and break area.
Common double-wide dimensions include:
24'x44' (1,056 sq ft)
24'x56' (1,344 sq ft)
24'x60' (1,440 sq ft)
28'x70' (1,960 sq ft)
28'x74' (2,072 sq ft)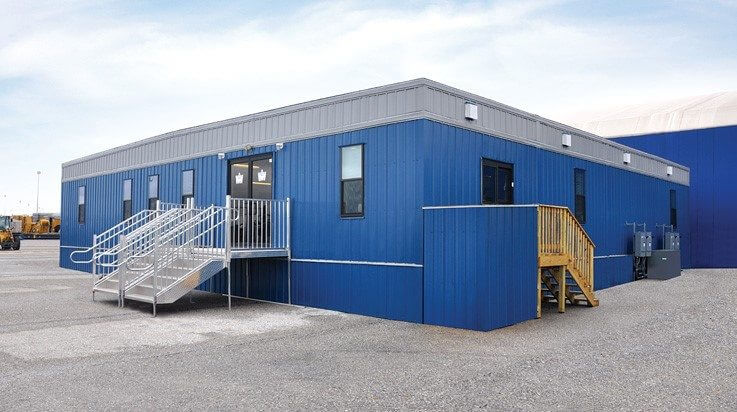 Triple-wide
The triple-wide unit is less common, mainly because of its size. A triple wide consists of three single-wide units welded together to create an extra wide space. Because of its bulky nature, it is usually necessary to deliver each individual unit, then attach them once onsite.The most common dimension for a triple-wide is the following:
What size do I need?
Now that you are familiar with size options, you will want to determine which unit and dimension you need.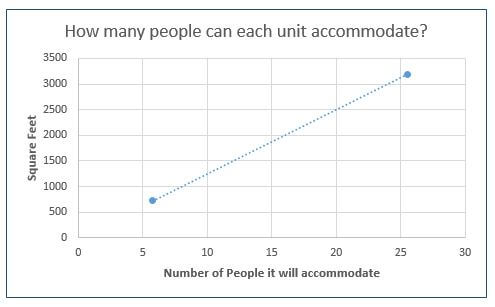 Here are some helpful questions to ask:
How many people will I need to accommodate?
A general rule of thumb is each person will need 100 to 150 square feet. A 12'x60' single-wide unit (720 sq ft), for example, could comfortably fit about 5-6 people. A 42'x76' triple-wide (3,192 sq ft) could comfortably fit 19-20 people.
How much space do I have?
Be sure to measure the land where you intend to set up the mobile office trailer. If your mobile office trailer arrives and does not fit in the space for any reason, it will cost you time and money. If your trailer is too big for the allocated space, you will most likely have to order a new size and pay to ship it back, all the while losing valuable job site time.
Are your numbers based on internal or external measurements?
Not all vendors measure size the same way. Make sure your vendor is measuring the usable square footage. For example, some sellers may include the part of the trailer that hitches for towing in their measurements. While knowing about that extra 4 feet will help you in making sure your space is large enough to accommodate the mobile office trailer, it will not be usable office space. Be sure to ask for both the internal and external measurements of your mobile office trailer.