Mobile medical office trailers consist of prefabricated portable offices that sit on a wheels-and-chassis trailer base and can be moved pretty much anywhere. The trailers are specifically designed for medical use in mind and often carrying special equipment. They can come in standardized floorplan configurations much like modular offices. Mobile medical office trailers are becoming more common in the medical field as hospitals look to expand their services or need temporary buildings for projects. These medical office trailers can also be outfitted with special medical equipment should they need to be deployed into the field.
Mobile medical office trailers can be set up with relative ease, depending on what you need. While a building addition may take several months to years to complete by optimistic estimates, a mobile office can be delivered within weeks. That's even with modifications. Mobile medical office trailers provide flexibility, fast application, and medical services in a mobile package that can be adapted to a hospital's needs. These offices are relatively inexpensive and can provide hospitals or nonprofit organizations with reliable space to conduct medical services.
Some medical mobile office providers work with medical equipment manufacturers to install equipment. However, some buyers prefer to install their own equipment from their own manufacturers.
Benefits of Medical Office Trailers:
Fast Application
Flexible Office / Storage Space
Movable to Hotspot Locations
Affordable
Rent or Buy Options
Customizable
Medical Equipment Installation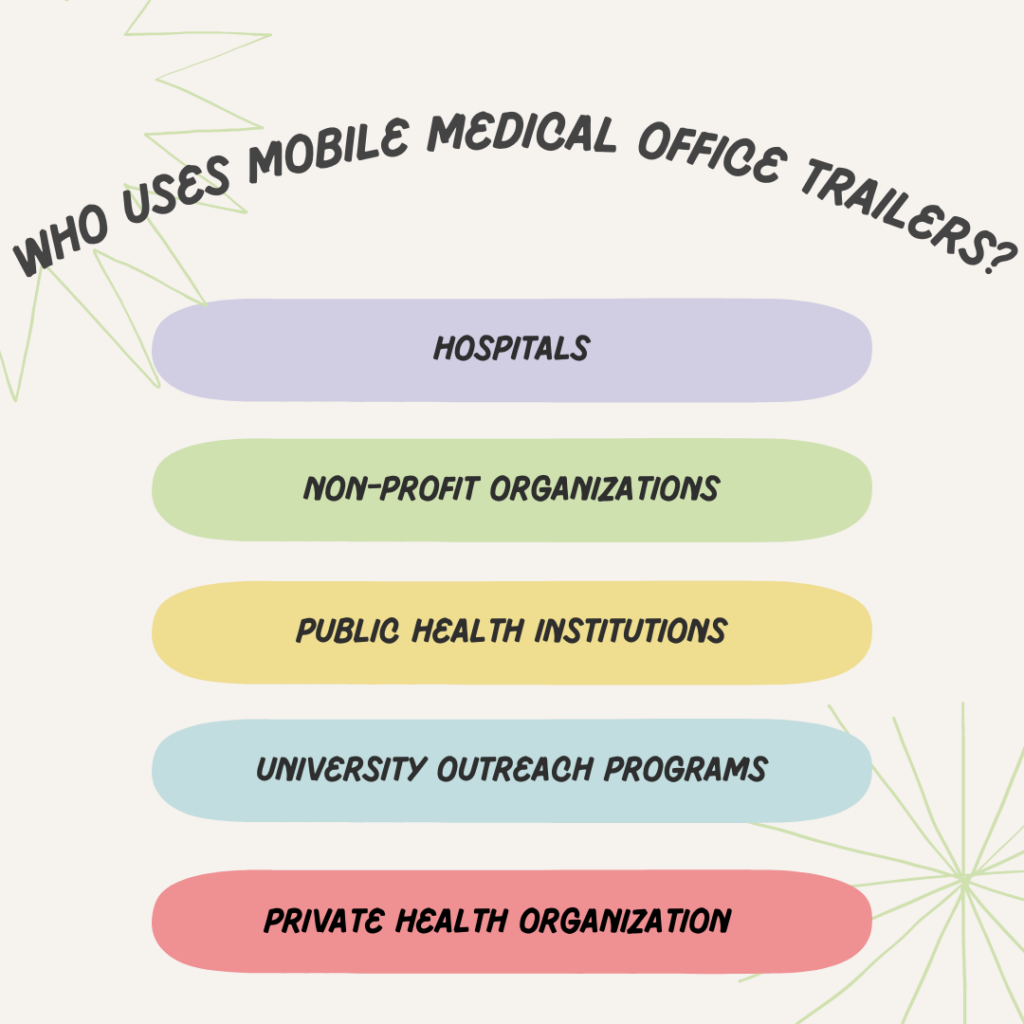 Uses of Mobile Medical Office Trailers
Extra office Space
Let's start with one of the most common uses for mobile medical offices and that's for administrative space. Hospitals, nursing staff, and doctors are doing more paperwork and administrative tasks than ever before. Many medical facilities are looking to hire administrative workers to meet those demands. Mobile offices can help you expand while staying within budgetary restrictions.
These officers can also be outfitted with the necessary modifications to complete administrative work such as: electrical hookups, computers, HVAC, and more. You can have an open floor plan or have cubicles installed. Also, if you plan on building new facilities, you can rent a mobile office for a much cheaper rate without skipping on facilities.
Health Screening Center
As the pandemic has shown, not all rural/urban areas have the same access to medical services. Hospitals are looking to do more outreach and make a bigger impact for hard to reach communities. Mobile medical office trailers allow providers to establish temporary health screening centers. These centers can also be outfitted with different types of medical gear and equipment. They can be deployed and set up within a day. Hospitals have also used mobile offices as health screening centers for patients before entering the facility, such as temperature checking, handing out makes, testing, etc.
Vaccination Center
Medical office trailers can also be used as vaccination sites. You can use them in urban or rural areas. Mobile vaccine centers are regularly used outside of the United States. Again, you can be up and operating in a couple of weeks and have all the services you need.
Health Command Centers / Disaster Outreach
Establishing a health command center during a tragedy is essential. A command center needs to be equipped with telephone and communication systems. Office trailers can help organizations be quick to establish an "on-the-ground" presence. These trailers can be outfitted with the latest gear to help you respond to critical situations.
Additional Lab Testing Space
Need an additional building to handle extra testing and lab work? Medical mobile office trailers provide a safe and secure area to conduct such tests. These trailers can be built to meet medical guidelines and standards as well as contain important medical equipment. You can customize them with special features in mind such as freezers, extra storage, and lab safety equipment.
Optional Storage Space
In the event that you do build new facilities, mobile office trailers can be converted into extra storage space. They can house special medical equipment, extra supplies, and cleaning solutions for your everyday needs. Again, mobile office trailers are highly adaptable. Whether you buy or rent, a mobile office trailer can help your company or hospital run more efficiently and have more tools at their disposal.
Common Additions or Modifications for Mobile Medical Office Trailer
Medical mobile office trailers come in various sizes, but many offices are modified for specific needs. Before seeking out a provider, you need to know exactly what problem a medical mobile office will solve. This is important because certain medical guidelines need to be followed if you are going to use mobile office trailers for treating patients.
Common equipment or additions could include:
X-Ray Machine
Operating Table
Blood Pressure Monitors
Tv's
Computers
Phones Systems
Satellite Dish
Refrigerator
Freezer
Washer/Dryer Hookups
Hand Wash Sink
Patient Chairs
Desks
Cubicles
Internet Connection
Outside Awning
Generator Hookups
Telemedicine Services
Exterior Outlets
Windows
Security / Alarm System
Storage Area / Shelving
Size and Cost of Mobile Medical Office Trailers
Any of those modifications listed above will affect the price and size of your mobile medical office trailer. Office trailers have an average lifespan of around 5 to 10 years depending on use and maintenance. You can either rent or buy a mobile medical office trailer depending on your needs.
Our recommendation is that you should rent a mobile office trailer if you plan on keeping it for less than a year. If you plan on using the trailer for several years, you could break even or even get ahead when purchasing. If you'd like to delve into specifics, check out our all-inclusive buyers guide on mobile office trailers. We include general pricing and sizing that fits industry standards.
Mobile Office Trailer Buyers Guide
Top Vendors of Mobile Medical Office Trailers
Want to know more about some of the top vendors of mobile office trailers and how they can help you? Check out:
Vanguard Modular Building Systems
Want to Secure Your Mobile Medical Office Trailer?
Are you in need of a mobile medical office trailer and want the best? Ready to see how a mobile office trailer can help your company? At 360MobileOffice, we can help you find the right supplier for all your mobile medical office needs!
Get your free medical mobile office quote here!
More Information
How to Choose the Right Supplier