When it comes to hosting an event, you need a flexible space to plan and strategize. Most event companies don't need a permanent base year-round, however, they still need a space to plan out the festival and a base of operations. Event and festival mobile office trailers provide this space at a much cheaper price. Mobile office trailers can serve multiple functions during the planning, staging, and execution of an event. Furthermore, they can be finely tooled to your specific needs. Let's break down how an event and festival mobile office trailer can help your team succeed.
Event Usage for Mobile Office Trailers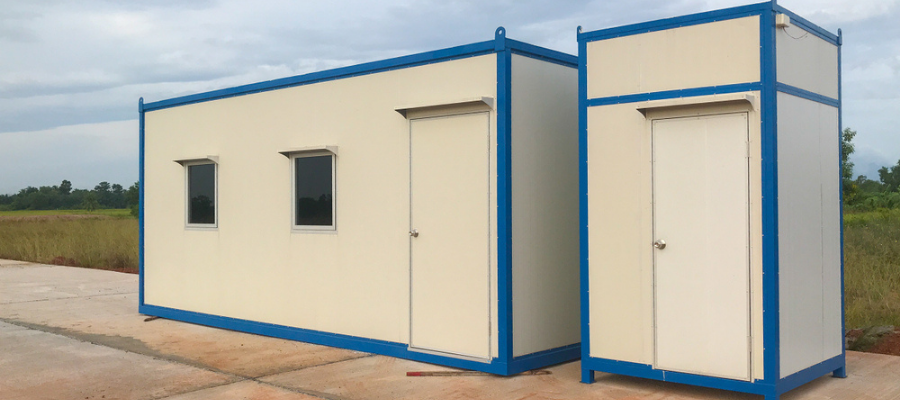 If you don't need many modifications a mobile office trailer can be delivered to you in as little as two weeks or even the same day if they have the model you need in stock. Mobile office trailers provide flexibility and remote office space even for hard-to-reach festivals and events. With mobile office trailers, your usage isn't limited to just office supplies or desks. In fact, mobile office trailers can serve multiple purposes.
Storage
One of the best benefits of mobile office trailers is that they can also function as a storage container for various items. you can rent a mobile office trailer to house extra supplies, cleaning gear, temperature-sensitive materials, and more. You can dedicate one section of the trailer to office space and then apply shelving to the next. Storing items this way can help save you time and money. It can even help your crew be more efficient.
Break Room / Changing Room / Employee Bathrooms
Need an air-conditioned center for employees to take breaks? Looking for a secure solution for employees to change out of costumes? Mobile office trailers can do this and more. An employee breakroom can act as a meeting spot. This can be extremely helpful during preparation for an event. You don't have to wonder if the weather is going to affect your planning process with your employees. Instead, you can have a central hub to talk with employees regardless of inclement weather. This can also be the perfect spot for employee locker spaces.
Some festival and event providers will have workers change costumes or clothing in porta-potties. This is a bad idea for two main reasons. One, there's always the chance that the clothes will smell or be tarnished due to changing in a porta-potty. The cramped space and lack of proper sewage often trap smells. Second, porta-potties usually do not have the accessories or space for putting on elaborate costumes such as extensive makeup. Using mobile office trailers for employee bathrooms also ensures your workers never have to stand in long lines for a bathroom break. Meaning they can get back to helping you put on the show of a lifetime!
Ticket Booths
The last thing you want to happen when operating a festival is for the weather to damage your ability to collect revenue. Using a mobile office trailer as a ticket booth can ensure that all necessary documentation and funds stay dry and secured. Employees can also stay safe from weather conditions such as extreme heat or cold.
Merchandising
A cost-effective way for festivals and events to make money is by selling exclusive merchandise. An event and festival mobile office trailer can be decked out as a merchandising store. You can store items on shelving or hang them on racks. Items will stay securely located in the mobile office trailer. Importantly, you can manage the flow of people inside the trailer. This can help you spot would-be thieves or pickpockets.
Office Space
It is very important that you have a base of operations for your event or festival. An event and festival mobile office trailer can help you establish that base of operations. You rent the trailer for a specific period of time, and then return once the event is over. Having a clearly defined office space can help your business be more efficient and establish protocols. Renting a mobile office trailer is usually the best cost-effective solution for festivals. Use it for a couple of months and then return once you're festival is complete.
Most office trailers can also be outfitted with special modifications as well. These modified trailers can be delivered within weeks, meaning you can be off the ground running as soon as possible.
Checkpoints
Need checkpoints for directing attendees? Event mobile offices can help employees inform people without exposing them to the elements. Mobile office trailers can also be used as an easy landmark for attendees to navigate facilities.
Media Centers
Need film crews at your events? Mobile office trailers are the perfect building structure for temporary film and media personnel. These buildings can be outfitted with internet capabilities and storage space for devices.
Training Facilities
Looking for a place to house all of your training? Event and festival mobile office trailers provide you with robust facilities that can house large quantities of people. Not to mention, you can have A/C capabilities while conducting training!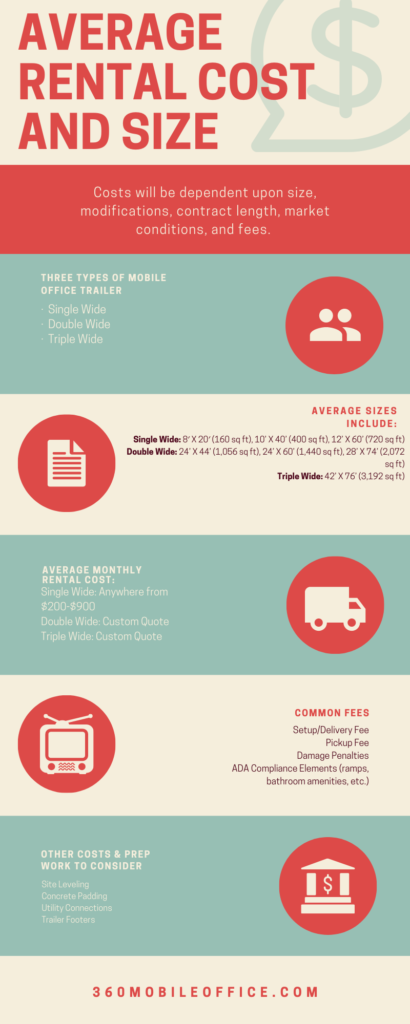 Double and triple wide office trailers are uncommon for events and festivals as most companies are trying to maximize the space of the venue. These trailers also cost more. However, you can still contact a supplier about these sizes if your needs dictate it. Consult with an expert about which size would be right for you. A mobile office trailer company can also help you with site preparation and federal, state, and local compliances.
Why Mobile Offices?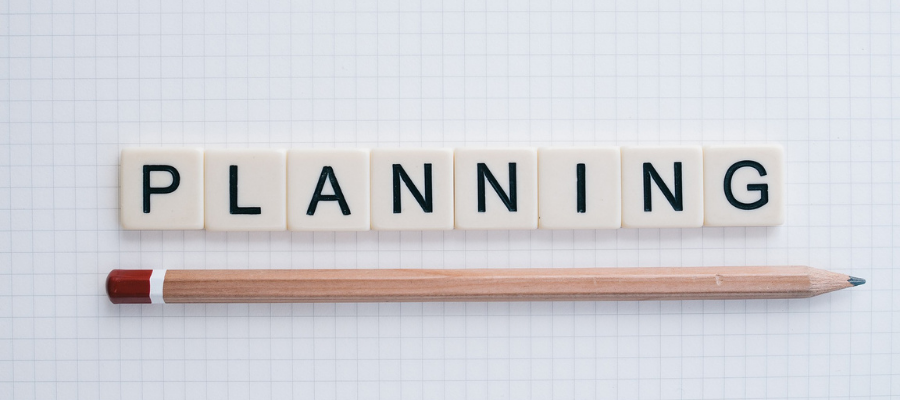 Mobile offices provide you with a wide range of flexibility. They can be easily implemented into your business operations. Event and festival mobile office trailers are also reliable ways of providing your staff with the necessary tools it needs to succeed.
Simple Office Solution
Most events and festivals are seasonal, which means you don't need permanent office space. Mobile office trailers fit this need and can be easily transported to a festival site on a trailer and set up within a day. this is more cost-effective than trying to build, purchase, or rent a stationary location.
Wide Selection
There is a wide selection of mobile offices to choose from such as new, used, and refurbished. You may find that you can afford a lot more with a mobile office trailer than you could use other permanent locations. Renting a mobile office can be anywhere from $200-$900 monthly, although that will depend on providers and the length of the contract.
Outstanding features
A mobile office trailer can be as simplistic or complex as you would like. Common features or modifications can include: internet, electricity, shelving, bathrooms, windows, stairs and ramps, security cameras and locks, special lighting, vinyl floors, and more!
Adaptable
When hosting an event anything can happen. This is why most event planners try to prepare for every situation. While a mobile office trailer can function as just an office, you can add storage as you go along in the form of shelving. Vertical shelving will allow you to adapt a mobile office to your storage needs as time goes on.
Internet Access
Many mobile office trailers can be outfitted with Internet connections. You can coordinate between staff and event suppliers even in remote locations. This can be extremely important for marketing purposes, as you can be on-site taking photos and promoting your event. The key is having open lines of communication and information that can ensure success.
Mobile office trailers can be pivotal to events such as:
Music Festivals
County Fairs
Renaissance Fairs
Fundraisers
Concerts
Award Shows
TV / Film Production
Sporting Events
Do You Need a Mobile Office?
If you're looking for a temporary office space that can be flexible, requires little lead time, and can be modified to your specific needs, then a mobile office is a right choice for you. This is a relatively inexpensive solution for office needs. Additionally, an event and festival mobile office trailer can help your whole team be successful and be incorporated into your business activities in multiple ways.
Are you ready to secure a mobile office trailer for your event or festival? At 360MobileOffice we can help you find quotes from high-quality suppliers. Contact us today to get your free quote!