Do Your Research – Answer These Questions
When it comes to shipping containers (also known as storage containers, ISO containers or CONEX boxes), buying used is a great way to go. It's much more affordable (new containers can cost as much as $10,000!). Because containers are made of heavy-duty steel, they are built to last. That being said, there are a few important things to keep in mind before you start shopping. Here are 10 helpful questions to ask when shopping for a used container: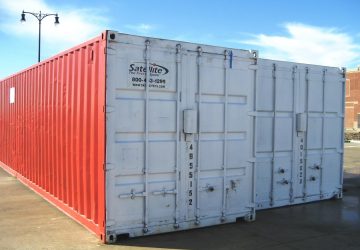 1. How long do I need the container?
Storage containers can be used for a matter of weeks, months or years. If you plan on using the container for less than a year, you might consider renting. There are a lot of reasonably priced containers (both new and used) for rent. With most rentals, you are going to pay for the cost of the container plus a delivery fee. In some cases, you may have to pay a permitting fee to place the container on your property.
But if you plan on using the container for more than a year or you aren't sure how long you will need the container, you might want to buy. The average breakeven number for renting versus buying is between 2-3 years, depending on the price of the container plus the rental fee of the supplier you choose. Talk with several container suppliers in your area to find the best option for you. Many suppliers offer containers to rent or to purchase.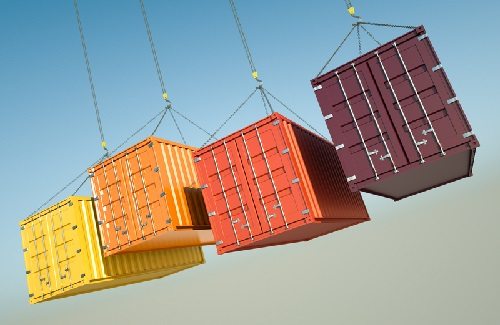 2. What size container do I need?
Standard
There are two standard lengths for storage containers: 20-footers and 40-footers. Their height and width may vary, but they are usually 8 feet wide x 8 feet 6 inches high. Most standard shipping containers have been approved by the International Standards Organization (ISO) to ensure safety, quality and consistency across the industry. Because of their standard sizes, they easily fit together and can be stacked up to 7 units high.
Custom
In today's container market, you can also find a number of non-standard, customized sizes. Just know that you will probably pay more because of the labor required to weld them together or cut them down to the size you want. Generally speaking, a custom-size container usually costs 20-30% more than a standard size container.Some of the most common custom sizes include:
15' length x 8' width x 8'6" height
30' length x 8' width x 8'6" height
45' length x 8' width x 8'6" height
Some suppliers offer an extra wide container that is usually 10 feet across. This feature is popular in the construction and retail industry because it allows for the storage of bulkier items, like heavy machinery or seasonal inventory that may not fit into a standard width container. If you are interested in the extra wide option, be sure to ask your local suppliers about their customized options.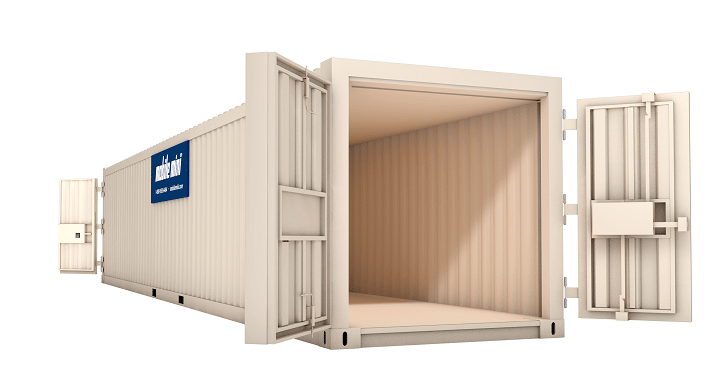 3. What features do I need?
In addition to knowing the size of container you need, it is helpful to know what features are important to you and your business. Some of the most common features (also known as add-ons) include:
Single door entry
Double door entry
Windows
Flooring
Internal locking system
HVAC
Shelving
Office/storage space combo
Of course, when you are buying used, you may not be able to find a container with the exact features you need. But there are plenty of used containers out there that do have some of the features listed above. If you choose to go through a local supplier, often times they will offer a wider range of features on their used containers than you could find buying from a third party site like eBay or Craigslist. Learn more: Customize Your Container.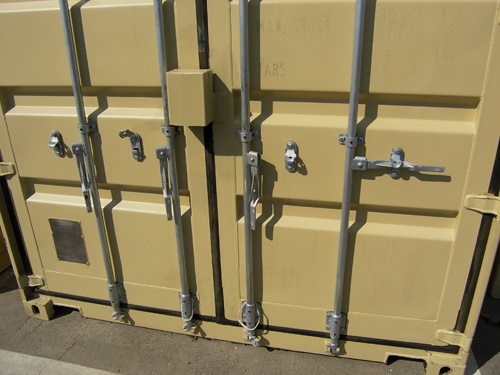 4. What type of security do I need?
Many container suppliers will tell you a container is only as good as the lock that is on it. Security is often a customer's number one concern when it comes to storage containers.Locks
There are usually two types of locks available:
Exterior bolt lock
Interior locking mechanism
If you choose to purchase an exterior bolt lock, be sure to research all of your options and find one that is of good quality. Many of the exterior locks out there can be cut through with a pair of bolt cutters. If your container will be stored on a property where security is carefully monitored, an exterior bolt lock is probably sufficient.
But if security is a concern, you might consider an interior locking mechanism. They usually cost more, but it could be worth the price to know your valuables will be safe.
5. Do I need permission to place the container on my property?
It depends. In some cases, you will need to obtain a temporary permit from the city to store a container on your property. This is usually the case for containers that will be stored in highly trafficked areas or residential locations (not everyone wants to stare at a steel container from their kitchen window!).

Most retail and construction sites are required to pull a temporary permit from the city. But on an agricultural property or an area that doesn't get a lot of traffic, a permit may not even be required. It's important to contact your city, county and neighborhood association to find out their exact requirements before buying a container and having it delivered to your property. Check out the article: Helpful Hints on Storage Container Permits.
6. What kind of site prep is required?
It depends on the condition of the site and the amount of time the container will be stored there. Generally speaking, if the land is fairly level and dry, the site is ready to go. On construction sites, for example, the general contractor will find the flattest, most convenient space for the container and have it delivered there. That is sufficient site prep for a container that will only be there for a matter of months.
But if your container will be there for more than a few months or if it will be stacked on top of other containers, a more thorough site prep is needed. Most container suppliers will talk you through what is needed for delivery. In cases where delivery could be challenging due to narrow fencing or sloping ground, many suppliers will offer to come out and inspect the property. Keep in mind that sloping ground, rocky land or areas that flood easily are not ideal for storage containers. Read more: Things to Know Before Delivery.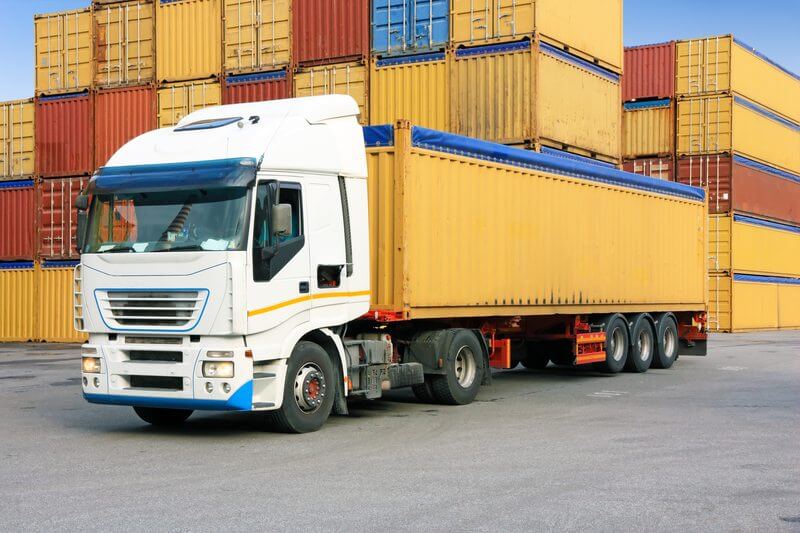 7. How much is the delivery fee?
It depends on how many miles the container has to travel to get to your site. The higher the mileage, the more you are going to pay. Additionally, if it is difficult to access your property, it could cost you more.
Most suppliers set a flat delivery fee for a certain mile radius and will charge more for anything that goes beyond that. But in some cases, suppliers offer a discounted rate for large orders. Be sure to ask about delivery fees upfront, as this can significantly increase your total cost. If you really want to save on delivery, find a supplier near you.
8. What condition is the container in?
Shelf Life
Most used containers shipping containers have 'retired' or outlived their shelf life in the shipping industry. The shelf life of a storage container is determined by the conditions it has been exposed to, any damages incurred, miles traveled and the age of the container. Based on these factors, the container is assigned a grade. Eventually, the container reaches a point where it is no longer approved for international transport, but still suitable as a storage unit.
Most retired containers are still in good condition and make great storage units. They may be too old to be shipped across international waters, but they are made of galvanized steel. This makes them a secure and durable option for storing your stuff.
Container Descriptions
Used storage containers come in a wide range of conditions and are often categorized by descriptive terms such as: 'like new,' 'ISO approved,' or 'lightly damaged.' This can be confusing to a buyer who doesn't care about a little rust, but wants to make sure their items stay safe and dry.How to Determine the Condition of the Container
Here are some helpful questions to ask the supplier about your container:
How has the container been used (storage vs. international transport)?
What type of climate has it been exposed to (cold, humidity, heat)?
How many miles has it traveled?
Has it incurred any damages (rust, dents, dropped in transport)?
Has it had any repairs?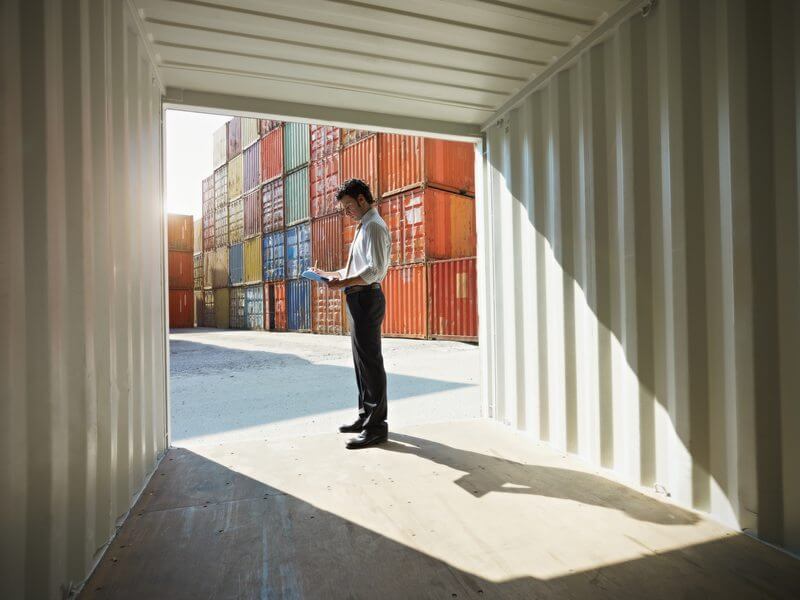 9. What is my responsibility vs. the seller's?
It depends on the seller. Here are a few things to determine before buying:
Warranty – Some suppliers offer a warranty or liability waiver that will cover certain damages to your container (weather, AC, rodents, etc.). You will usually pay more, but the coverage might be worth it.
Delivery – If you buy from a third party seller, you are most likely going to be responsible for the delivery and removal of the container. Be sure to find out how far away the container is from you and how much the delivery is going to cost. A cheap container bought from a third party seller can end up costing as much as an 'as new' container because of delivery fees. Going through a local supplier can often save on delivery costs.
Permits – Most local suppliers know the requirements for your area and will guide you through the process. If you go to a third party seller, you are on your own for researching what is legally required to store a container on your site and there may be some hidden costs involved in pulling a permit from the city or neighborhood association.
Security – Many suppliers sell a variety of locking mechanisms, from the standard bolt lock to advanced internal locking mechanisms. Be sure and ask your supplier what security options they offer.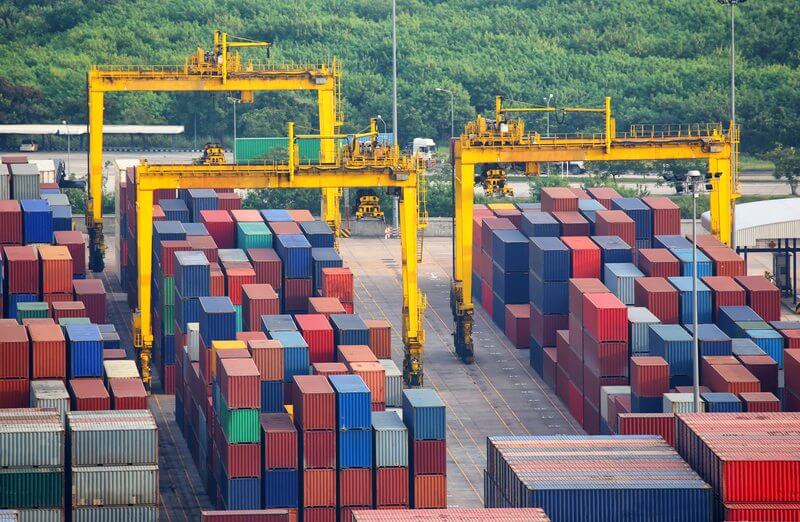 10. How do I shop for a used container?
There are generally two options when buying a used container:
Third Party Seller
You can find plenty of used containers available for purchase on sites like eBay and Craigslist for a great price. However, the challenge with buying containers from 3rd party sellers is this: you don't know who you're buying from, what their history is, or the condition of the container. If you can meet the seller in person and inspect the container, then it might be a great deal. It's also important to find out the cost of delivery. What sounds like a great price may not be in the end once you add the cost of delivery. Make sure and ask plenty of questions before purchasing.
Local Suppliers
If you aren't purely price-shopping but want to make sure you get a high-quality container, it might be safer to go with a local supplier that is established in the industry and sells containers near you. When deciding on a supplier, it is helpful to look at their website, read their customer testimonials, and find out how many years have they been in business. You can get a good feel for the supplier just by talking to them on the phone. For more information read about the pros and cons of online vs. local suppliers.