If you are a construction business owner or contractor looking for reliable and temporary offices, then there is a solution: construction office trailers. Construction office trailers are mobile trailers (akin to mobile homes) that are outfitted with features to make them usable as an office. They give businesses the ability to have office spaces (with features like internet access) right at the job site. This provides a central location for communication and project management.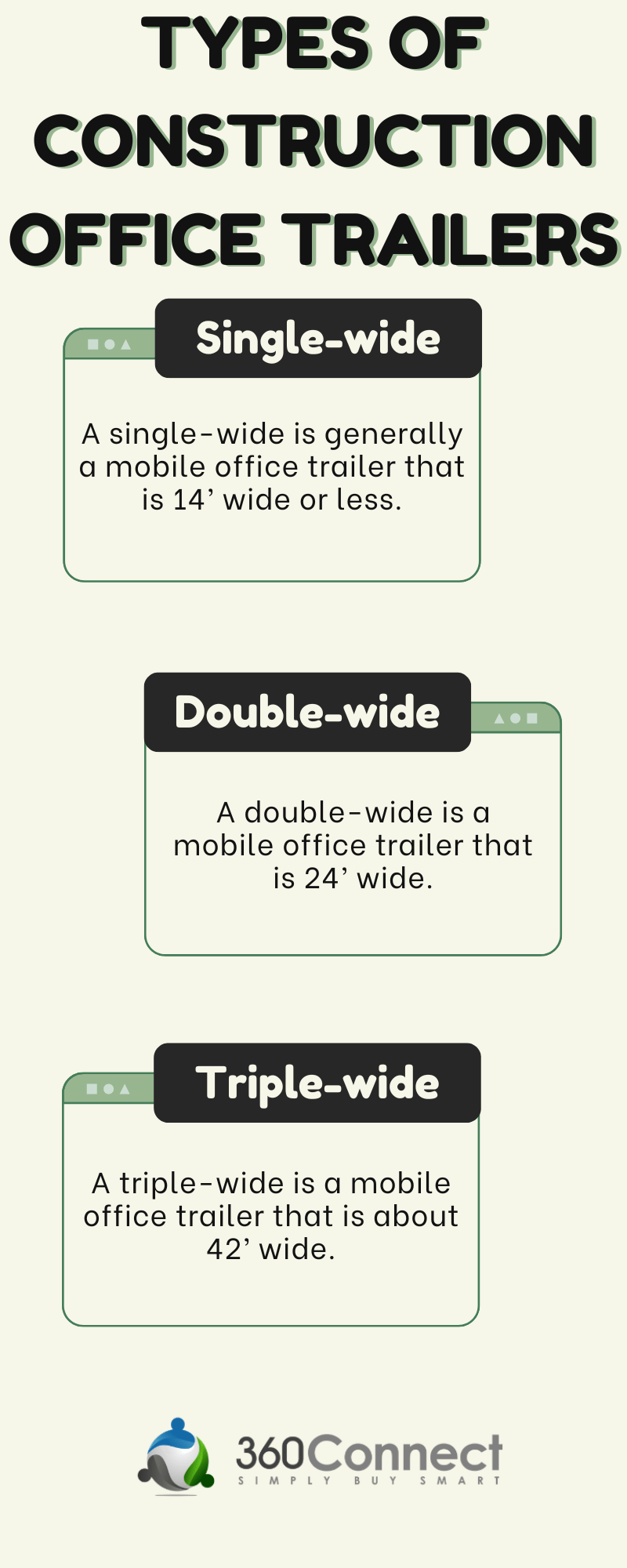 Benefits of Construction Office Trailers
Not every manufacturer is the same when it comes to making their construction office trailers. However, you can expect some key benefits when using a construction office trailer for your next job.
Convenience
Most office trailers for construction can be deployed to a location for anywhere from 1-5 years. This allows you to have a professional shelter away from the elements and doesn't mean you aren't stuck in a building long term. These portable trailers give you the benefits of a permanent structure without much of a headache.
Adaptability
There is a wide range of features and enhancements you can make to construction office trailers. Some of the features you can add to your mobile office include:
AC/Heating
Bathrooms
Kitchenette
Conference rooms
Cubicles
Modular furniture
Ramps
Stairs
Accessibility needs
Security measures
Air filtration systems
Internet access
And more!
Just because you choose a temporary construction office, doesn't mean you have to skimp on features on needs. You can also get them at fairly decent pricing.
Cost Effective
So, you don't actually have to buy a construction office trailer. You also have the option to rent a construction office trailer. This will include a set-up fee and a monthly rental fee. Pricing is determined by the size and features included with the unit. Some rough numbers based on sizing ranges according to Vesta Modular:
8'x20' / $450- $600 a month
10'x44' $500-$700 a month
12'x60' / $700-$1000 a month
This type of pricing is much more affordable than buying a construction office trailer. The supplier will also deliver, setup, and pick up the unit once the contract is offered. If you want to learn more about what suppliers can do, check out our article here:
On-Site Presence
Project managers and construction managers need to be on-site when building a large-scale project. Fortunately, construction office trailers can provide that presence for companies. This on-site presence can improve communication, coordination, and decision-making.
One of the biggest advantages of having a construction office trailer on-site is that it provides a designated space for workers to conduct meetings, store equipment, and manage paperwork. This can help ensure that all project-related activities are organized and efficient.
Protection from Weather
Because the mobile office is a physical building that's just portable, you can provide your workers with a space away from inclement weather. This is vital when it comes to planning and providing break/bathroom areas. Your workers can take breaks, hold meetings, and complete paperwork in a protected environment.
How to Choose the Right Construction Office Trailer
Construction office trailers have a lot to offer businesses when it comes to features and pricing. However, that doesn't mean any supplier or mobile office will do. Here are some key principles to finding the right construction office trailer.
Size:
The size you choose for your construction office trailer should depend on the number of people and assets you will have in a space. Most construction companies opt for a single-wide, however, there are multiple sizes of the single-wide. The more people you have, the bigger you may want to consider. Consider aspects like:
Workstations
Meeting areas
Storage space
Amenities and Features:
What does your office trailer need? A kitchen? Bathrooms? Modular furniture? It's important to understand what you plan on doing in the space. What type of features will enable your construction project and team to have success? Consider how you want the space to function. Makes sure to account for office space, storage, and meeting spaces for project managers.
Site Conditions and Accessibility
Did you know that it is extremely important for site conditions to be perfect when it comes to having a construction office trailer? These trailers need specific site accommodations such as leveling. accessibility, and other features to make sure that the office is secure. You may have to prepare the site yourself or your supplier will do it for you. This is dependent from supplier to supplier. However, the more site work you are going to have to do, the more it will cost you. Check out more about site prep here.
Budget and Cost Considerations
The cost of the construction office trailer is going to depend on a couple of key factors:
Size
Features
Rental or purchase option
Site maintenance
Like with most things with business, pricing is going to heavily affect what you choose. This is why it is incredibly important to know exactly what you need before you start your search. Also, you'll want to consider quotes from multiple different suppliers. This can help you find the right price for your budget.
Customization Options
Are you going to use your construction office trailer as a more permanent solution? Do you need special features or accommodations? If so, you'll want to find a supplier who can accommodate those customizations. Customizations don't necessarily need to be complex, but you do need a supplier who can do those things. Some suppliers do provide unique layouts or features that can be tailored to your needs.
Provider Reputation and Reliability
If you have spent any time in construction, you know how much reputation matters. It is no different from the construction office trailer industry. You'll want to choose a provider that has a proven track record with a large range of inventory. Consult with other people in the construction industry who had used office trailers, or work with trusted vendors my 360MobileOffice, who can help you find reputable companies.
Before signing with the company, make sure to look at reviews online and check with the Better Business Bureau.
Obtaining and Setting Up a Construction Office Trailer
In order to obtain and set up a construction office trailer on your job site, there are various important steps that need to be taken. These include securing permits, preparing the site, ensuring proper installation, and more. Here are the common steps taken by most people.
Securing Permits
Most states and local municipalities have regulations that need to be met before using a construction office trailer. You'll need to obtain the necessary permits before placing the trailer on your site. Check with your local authorities and file the correct paperwork. This can be different from state to state and even city to city. Some processes are able to move faster while others may have delayed timeframes for accepting permit applications.
Site Prep
Next, you'll want to evaluate the conditions of your construction site. Not only will it need to meet all specifications of the permit, but they will need to be usable by your team. You can do this on your own or in conjunction with your supplier. Make sure to provide a leveled and stable surface clear of any debris.
Installing Utilities
Installing utilities, such as electricity, we'll need to be done by a professional before the mobile office arrives. Once it does arrive, that professional can then hook up those utilities to the mobile office trailer. It's important to note that most providers do not offer this service. However, they can direct you to know what you need to do for site prep.
Installation of the Construction Office Trailer
After those tests have been completed, the construction office trailer will be installed. This will be when you properly anchor the trailer to the ground and hook up utility connections such as electricity, water, and sewage if need be. During this time, you may install safety features such as handrails, ramps, and lighting. Companies may also install furnishing at this time and get the space set up for use.
Final Inspection and Handover
Lastly, both the supplier and the customer will perform a final inspection of the construction office trailer. This inspection ensures that everything is up to the permit code and that the trailer is ready for use.
Maintenance Considerations
A construction office trailer's longevity and functionality depend on proper maintenance and safety considerations. By taking proactive measures, you can keep the trailer in good condition, prevent accidents, and ensure the safety and well-being of your workforce.
Replace air filters
Inspect your mobile offices for damage from weather or job site conditions
Check for roofing damage
Check window and calking
Check your electrical system
Check your plumbing system
Replace damaged or lighting that goes out
Install smoke detectors
Check for emergency supplies and replace any out-of-date supplies
Paint chipping or peeling
Check for mold or mildew
Check for cracks or openings in your construction office
Check that locks and security measures are working properly
Again, your supplier may have some specific maintenance requirements that you will need to follow. Make sure you have a maintenance plan in place to tackle these jobs.
FAQ About Construction Office Trailers
Are construction office trailers secure?
Yes, construction office trailers can be equipped with secure doors, windows, and locks to keep valuable equipment and documents safe.
Can construction office trailers be customized?
Yes, providers offer standard trailers that can be customized with options for unique layouts, features, and amenities. Some providers specialize in custom options; however, sizing is mostly standardized.
How long does it take to set up a construction office trailer?
Setup time varies, but most construction office trailers can be set up within a day.
What are the costs associated with renting or buying a construction office trailer?
Costs vary based on factors such as trailer size, features, rental duration, and location. Monthly pricing usually ranges around:
 
8'x20' / $450- $600 a month
10'x44' $500-$700 a month
12'x60' / $700-$1000 a month
 
Contact a specific provider to get detailed pricing.
Do I need a permit to have a construction office trailer on my job site?
Permit requirements vary by location. Check with local authorities to determine permit requirements for your area. Most places will require a permit before placing a construction office trailer.
Need a Construction Office Trailer for Your Next Project?
Do you need a construction office trailer? Want to work with reputable suppliers? 360MobileOffice is here to help! We help companies find reputable mobile offices every day. Just fill out our 1–2-minute form and we'll contact you to verify your information. From there, you can relax as up to 5 suppliers will reach out with quotes for your project. It's that easy!
Get Started Now!