The construction industry is already hard, but there is a hidden obstacle that most construction companies have to hire experts to handle. That hidden obstacle is human resource duties to keep your employees and company functioning. Many small business owners hate having to deal with this task and often need multiple tools and personnel to solve this problem. However, what if there was another way? What if you could turn your HR duties into a strength for your company? You can with the right tools! Here are the 5 best HR software solutions for construction companies that can empower you and your team.
Editor's note: 360MobileOffice does have relationships with some of these companies.
Unique Challenges Solved HR Software
HR software, also known as human resources management systems (HRMS) or human resources information systems (HRIS), offers a range of tools and functionalities designed to streamline HR processes and improve overall efficiency. These tools can help solve some of the unique problems faced by construction companies such as:
High turnover rates
Solving labor shortages
Maintaining compliance with labor laws
Gathering employee data
Managing remote worker's time tracking
Certification tracking
The problems can be a thing of the past when you implement the right HR software for your construction company.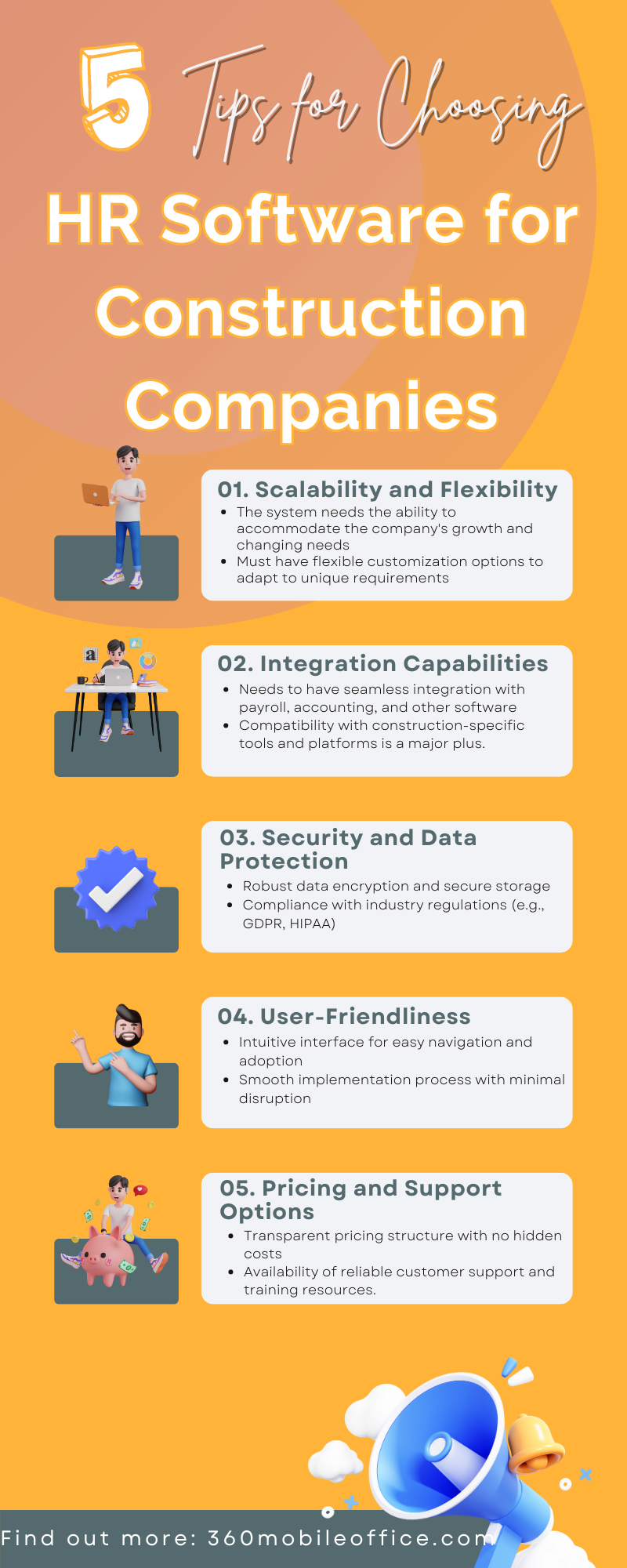 Top 5 HR Software Solutions for Construction Companies
It's important to note that HR companies may offer a lot of the same features, however, their ability to adapt to your industry and your needs will be key to success. Here are some of the best HR software for construction companies.
ADP HR services is one of the largest providers in the world. They handle companies of all sizes and target industries such as construction, restaurant, retail, healthcare, government, and many more. ADP has built solutions to some of the industry's most pressing problems such as:
Managing cash flow with multiple projects
Managing different pay rates
Handling remote workers on projects at different sites
Instituting compliance and reporting
ADP should be viewed as an all-in-one platform for companies. They have the tools for the entire HR department including payroll, time & attendance, talent acquisition, benefits, consulting, and even outsourcing. So why ADP? Because they are a market leader and provide some of the best data and intuitive tools your HR team can use. With in-depth analytical reports and a vast system of integrations, you can always stay on top of your HR duties. Some of the key features that ADP stress are:
Automatic assignment of union wages and benefits as well as wage rates for Davis Bacon projects
Post-payroll job costing reports integration with enterprise resource planning
Certified payroll report creation for government agencies
Compliance and payroll tools to make sure employees are paid the correct federal and state overtime wages
ADP offers custom pricing based on your number of users, features, and industry.
Paychex is another large provider of HR services and breaks down its services into 5 main categories: payroll services, human resources, time & attendance, 401(k) & retirement, and health & benefits. These 5 main sectors cover the majority of HR needs for most construction businesses. Paychex offers HR solutions for as small as self-employed persons to companies with 1000+ employees.
With a wide selection of integration tools and unique benefits such as expert HR consulting and implementation help, Paychex can be a solid option for construction companies. Some of the key features that construction companies may find useful include some of the following:
Recruiting and applicant tracking
Onboarding tools
Employee analytics
Time and attendance tracking
160 reporting analytics tools
Payroll service with tax
Flexible payment options
Employee self-service
And more!
Paychex has expert advice and tech support to make your transition easy. One of those parts of support is a huge knowledge center to help you streamline your HR activities. Paychex offers custom pricing.
Looking to modernize your HR software for your construction company? Bamboo HR is your solution. They are one of the best HR software for construction companies because they are focused on simplifying the workload for your company. This is accomplished through a number of tools and features and pitch itself as an all-encompassing HR platform. They are known for having a simple and easy-to-use interface, often described as "dummy proof." This means if you have a limited team or not much knowledge about HR services, BambooHR can help make the transition easy and get you up to speed.
That doesn't mean they are light on features. Rather, you'll find a wide set of features that can be used to improve your HR functions such as:
Employee portal where they can submit time off, input/update information, sign documents electronically, clock in and out, contact management and coworkers
HR station where they can approve time, make company announcements, view workers off and working approve time
Hiring tools to view candidates by race, veteran status, and gender
Employee company performance metrics
Remote tracking and clock-in capabilities
ATS (applicant tracking system) postings on multiple job boards in minutes
Compliance tracking and customizable reports
To put it simply, you get ease of use and a ton of data for the price. BambooHR will also give you over 40 instant reports to help you see how your business is performing. BambooHR offers a free demo of its services but uses custom pricing.
While not as established as some of these others, Sage's HR platform has many features that most construction companies will like. Unlike the others on this list, Sage has many services, but sells them a la carte and not as a bundle. So, you can mix and match what you need and find the right price point for you. They can handle many HR services such as:
Payroll
Automated reports to keep you up to date
Leave management
Mobile application for employees and managers
Shift scheduling tools
Feedback and loyalty program tools
Expense reporting
Timesheets
And more
We suggest using their pricing tool to mix and match features and figure out what works best for your company.
Hubstaff is one of the most highly decorated and accessible HR platforms across devices. It is extremely useful for construction businesses because it has invested so much infrastructure into their mobile app. Time tracking paired with geolocation is a winning combination. While Hubstaff isn't the only one that does this, they are one of the brands that can have entire workforces up and running in minutes once employees download the app. Important features that construction companies may find useful:
Route tracking between jobs
Automatic mobile alerts for construction managers when employees are on a job site or are a no-show
Automatic time card and timesheet building
Job costing tools
Team payments are made easy with mobile time cards
Detailed reporting
Job and work order creation are accessible through the application
One-on-one support
Application accessible across devices (IOS, Android, Windows, Linux, Mac, Chromebook)
3rd party integrations
Hubstaff is an HR tool made for managers who are on the go. You need a system that will help you get more work done even with less time.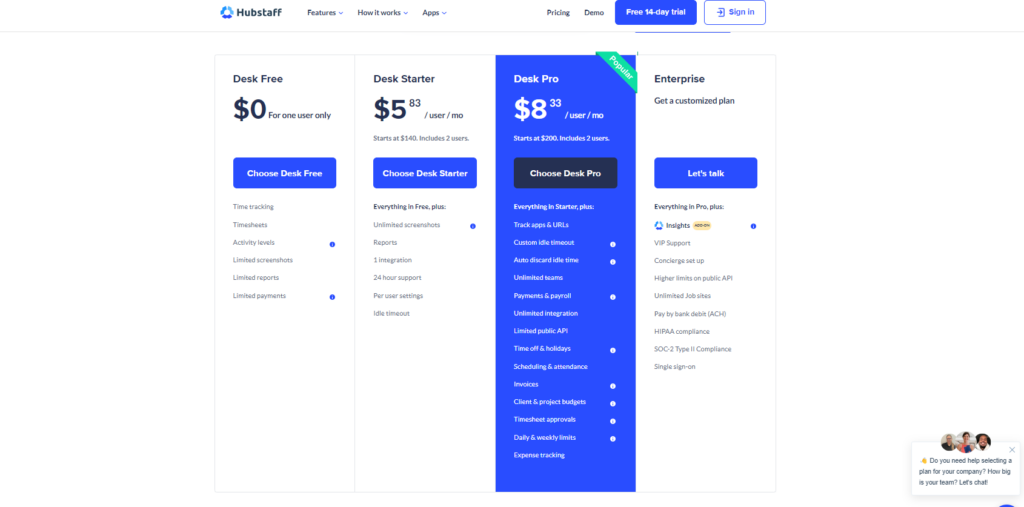 5 Key Features to Look for in HR Software for Construction Companies
Even with all of these great selections, it still may be hard to find the right provider for you. Don't worry though, we've got your back. Here are some features to look out for when trying to find a provider.
Customizable Employee Data Management
Data is great, but it doesn't mean much if you can't make heads or tails of it. Look for HR platforms that will allow you to make customized reports for your employees. These reports can be over information like:
Certification renewals
PTO hours take
Hours worked by employee
Overtime hours earned
Salary scales
And more!
Try to have a set list of tracking information you need before choosing a supplier.
Safety and Compliance Management
Safety is very important for your workers and the overall health of your company. Workers that don't feel safe won't stay. Look for features that allow you to track and report on OSHA compliance, manage safety training documentation, and record and analyze incident reports. Strong safety and compliance management capabilities are vital for maintaining a safe and compliant work environment.
Recruitment and Onboarding Tools
The last thing you want to be worried about when looking for that rockstar candidate is whether or not your HR platform will be an inhibitor. Look for a platform that will streamline the process. Some tools that can help you are:
Job postings to multiple boards with a couple of clicks
Applicant tracking
Collaboration tools between hiring managers
Employee self-service portal to collect information
Mobile Accessibility and Remote Workforce Management
The best way to track construction employees that have to work at different job sites is to use geolocation and their mobile phones. That way companies know that employees are working at the correct job site. Your HR platform should allow for this and give you the tools to monitor these things. Without these tools, it can be much harder to track where and when employees are working.
3rd Party Integrations
Lastly, integrations with other software you already use are vital to being agile. Integration with tools like accounting software or project management software can help you increase efficiency. Don't settle for a service that is only going to create a bottleneck.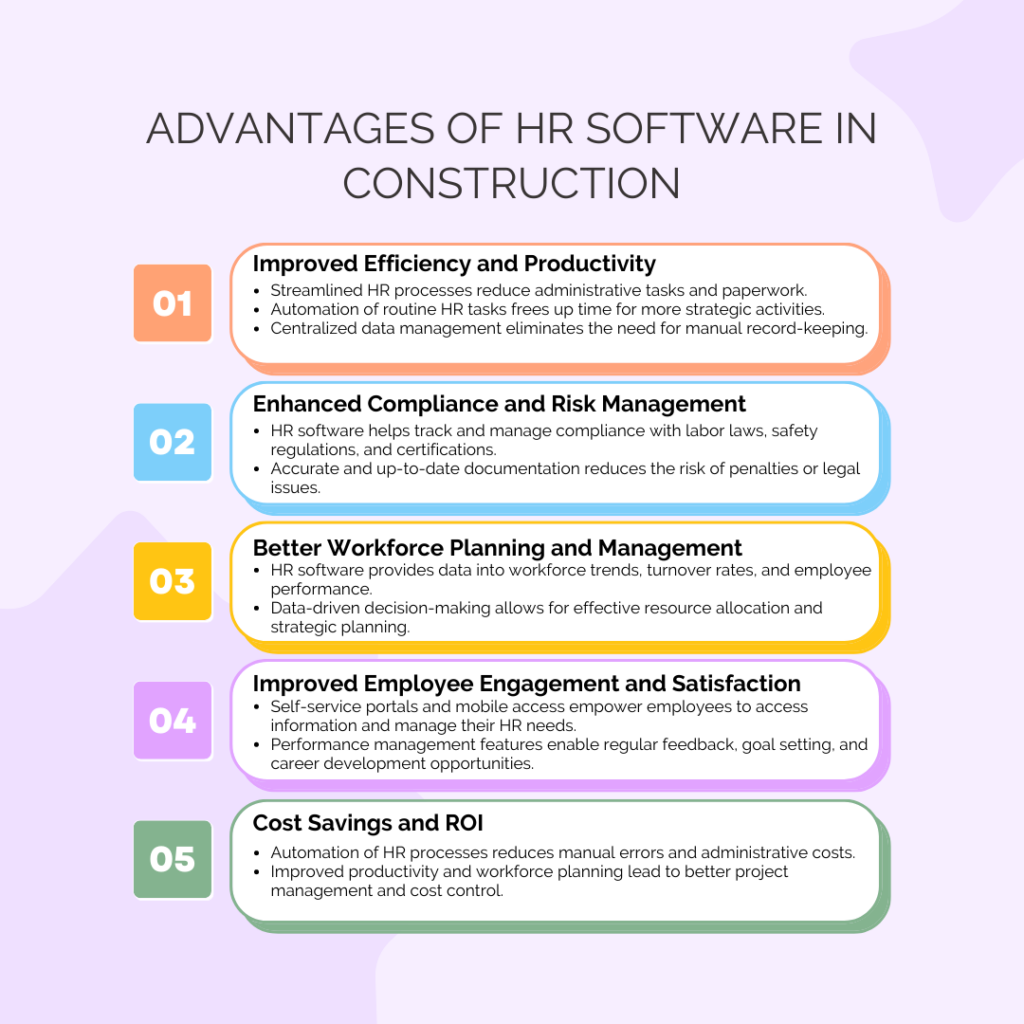 Looking for other Construction Supplies
Looking for assets like mobile offices for construction sites? Need help finding suppliers? 360MobileOffice has your back! We help companies find high-quality suppliers every day! Just fill out our 1-2 minutes form and we'll contact you to verify your information. From there you can kick back and relax as up to five quotes roll in! It's that simple.
Get started today!