Mobile office trailers have become a necessary solution for temporary and permanent workspaces. They provide a robust solution for companies that need office space, but need special accessories or to be flexible with their location.
The Breakdown
The rise of work in remote workplaces and the need for temporary office spaces has led to an increase in demand for mobile office trailers.
Mobile office trailers, also known as portable offices or job site trailers, provide a cost-effective and simple solution for businesses looking to establish a temporary or permanent office presence. This can be a construction job site or a remote location.
Top Performers Include:
Willscot Mobile Mini
Mobile Modular
Pac-Van
Boxx Modular
Satellite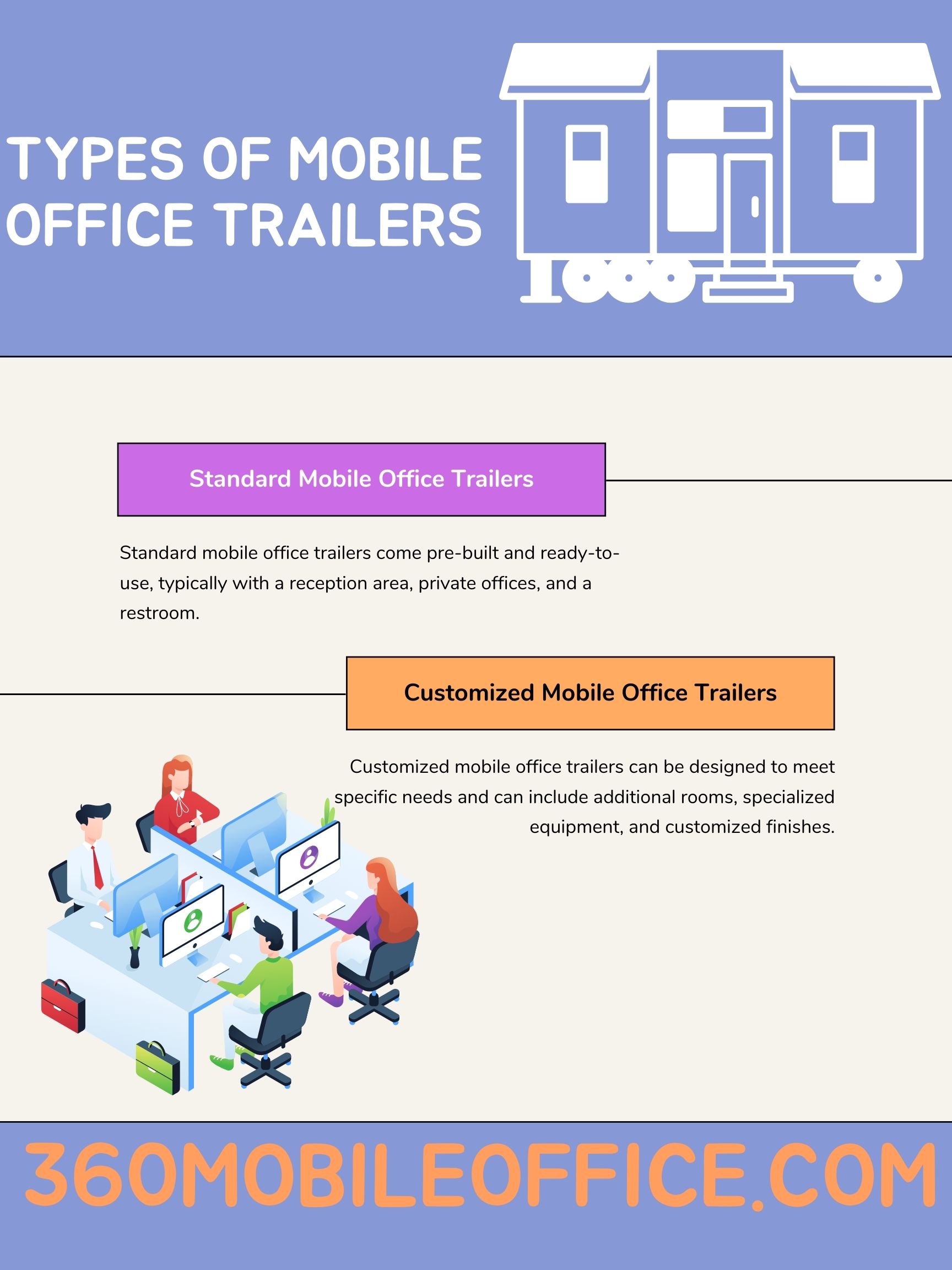 What is Mobile Office Trailer Manufacturers?
Mobile office trailers are either temporary or permanent trailers that serve as a workspace for employees. While not entirely like a mobile home, these trailers are an easy solution to designated temporary workspaces. Most are constructed out of materials such as steel, aluminum, or fiberglass. Mobile office trailers can include features such as insulated walls, climate control, electrical systems, interior finishes, and furniture.
They are designed to be moved easily and can provide a temporary or permanent workspace solution. Manufacturers of mobile office trailers specialize in the design and construction of these trailers and offer a variety of options to meet the needs of their customers. Mobile office trailers also can provide amenities to a job site such as internet access and heated bathrooms that can make all the difference.
Leading Mobile Office Trailer Manufacturers
While Willscot and Mobile Mini used to be their own entities, they have now joined forces under the same holdings corporation. This allows them to provide their customers with a wide range of products and offerings. From mobile office trailers to modular buildings and portable storage, this company can service just about your every need. They offer a ton of sizes of mobile offices and finishes such as aluminum, wood, electrical wiring, furniture, HVAC, and more.
Willscot Mobile Mini is able to offer both temporary and permanent solutions. What makes Willscot Mobile Minis so valuable is all the options they offer for customers. From length to materials, and other additions Willscot Mobile Mini can service many different industries.
Mobile Modular is another top manufacturer, offering a variety of mobile office trailer sizes and configurations. Just like others, they offer both temporary and permanent solutions for businesses. With their mobile office trailers, they service industries such as:
Construction
Real Estate
Government
Healthcare
Security
Small businesses
Mobile Modular offers sizing from 8'-14' long and includes configurations with these mobile office trailers as well. As far as mobile office trailer manufacturers go, Mobile Modular is one of the fastest and best options companies can choose. Mobile Modular also will provide site-related construction work if it is needed.
Pac-Van offers standard mobile office trailers that range from 8 x 24 feet to 12 x 60 feet and they also have built-in drawers and cabinets for extra storage. They also offer other products such as storage containers, modular buildings, liquid storage tanks, and more! You'll also find features like steel construction with aluminum siding. Importantly, Pac-Van adds a number of additional add-ons including:
Restrooms
Ramps
Security Screens
Railings
Skirting
Decks
Furniture
OSHA-complaint steps
You'll also find upgrades such as:
Carpeting
Glass front door
Mansard roof
Vinyl-covered gypsum (VCG) walls
T1-11 wood siding
Pac-Van also states that the estimated turnaround time for delivery of an office trailer, assuming no modifications are needed, is around 24-72 hours. A very fast turnaround can be a huge benefit for many companies in a bind.
Boxx Modular is a company that provides modular buildings and portable structures, including mobile office trailers. They are a provider of modular solutions for a variety of sectors such as commercial businesses, education, healthcare, and government entities. They offer a wide range of products including modular offices, classrooms, washrooms, and storage units. Boxx Modular also offers custom solutions to meet the specific requirements of clients.
Boxx Modular is known for providing fast turnaround times, competitive pricing, and flexible leasing options. They also offer delivery, installation, and maintenance services for their products. They have a reputation for providing high-quality products and excellent customer service.
Satellite Industries works on portable solutions such as
portable restrooms
portable showers
laundry facilities
mobile office trailers.
This company is a solid choice for any business, with over 60 years in the industry and a reputation for producing quality products and providing excellent customer service. They work in a variety of industries and have the experience and manpower to handle large or complex jobs.
Satellite also offers several ways for customers to get the products they need whether that is through leasing, buying outright, or shopping the used market. All Satellite mobile office trailers are wired for electricity, HVAC, and fluorescent overhead lighting.
4 Considerations when Purchasing a Mobile Office Trailer
Size and Layout: Size and layout will dictate how your team operates and whether or not you have extra room to grow.
Features and Amenities: It's important to consider the features and amenities you will need in your mobile office trailers, such as restrooms, heating and air conditioning, and internet connectivity.
Durability and Longevity: To ensure durability and longevity, a mobile office trailer should be made of high-quality materials and built to withstand the elements.
Cost and Financing: The cost of a mobile office trailer will vary depending on its size, features, and manufacturer. It may make more financial sense to lease a mobile office trailer rather than buy it outright.
Frequently Asked Questions About Office Trailer Manufacturers and Suppliers
What are the benefits of a mobile office trailer?
Mobile office trailers provide a cost-effective and convenient solution for businesses looking to establish a temporary or permanent office presence in a remote location.
How do I choose the right mobile office trailer for my business?
When choosing a mobile office trailer, consider your company's specific needs in terms of size, layout, features and amenities, and budget. Explore various manufacturers and suppliers and obtain multiple quotes.
How long does it take to receive a mobile office trailer?
The time it takes to receive a mobile office trailer will vary depending on the manufacturer and the complexity of the trailer's design. Standard mobile office trailers can be delivered and set up relatively quickly, while customized trailers may take longer.
Are there financing and leasing options available for mobile office trailers?
Yes, most mobile office trailer manufacturers offer some form of financing or leasing. Leasing a mobile office trailer for construction purposes is quite common.
Need a Mobile Office Trailer for Your Business?
Mobile office trailers provide a cost-effective and convenient solution for businesses looking to establish a temporary or permanent office presence in a remote location. If you are looking to work with a mobile office trailer manufacturer to get the right products for you, we can help!
360MobileOffice works with top brands to help customers find the best company for their needs. Just fill out our 1-2 minute form, and then we'll contact you to verify your information and needs. From there you can relax! Up to 5 suppliers will get in contact with you about your needs and how they can help all for free! It's that simple!