You don't need to be a genius to know that construction companies need accounting software. However, construction businesses need certain functions in their accounting software to conduct business. Without the right software, your construction company could falter in processing payments and handling financial matters. Fortunately, we've scoured the Internet and found the best accounting software for construction companies. Here are our 5 recommendations for accounting software for companies.
How Construction Companies Use Accounting Software
While construction companies may specialize in one field or target specific projects, they all have accounting needs. Most construction companies are dealing with large amounts of money and need to stay on top of it. Some of the key reasons for construction companies using accounting software include:
Streamlining Financial Management Processes
Accounting software makes it easy to process many of the manual tasks associated with bookkeeping. Tasks such as data entry, invoicing, and payment processing. This can eliminate wasted time and reduces errors from manual tasks. This software also makes it easy to plan for job costing, job bidding, progress billing, and equipment tracking.
Improving Project Tracking
Most construction companies don't need to just view the company as a whole, they also need to view the financial situation for each project. Doing this can help construction companies have a better view of each project they are working on. While this may not prevent you from going over budget, it does help keep you on track.
Managing Cash Flow
A crucial component of financial management for construction organizations is cash flow. Accounting software can help you manage your cash flow by providing insights into your current cash position and allowing you to forecast future cash flow based on your project pipeline.
Providing Real-Time Financial Data
Accounting software provides you with real-time insights into projects and your overall financial health. Having this data can help you make better financial decisions as well as many assets to much needed projects or target certain projects in the future. Not only that, but you can use this data to make better-informed decisions.
Integrating with other Software Tools
Most accounting software allows for 3rd party integrations or can communicate with other systems such as project management software and time tracking. Having these integrations can streamline activities and reduce manual input. The more automation you can have, the more money you can save.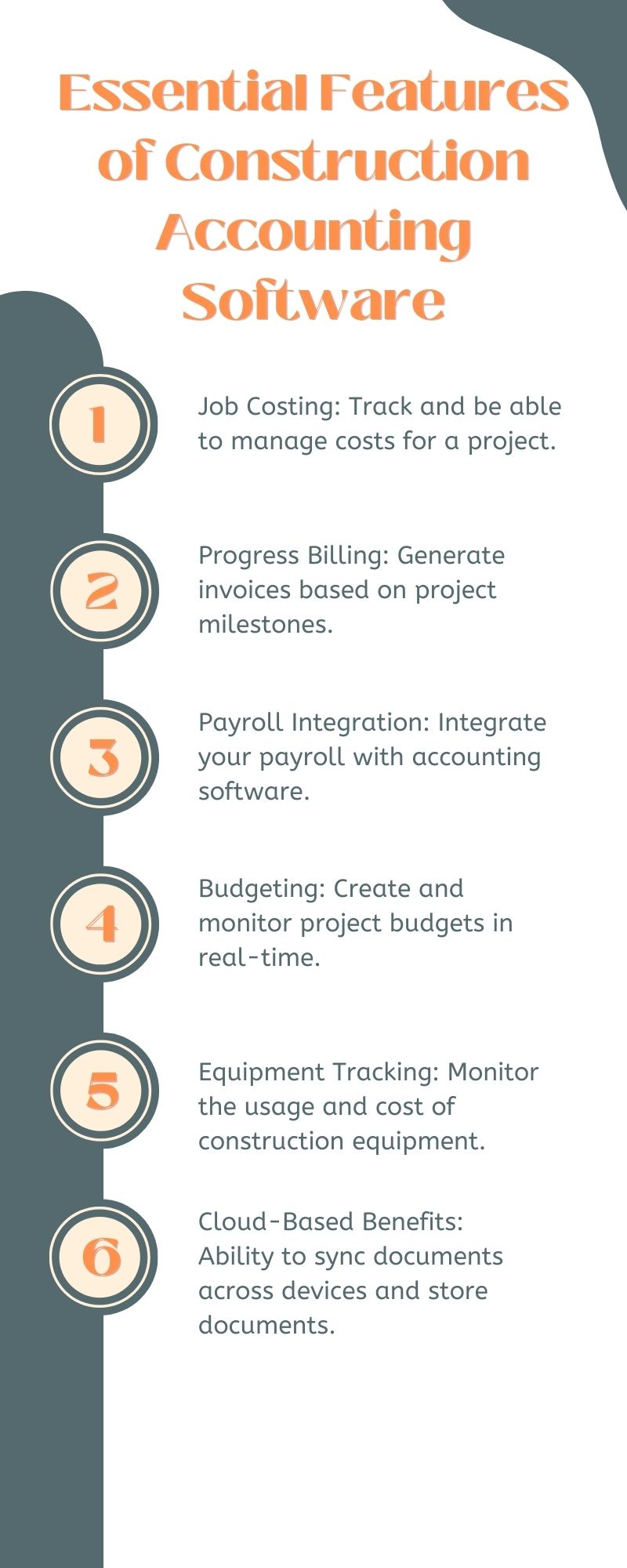 Top Accounting Software for Construction Companies
Software
Features
Jonas Premier
– Job Costing
– Progress Billing
– Budgeting
– Real-Time Reporting
– User-Friendly Interface
– Cloud-Based
GCPay
– Payment Application Automation
– Subcontractor Payment Management
– Secure Platform
GMiC
– General Ledger
– Accounts Payable
– Accounts Receivable
– Project Management Tools
– Collaboration and Business Insights
– Enterprise Resource Planning (ERP) Solution
Foundation Software
– Job Costing
– Payroll Integration
– Payroll Integration
– Equipment Tracking
– Customizable Dashboards
– Detailed Reporting
Jonas Premier offers cloud construction software to solve a number of different solutions for companies. One of their top software solutions is their accounting software. Jonas Premier focuses on automation to make your experiences as seamless as possible. This includes accounts payable and customizable, real-time financial reporting. Your team just needs to enter the AP invoices and the software does the rest for you.
You can also automatically generate AP invoices once contractors have submitted their pay applications online. Furthermore, the system will automate invoices to your project manager's inbox for approval, denial, or modification. Jonas Premier will also allow you to merge all costs and pending AP invoices in one billing cycle. Customers can also take advantage of:
Marking each bill as bill now, bill later, bill never
Automated billing reports
Unlimited company set-ups within the software
Automating transactions and loan accounts
Secure data storage
Job costing
Jonas Premier has multiple tiers of pricing and is easily adaptable for most construction companies and contractors. You not only get accounting software but a ton of other features as well.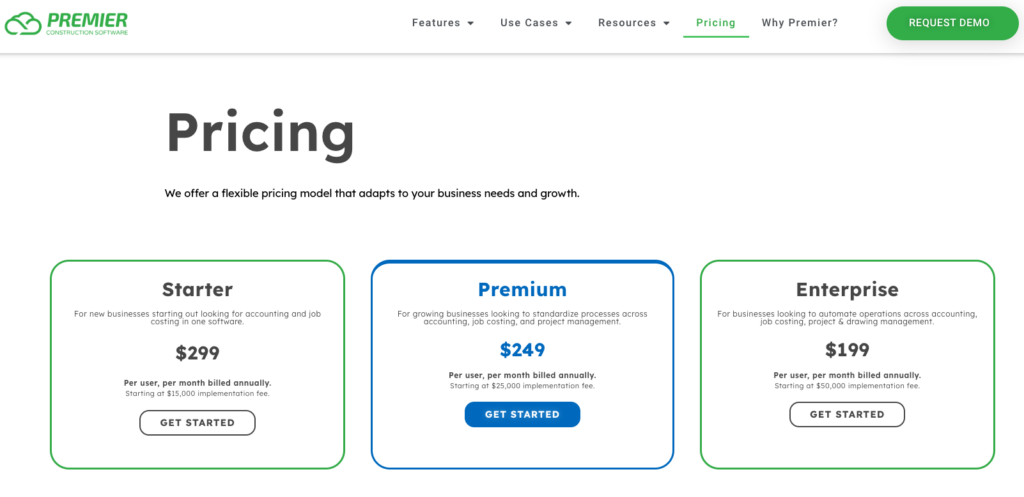 You'll notice a common theme among these recommendations and it's that these options all try to automate your process and combine many features into one software application. GCPay specializes in automating construction payment applications. Its secure platform ensures financial data protection. That's not all though, GCPay can handle things like customizable approval workflows, stat dec status reports, and more. With GCPay you'll also gain access to features such as:
Average approval time reporting
Holdback release by month
Contractor billing summary
Accounts receivable
Accounts payable
Compliance reporting
Outstanding claims reporting
Project management and contact
And more!
GCPay is focused on providing customers with simple and easy software. You'll be able to view your tools and make changes all from one dashboard. GCPay uses a custom pricing model but does offer a free demo.
GMiC is a construction ERP platform that houses many types of software and solutions under its belt. One of those products is their accounting software designed for construction companies, general contractors, and specialty contractors. The software is designed to handle all of your accounting needs from start to finish and integrate with their platform as well. Their accounting software breaks down into 4 main categories:
Revenue Management
Owner contract
Invoicing
Cash Receipts
Projections
Cost Management
Labor
Equipment
Materials
Subcontractors
Financial Reporting
Owner contract
Invoicing
Cash receipts
Projections
Financial Management
Intercompany entries
WIP Adjustments
Month End/ End Year
Content management
Customized workflows
So why choose GMiC? They offer an all-in-one approach to your accounting needs. Furthermore, with the overall ERP platform, you can create a seamless integration between your project management and financial sides. GMiC offers custom pricing for their services, however, you can book a free demo.
While others on this list may be part of larger ERP software solutions, Foundation very specifically tackles construction accounting and arguably offers the most tools out of any of the solutions listed here so far. However, they are not an all-in-one ERP solution. They specifically target their services at accounting for construction. Some of the features included in the base software:
Job costing
Payroll tools
General ledger
POs & Subcontracts
Accounts payable
Accounts receivable
CPA audit/review center
Customized accounting reports
Mobile application
Training and tech support
That's not all that Foundation offers as well. Additional modules include tools such as project management, unit price billing, and much more. So why choose foundation? If you specialize in a specific type of construction and want robust accounting software, Foundation has you covered.
Tips for Choosing the Right Accounting Software for Your Construction Business
Choosing the right construction accounting software may seem like a tough task, but it doesn't have to be. There are some simple guidelines to find the right software:
Identify your specific needs
Identify a budget
Scalability needs
Ease of use
Customer support
Features needed (project management tools, job costing, etc.)
Looking for More Construction Equipment?
At 360MobileOffice, we can help you find the right tools for your needs such as mobile office and construction trailers. Just fill out our 1–2-minute form and we'll contact you to verify your information. From there, up to 5 suppliers will reach out with free quotes. It's that easy. Get started now!