When it comes to running a construction business, you have many assets to keep track of. These assets are necessary, expensive, and provide real value to your business and workers. However, many companies don't track these tools or assets, nor do they have a system in place to leverage these assets to maximize investment. Construction asset management software is that solution. From helping improve your ROI to providing better communication with your team, asset management software is a necessity in today's world.
The Breakdown
1. Construction asset management software is for those looking to better manage and leverage assets. 2. Asset software allows better communication and a higher ROI on tools. 3. There are multiple types of asset management with price points in low-high ranges.
What is Construction Asset Management Software?
Construction asset management software is a computer application that helps you track the location and usage of your tools or machines. This information is logged into the software and can be quantified into reports or other data. Construction asset management software makes it easier to find assets and deploy them. There are a couple of different ways construction asset management software tracks items: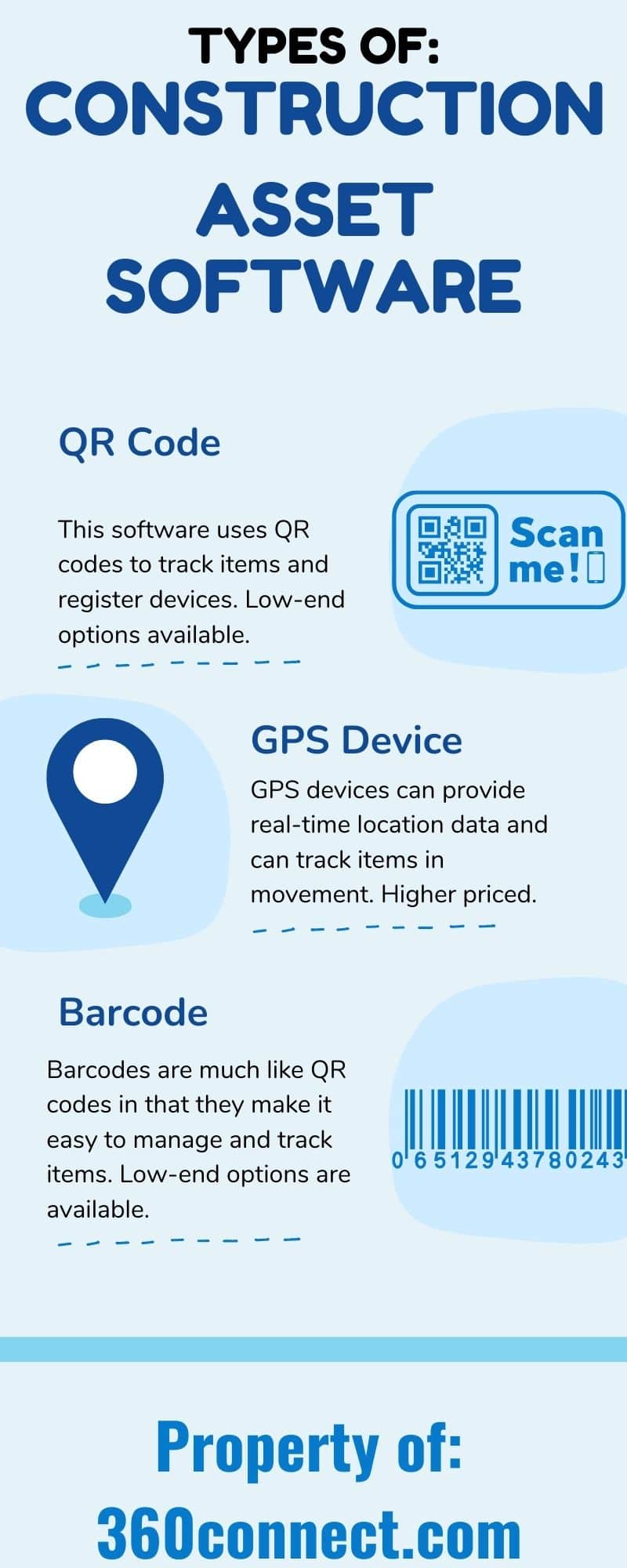 Construction asset management can be used on large machines like bulldozers or on small handheld tools like wrenches. Most software can use a mix of tracking devices whether that be GPS or barcodes to fit your needs. These options provide you with the capabilities to track your assets and make sure your investments are secure.
6 Features of Construction Asset Management Software
1. Asset Management / Utilization Tracking
Do you have trouble making sure that your workers have the right tools when they need them? Do you find that your tools break down often? Asset Management software can help with this! You can track the usage of an item from day to day. Furthermore, you can take that data and monitor the lifespan of your tools. You can categorize these items in spreadsheets and by usage. Asset management makes it easy to store and track items.
You'll also always be aware of who is using your tools and for how long. This tool makes it easier to track employee theft or negate the misplacement of tools before they happen.
2. 3rd-Party Integrations
Are there other apps that you need to complete your duties when it comes to asset management? Many customers use a variety of tools for their workflow, and they don't need another application to open. Fortunately, many of the top brands offer 3rd-party integrations so you can keep all your information synced in one location. Products like Asset Panda integrate 3rd-party applications like Zendesk, OneLogin, Google Workspace, and many more. The number of 3rd-party applications will depend upon the software you choose. Some software services can even integrate construction CRM.
3. Maintenance Alerts
Many construction asset management software products allow you to track when your items have maintenance performed. You can set up automated reminders to alert you for maintenance as well. Additionally, some software programs will also allow you to record the condition of a tool when a worker returns or "checks in" an item. For instance, you could report that the device is in:
Good Condition
Fair Condition
Needs Repair or Maintenance
4. Cloud Data Storage
Much like construction project management software, asset management software uses cloud storage. This means that you can store all your files in the cloud. No local storage is necessary. You'll be able to view this data across devices with your login information. Just don't forget to set up security measures like two-factor authentication.
5. Mobile Application / Communication Tools
Construction asset management software makes it easy to keep in touch with workers through its mobile applications. You can log tools and other equipment with a simple scan of your phone. Furthermore, most asset software has direct messaging built within the app, so you can to anyone at any time. This feature alone could eliminate communication barriers and improve your construction planning.
6. Access Monitoring
Many software programs come with the ability to monitor access to tools or equipment. You can set permission on what data employees can see and where they can log in from. Not only is this great for security purposes, but you can prevent employee theft as well.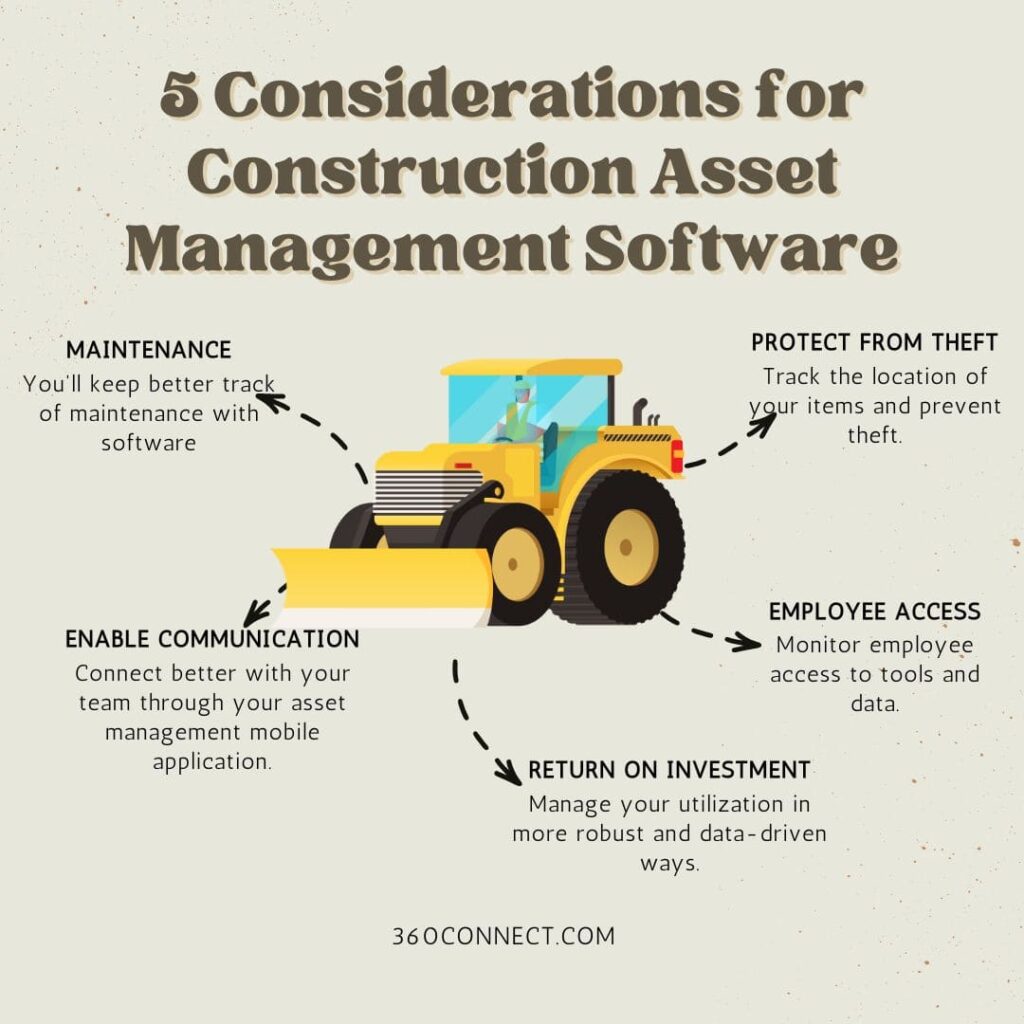 5 Benefits of Construction Asset Management Software
1. Avoid Lost Revenue or Lost Items
Downtime on vehicles or tools means lost revenue. Don't let this happen by managing your assets with greater precision and robust analytics. Track utilization, create maintenance alerts, and prevent downtime. If you use GPS devices, you can track lost or stolen items to their location. You can then notify the police to return your stolen items.
2. Increase ROI on Assets
Because you can track the usage of your assets and prevent downtime, you can increase the ROI for your investments. With time, you can learn to maximize your procedures to make the most money off your tools as possible. The more usage of the software, the more data you will have to make better decisions for the future.
3. Keep Records of Asset Usage
Construction asset management software makes it easy to track who is using which tools and for how long. You can keep these records to track items as well as keep employees accountable for tools.
Project Depreciation on Assets
One of the most critical benefits of asset management software is the ability to track depreciation among assets. This usually comes in the form of a spreadsheet that shows the amount of "mileage" or uses you got from a tool. Over time you can use this data to project when to replace a tool or when to perform maintenance.
Conduct Audits for Regulatory Compliance
When it comes to keeping compliance with local and federal laws, asset management software can help you stay on track. You'll be able to implement procedures to protect your business and locate data with a simple search.
Price of Construction Asset Management Software
The price for construction asset management software can be determined in several ways such as:
The monthly or yearly price for the software.
How many assets you'll need to be managed?
The type of construction asset management you choose.
These factors will all play a part in the pricing for construction asset management software. According to CostOwl, the average construction company should expect to spend anywhere from 10k-50k on software.
Additionally, you'll want to hire an asset manager for this software. They will be able to keep track of all the devices instead of you or other team members.
Looking for Other Construction Tools?
360MobileOffice can help! We offer free quotes on mobile office trailers for construction sites every day! You just need to fill out our 1–2-minute form and you'll receive a call to verify your information. From there, you can kick back and relax! It's that simple!