The 3 Bathroom Options for Your Mobile Office Trailer
Since mobile office trailers are used by many different industries for multiple purposes, a bathroom may or may not be a necessity. There are a few different options for mobile office trailer bathrooms.
Bathroom inside the mobile office trailer
Bathroom outside the mobile office trailer
No bathroom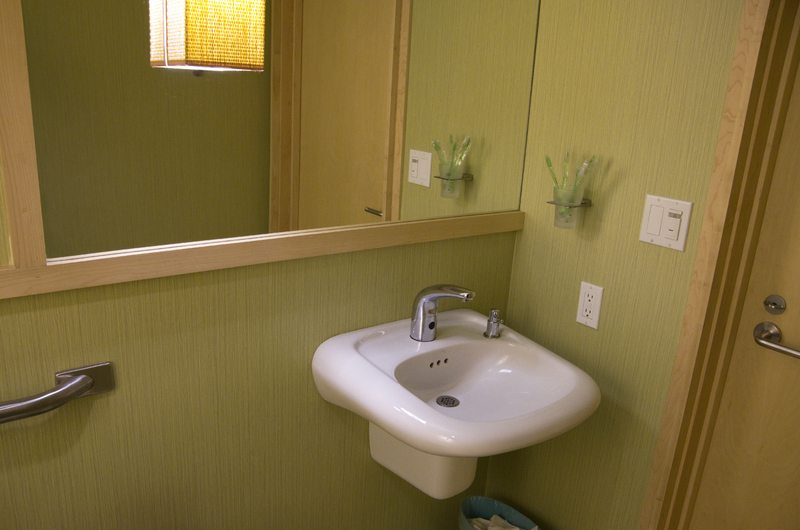 Bathroom Inside
There is a range of options for how an interior bathroom will work. One option is to have a bathroom with standard plumbing. Another option is to have a bathroom without plumbing.
Standard Plumbing Option
Some units have hookups to connect the mobile office trailer to the local water and sewage lines. This type of bathroom will function like a bathroom in a typical building. You will incur water and/or sewer bills.
½ Bathrooms
Generally, these bathrooms are half baths with a sink and toilet. Much like like you would find a mobile home. For most companies, this is perfect for protecting workers from the elements when using the restroom.
ADA Bathrooms:
Mobile office trailer manufacturers can also supply your business with ADA-compliant bathrooms for employees should you require them. These bathrooms must meet specific guidelines to be compliant with ADA rules. Make sure to check with the manufacturer before purchasing. They will need to be compliant with:
Door access requirements
Sink access requirement
Turnaround access
Toilet access
And other requirements
The size of the bathroom varies. If you need an ADA bathroom, most suppliers can provide you with one.
Benefits of Office Trailer Inside Bathrooms:
Protection from the elements
Heated or cooled restroom
Full-size toilet
Increased privacy and convenience
Cons of Office Trailer Inside Bathrooms:
More expensive than portable restrooms
Requires water and sewage hookups
Non-plumbing Option

Some mobile office trailers offer bathrooms without the plumbing connections. Generally, waste is collected in a wastewater-holding tank. With this system, a tank truck will come and remove the wastewater daily or weekly. The waste is then disposed of at a wastewater treatment plant. The removal of waste service may come from your supplier, or it may be something you need to arrange from a third-party. Be sure to find out your options when you speak to a dealer.
Benefits of Nonplumbing Options:
Own source of water
Privacy of inside bathroom
Great for remote locations
Can take advantage of heating/cooling of trailer
Less expensive
Cons of Nonplumbling Options:
Requires weekly maintenance and drainage
Bathroom Outside
There can be advantages to not having a bathroom in your mobile office trailer. Without a bathroom, you free up more square footage for additional employees or workspaces. One potential disadvantage to a bathroom outside of the mobile office trailer is that it can be inconvenient for staff or guests during bad weather.
If your mobile office trailer doesn't have a bathroom but you need one for your site, you can always rent a portable restroom for a temporary amount of time. If you want something a little more luxurious, you can also rent a mobile restroom trailer. Restroom trailers are usually more comfortable, with varying sizes and configurations, including single-stall and multi-stall.
Benefits of Outside Bathroom Options:
Cheaper than inside bathrooms
Can have multiple bathroom units
Does not require sewage hookups
Cons of Outside Bathroom Options:
Susceptible to weather exposure
Most portable restrooms don't offer heat or cooling.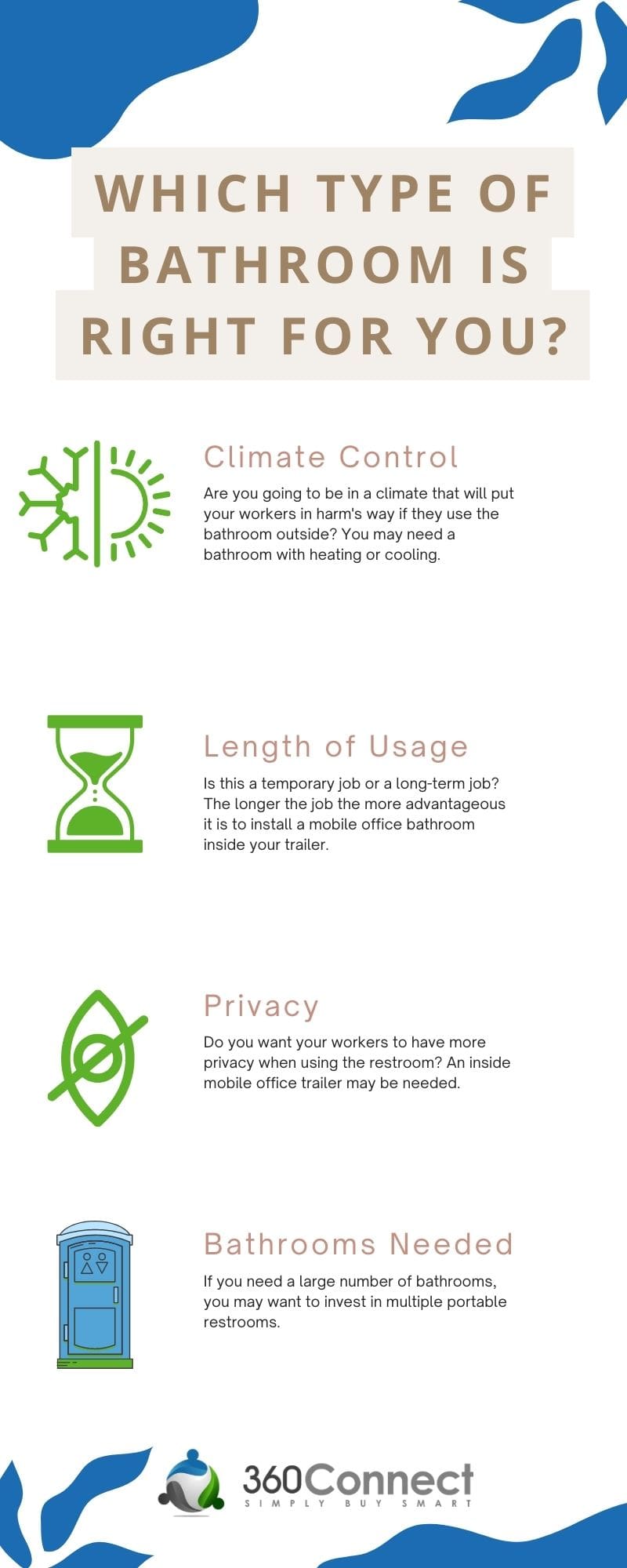 No Bathroom
Depending on the intended use of your mobile office trailer, you may not need a bathroom. For example, some mobile office trailers, such as temporary satellite offices, are located on properties that already have public restrooms available.
Learn More
Find out more about Mobile Office Trailers in our Mobile Office Buyer's Guide and our Mobile Office Renter's Guide.