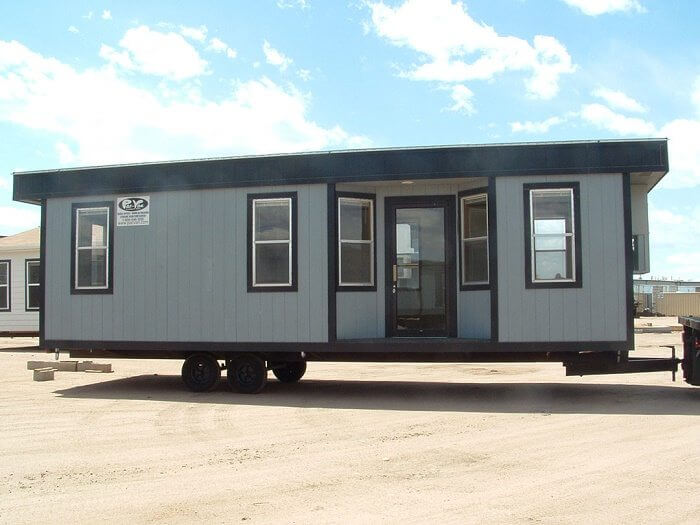 A mobile office trailer (or MO, for short) is a pre-manufactured portable office and/or temporary storage space. MO's come in a range of sizes, configurations and prices. Mobile office trailers are more affordable than a traditional stick-build buildings and require half the construction time. If you are looking for temporary space and need it quickly, a mobile office might be a great option for you.
Common Uses
Mobile office trailers are utilized across a wide range of industries. They are a convenient and affordable solution to temporary space needs. Most businesses cannot afford to close shop while they wait for permanent construction to be completed. That's why the office trailer is a great alternative – you can keep your business up and running by utilizing the temporary structure until the permanent building is move-in ready. The average length of use can range from 9 to 24 months. But office trailers can be used for up to 3 years. At that point, it may make more financial sense to purchase the unit outright or consider a modular building. Industries that use mobile office trailers include (but are not limited to):
Construction
Healthcare
Chemical/Industrial
Oil & Gas
Government
Education
Hospitality
Agriculture
Utilities & Energy
Bottom line: MO's are a great solution for temporary space. Whether you're a medical facility in need of a short-term lab, a disaster relief team in need of an admin office, or a growing business in need of overflow storage and/or office space, these units are flexible, cost-effective, and convenient for any business in need of immediate space.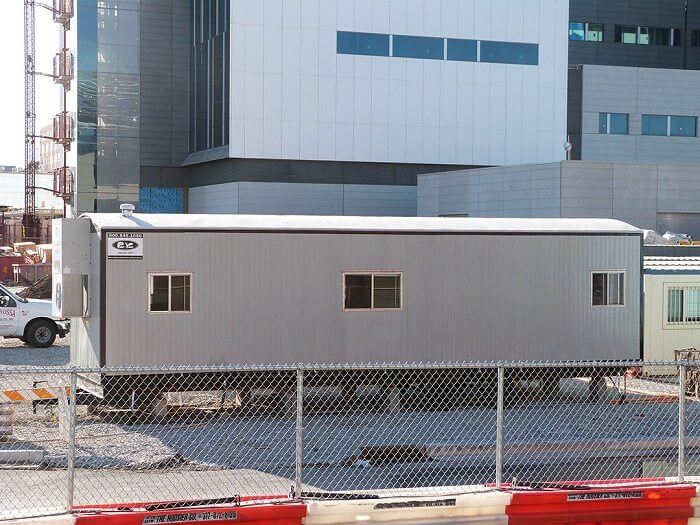 Sizes & Configurations
Mobile office trailers come in a wide range of dimensions and sizes. The size and lay-out you choose will depend on the specific needs of your business (i.e., need a single office vs. office and storage combo, multiple offices, break room and private office). Single-Wide The most common size is the single-wide unit. This configuration offers enough space for one small office and a general living area that can be used for storage or converted into an additional office. Common single-wide dimensions include:
8'x 20' (160 sq ft)
8'x 28' (224 sq ft)
8'x 32' (256 sq ft)
8'x 36' (288 sq ft)
10'x 40' (400 sq ft)
10'x 50' (500 sq ft)
12'x 32' (384 sq ft)
12'x 44' (528 sq ft)
12'x 56' (672 sq ft)
12'x 60' (720 sq ft)
14'x 45' (630 sq ft)
Note: Available sizes will vary depending on the supplier you choose. Be sure to confirm with the supplier in advance if you need a specific size.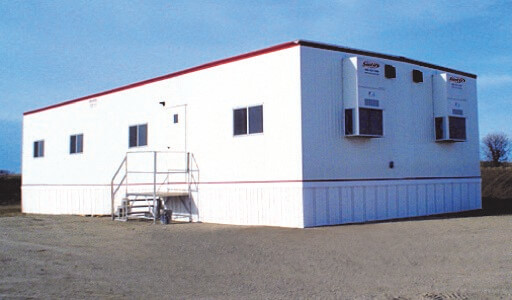 Double-Wide Double-wide trailers are two single units that are welded together to create a larger unit.They can have up to four separate areas, including a kitchen and break area. Common double-wide dimensions:
24'x 44' (1,056 sq ft)
24'x 56' (1,344 sq ft)
24'x 60' (1,440 sq ft)
28'x 70' (1,960 sq ft)
28'x 74' (2,072 sq ft)
Triple-Wide Triple-wide units are less common because of their size. A triple wide is made up of three single-wide units that are welded together to create an extra large space. Because of their bulky size, they must be delivered as 3 separate units. Once all 3 units have been delivered onsite, then they are welded together and assembly is completed. Many renters don't want to pay the extra cost to deliver 3 separate units, or they don't need that amount of space. That's why the single and double-wide units are more common. But if your business has an immediate need for a large amount of temporary space, this could be the best option. It will still cost less than a traditional build. The most common dimension for a triple-wide is :
How do I know what size trailer I need?
Here are some basic guidelines to help you determine the right size trailer for your business needs:
How many people do you need to accommodate? A general rule of thumb is about 100-150 square feet per person. A single-wide unit of 720 sq ft can comfortably hold 5-6 people. A triple-wide unit of 3,192 sq ft feet can comfortably hold 19-20 people.
How much available site space do you have? Be sure to accurately measure the space where the unit will be placed before it is delivered. If there is any miscalculation in space, it will cost you time and money. Worst case scenario: you have to send the unit back and order a different size because it doesn't fit. Make sure you do your measurements ahead of time and do them twice, to avoid any mistakes!
How much usable space is available? Unfortunately, mobile office suppliers do not always list their measurements in the same way. That's why it is important to ask how much usable square footage the unit has. Some vendors will include the trailer hitch in the total square footage, even though it is obviously not usable space. Get both internal and external measurements so you can accurately calculate how much space you will need for the unit to fit on your site.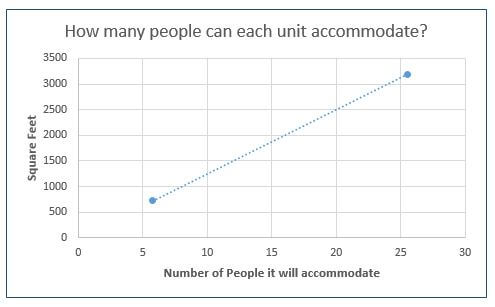 Features: Standard vs. Add-on
Most of the standard mobile office units include windows, basic lighting, vinyl floors, and HVAC. Anything beyond that is usually considered an add-on, which means you have to pay extra for it. Features like metal steps (which lead up to the above-ground entrance) and under-belly skirting (which covers the wheels of the trailer and deters rodents) are common add-ons. Most suppliers charge $20 to $50 to install steps and anywhere from $500 to $800 for metal skirting, depending on the square footage of the trailer. Many of the larger trailers include bathrooms in the standard package. But it's typically the renter's responsibility to connect the utilities, so be sure to arrange ahead of time for plumbers (or electricians, phone/Internet service technicians, etc.) to come in and make the connections once the unit has been installed. Plan to budget another $200 to $400 to set up utilities. Just like a house, all the little extras can quickly add up. It's helpful to list out what features are necessary vs. nice-to-have for your business. Remember, it is just a temporary space.
Common Add-ons:
Electricity/data connection
Interior finish-out (floors, shelves, desks, cabinets, lighting)
Wheelchair accessible ramp
Security cameras
Locking mechanism
Exterior finish-out (custom roofing, windows, entryway, etc.)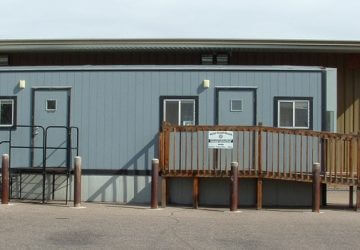 Should I Rent or Buy My Office Trailer?
Another common question people ask when shopping for a mobile office unit is: should I rent or buy? The answer: it depends on how long you will use the office. When to Rent
You need the unit for less than 3 years.
You can't afford (or don't want to spend) $20,000-$30,000 on a mobile office.
You prefer to pay a monthly fee of $200-$900 to rent ($2,400-$10,800 a year).
You don't want to own a mobile office for the long term.
Keep in mind that most dealers have at least a three-month minimum rental contract. Many will offer a discounted rate if you sign a lease for one year or more. When to Buy
You need the unit for more than 3 years (estimate the amount of time to break-even on the cost to rent vs. buy).
You can afford the $20,000-$30,000 to purchase and consider it a long-term investment for your business.
You plan to refurbish the unit and sell it for a higher price. (Most units hold their value if still in good condition).
You plan on transporting the unit to multiple sites on a frequent basis and have the equipment to handle the transport yourself (instead of having to pay for delivery every time you move the unit).
Note: If you purchase the unit, but later decide you want to sell it, many local suppliers are willing to buy it back from you. If not, you can use third-party sites like eBay and Craigslist to sell your unit. Interested in learning more about buying a mobile office? Read our Mobile Office Buyer's Guide.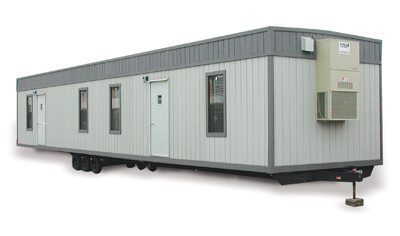 How Much Does a Mobile Office Cost to Rent?
The cost to rent a mobile office can range from $200 to $900 per month, depending on the size of unit you choose and any add-ons you purchase. Keep in mind that prices will vary per region and per supplier. Here is a cost estimate broken down by size
Small trailers (8' X 20') = $200 to $400 per month
Mid-sized trailers (10' X 40') = $300 to $500 per month
Large single-wide trailers (12' X 60') = $500 to $700 per month
NOTE: Mobile office prices usually go up during the spring and summer. Prices also vary by region, with the most expensive on the east and west coasts and the less expensive in the Midwest and southern states.
Mobile vs. Modular: Which do I Need?
You may notice the terms 'mobile' and 'modular' are often used interchangeably. This can be confusing, especially when the differences are not clear. The main difference is SIZE.

A mobile office is a temporary office that is:
Typically used for 24 months or less
Delivered by flatbed truck and trailer in one trip
Pre-assembled and ready to install upon delivery
Easy to prep the site beforehand
Made of lightweight materials (vinyl, metal, wood siding, etc.)
Easy to set-up and tear-down
A modular building is a temporary building that is:
Typically used on for 3 years or more
Made of multiple floors and adjoining structures
Assembled once onsite and may require welding, structural engineering, etc.
Made of permanent building materials (steel, concrete, stone)
A prefabricated design that makes it quick and easy to assemble (compared to a traditional stick build)
Ground Level Office (GLO) vs. Mobile Office (MO)
Another common question people ask is: what's the difference between a ground level office and a mobile office? Both provide temporary office space. So how are they different?
Answer: A GLO is a ground-level structure made of industrial-grade steel (formerly used as a shipping container). An MO is an above-ground structure made of wooden siding and vinyl flooring and sits on a wheels and chassis base. Because it is above ground, it has a ramp or stairs leading up to the entrance. Ground level offices are most commonly used on construction sites while mobile offices are more common among businesses such as car dealers and other retail businesses. However, shipping containers are becomingly increasingly popular for alternative uses. Containers as Livable Space. Don't know which way to go? Refer to the guidelines below.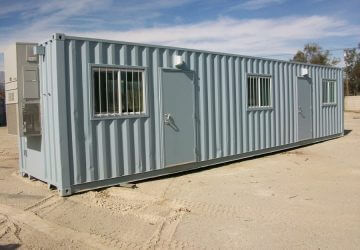 When to Choose a Mobile Office
You need a temporary structure that sits above ground (If your site is prone to flooding, shifting foundation, etc., this may be the best option).
You want a structure that looks like a traditional building (with siding, awnings, a roof, etc.).
You need a professional-looking space where you can meet with customers, clients, etc.
When to Choose a Ground Level Office
You want a heavy-duty weather-proof and thief-proof office (steel containers usually deter thieves due to their industrial appearance)
The exterior appearance of a shipping container office will not create a negative impression on your customers.
You just need a place that functions as an office. No bells or whistles.
You don't mind working out of a steel container.
Prepping your Site for Delivery
What kind of site prep is required before delivery?
Is the ground level?
Is the space clear? (debris, vegetation, branches or wires can interfere with delivery)
Is the site prone to flooding?
Is there enough space for the unit?
Can a flatbed truck and trailer access the site without difficulty (any narrow gates or fences, gravel roads, steep hills, etc.)?
Which direction do you want the office entrance to face (will affect how the unit is loaded onto the trailer)
What kind of surfaces can accommodate a mobile office? The weight of the delivery truck plus the mobile typically is 30,000 pounds or more. It's important to have a surface that can handle that amount of weight. The best surfaces for a mobile office include:
Stone-paved (best)
Asphalt
Cement
Gravel
What if my site is soft terrain?   If your site is grass or some other kind of soft surface, you will need to support the mobile office with a sturdy foundation to prevent sinkage and shifting. Foundation options include:
Railroad ties
Hardwood piles
Concrete or gravel bed
Asphalt paving
Piles of railroad ties
How Much Space Do I Need?   For a 40-foot mobile office trailer, you will need to accommodate a 20-foot tall, 12-foot wide, 100-foot long flatbed trailer. For ground level offices (storage containers), the site needs to be big enough to fit the office, plus 120 feet of ground clearance to unload the unit. During delivery, the truck will back up to the site and roll the office off the back. You should plan on having an extra 5 or 6 feet of length available in addition to the exact length of the unit. This will allow for a little breathing room to make the delivery smooth. Since most mobile office trailers are on wheels, they are fairly easy to position once on the site.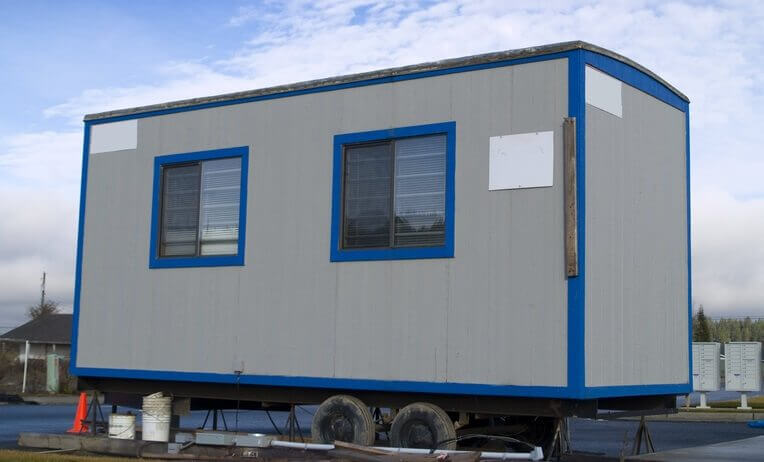 Delivery of your Mobile Office Trailer
How much does it cost to deliver the unit? In addition to paying a monthly fee of $100-$500 to rent the unit, you should plan to budget about $1,000 to $1,500 for delivery and setup and another $300 to $1,000 to remove the unit (depending on the size of the unit and accessibility/terrain of your site). Note: The further the distance your site is from the supplier, the more you are going to pay for delivery. Suppliers typically charge a flat fee within a certain mile radius, then an additional fee beyond that. That's why it's important to find a supplier near you, to be able to cut down on delivery costs if you can. You can save a significant amount by working with someone local. Be sure to ask the supplier for a delivery fee quote based on the ratio of dollars-per-mile to distance in miles. The ideal vendor is one that offers low unit cost and low delivery fees. Just make sure you are not forsaking quality for a lower price. Most suppliers will let you tour their production facility to view their products before you make a decision. What is the delivery process? Once your mobile office unit has been delivered and positioned on your site, the delivery team will block and level the unit, anchor it to the ground, and install any add-ons that you requested, such as decks, ADA-compliant ramps, and skirting. Be sure to carefully inspect the unit for any damage that could have occurred during transportation, offloading or set-up before the delivery team leaves your property. How long does it take to deliver the unit? Delivery times vary, from same-day delivery to a few days or maybe even weeks. Factors that influence the speed of delivery include:
Distance between your site and the mobile office factory
Supplier's delivery schedule
Availability of your requested unit
Extent of customized features added to the unit
Insurance Coverage
Damage and Liability Some mobile office suppliers offer insurance coverage for their rental units that can protect you from third-party claims for property damage and bodily injury. Other suppliers offer a damage waiver option, which will cover damages to the rental unit or its attachments beyond a certain minimum amount. But be aware that every supplier is different when it comes to insurance coverage. If having good coverage is important to you, be sure to contact several suppliers in your area to find one that best meets your coverage needs and budget. Theft Anytime there is a structure that is unoccupied for hours at a time, especially overnight, there is a greater chance of theft. The best way to ensure your stuff is safe: invest in a good lock. Many suppliers offer high-end locking mechanisms for an additional price. If you are trying to decide which add-on features to purchase, this is one that is well worth your money. A good lock can make all the difference in the world when it comes to theft. A dinky little padlock probably won't stop a determined thief, but a multi-rod interior lock sure will! If your container has windows, you might also consider adding metal bars to deter thieves. Many businesses use their mobile units to store valuable equipment, machinery, and supplies on their job site. If those items are stolen, that can be a huge financial loss for the business – not only to replace the stolen equipment but also to cover lost time on the job until the equipment can be replaced.
How to Choose a Supplier
Once you are ready to start shopping for a mobile office, it's time to talk about finding the right supplier. Here are some questions you can ask to help you determine the quality of service offered by potential suppliers:
How long have you been in business?
What kind of mobile offices do you offer (sizes, configuration, features)?
Which features are included and which are add-ons?
Where do you get your office trailers? (direct from manufacturer or second party?)
Where do you store your MO's and under what conditions (covered facility, outdoors, mild/harsh weather, etc.)?
Do you offer a range of conditions? (new, used, refurbished, etc.)
Does the cost vary depending on condition?
How much do you charge for delivery?
How long does it take for the MO to arrive on my site once I place an order?
What is the process of removing the MO? How long does that take?
Do you offer a better rate if I sign a longer term contract?
What are your hours of availability?
How do you handle emergency situations (flooding, theft, etc.)?
Do you offer a liability waiver or insurance coverage?
How do your prices compare to other suppliers (then ask WHY their prices are higher or lower)?
Are you listed in the Better Business Bureau?
Where can I find online reviews and/or customer testimonials on your business?
How long does it take to speak to a live person?
Are they knowledgeable, helpful and polite?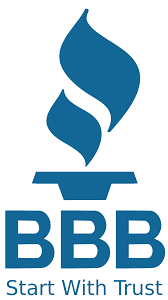 Table of Contents
Related Articles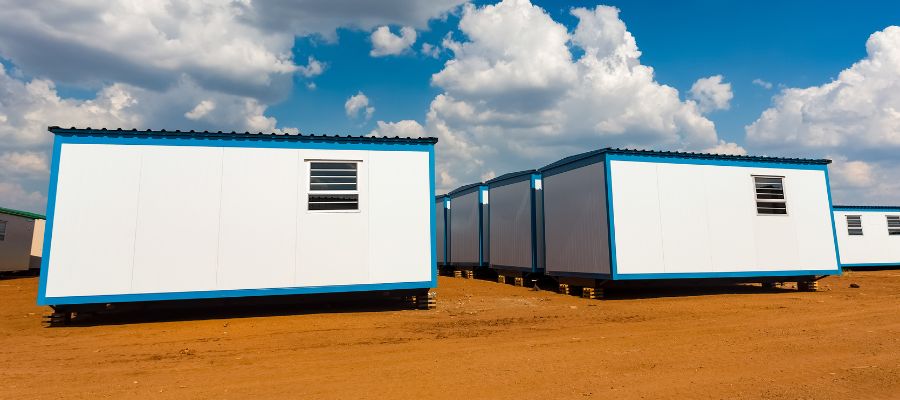 8×24 Office Trailer
8×24 mobile office trailers are some of the most common sizes used by companies for their temporary office space needs. If you are looking for an 8×24 office trailer and want to know information like dimensions, benefits, cost, and more, we've got you covered. Dimensions of an 8×24 Office Trailer  The length of the office […]
Read more