For most construction companies, you live and die by your ability to bid on projects. Knowing the right way to bid and targeting the right jobs is one of the most important keys to success. Construction bids often take multiple team members and hours to plan, where you must define variables such as:
Project scope and definitions
Price estimates
Scope of labor needed
Clear directions for the completion of the project
Accurate documentation
While big companies can have specialized teams to handle these tasks, much smaller companies must have to tackle these bids without that dedicated support. Having a guide for how to bid on construction projects can help your small business be more professional. A routine system can also help you tackle bigger and bigger projects. Here's our helpful guide on the 6 steps to bid on construction projects.
Steps
Understand the Project Requirements
Conducting a Site Visit
Estimating Costs
Preparing the Bid Proposal
Submitting the Bid
Following Up
Step 1: Understand the Project Requirements
Most construction companies will follow the design-bid-build model, which means that a project manager will first have the design made for the project by an architect or engineer. After they have these blueprints, the bid process usually starts. Once this bid process starts, it's incredibly important to review project requirements.
Make a list of all the requirements of the project and see if your company can handle those requirements. Identify your strengths and weaknesses with this project and how you can overcome them. Determine which materials, tasks, and special conditions are involved in the project by reading the request for proposals (RFP). Don't hesitate to reach out to the project manager if something doesn't make sense. Doing this can help you define how you will tackle this project and if you need any special tools like software.
Step 2: Conducting a Site Visit
It's best to make no assumptions when creating a bid. This allows you to truly customize your bid to a specific construction job. You should take a site visit as your next step because this can give you a better understanding when creating your bid. Sometimes this is mandatory for some projects, but not always. Conducting a site visit can also help you adapt to the challenges and weather conditions of the site. Site visits may also allow you to ask questions, find better tools for a project, and better prepare your bid. This is one of the most important steps on how to bid on construction projects.
Step 3: Estimating Costs
Oftentimes, the cheapest bid wins the project. However, you want to be as transparent as possible. You'll want to identify costs such as:
Material Costs:
Lumber and framing materials
Concrete and masonry supplies
Plumbing materials (pipes, fixtures, etc.)
Electrical materials (wiring, switches, outlets, etc.)
Roofing materials (shingles, underlayment, etc.)
Flooring materials (carpet, tile, hardwood, etc.)
Paint and finishing supplies
Windows and doors
Hardware and fasteners
Labor Costs:
Wages for construction workers
Wages for skilled tradespeople (electricians, plumbers, etc.)
Wages for supervisors and project managers
Overtime pay, if applicable
Equipment Costs:
Rental or purchase of construction equipment (excavators, cranes, etc.)
Rental or purchase of tools and machinery (saws, drills, etc.)
Equipment maintenance and repair costs
Overhead Costs:
Office expenses (rent, utilities, office supplies, etc.)
Insurance premiums (liability, workers' compensation, etc.)
Permit and licensing fees
Vehicle and transportation expenses
Profit Margin:
Percentage of profit added to the total costs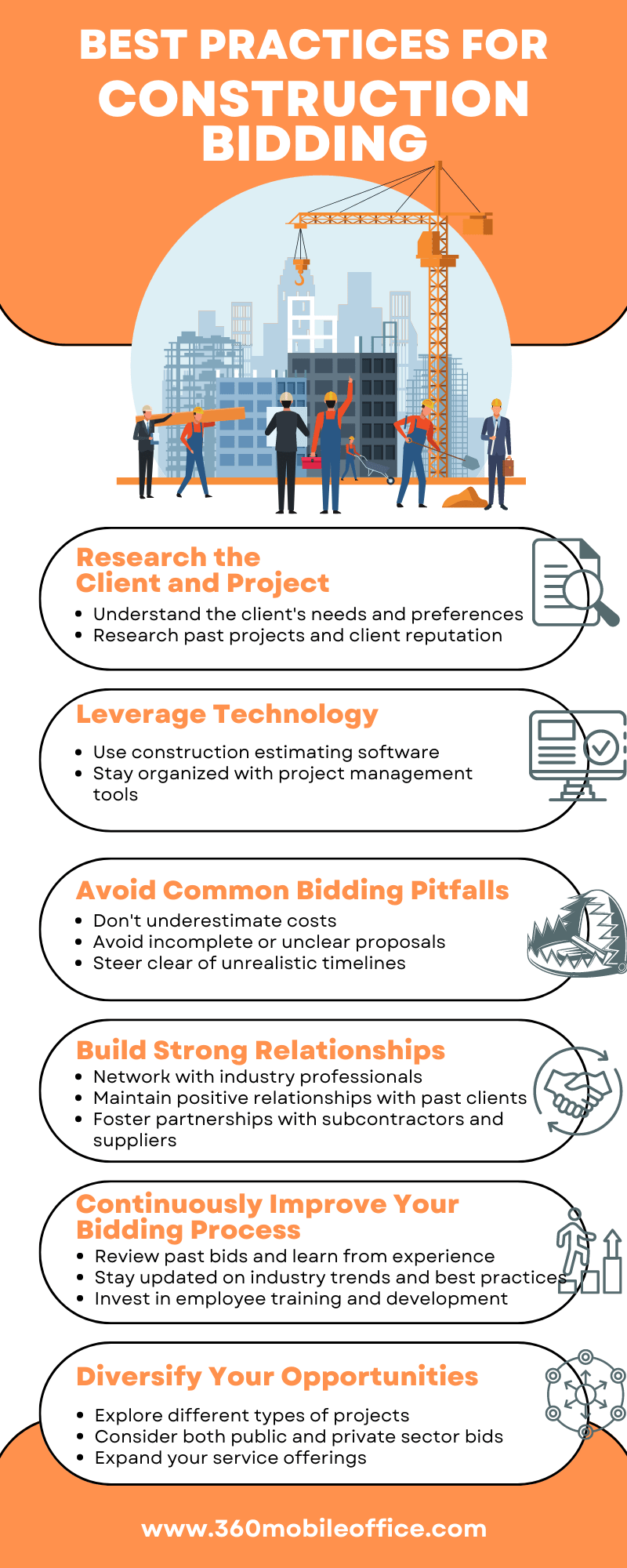 Step 4: Preparing the Bid Proposal
Now that you have done your due diligence with understanding the proposal, visiting the site, and estimating costs, you're ready to tackle the bid! Your proposal should clearly outline the scope of work, pricing, and project timeline. Oftentimes small businesses will use free construction bidding templates to help themselves stay on track. This can be a great starting point to create your bids and outline your project. Most bid proposals are created in software like Excel™ and Google Sheets™.
You'll also want to ensure that you have followed all the guidelines for the documents required. Some jobs may have special documents or certifications required. This is especially true when it comes to government work. Make sure you know exactly what you need before submitting.
Step 5: Submitting the Bid
Once you have completed your bid, take a break, and come back to it with fresh eyes. Review your bid and make sure you have all the correct information, pricing, and documentation. Make sure you submit the bid in the proper manner and according to the guidelines set out by the project manager. Knowing how to bid on construction projects is knowing the best methods for submitting your project.
Incorrect formatting, repeated errors, and late submissions can all disqualify your bid from ever being seen. It doesn't matter if you are the best business for the job if you don't bid properly.
Step 6. Following Up
Lastly, make sure to follow up with the project manager and ask if they have any questions or requests. Be prepared to provide additional information or clarification as needed. Demonstrating expertise and responsiveness can instill confidence in your ability to deliver on the project.
Also, try to stay up to date with the latest timeline for the project. Inquire about the next steps in the selection process and express your willingness to participate in further discussions or negotiations.
Need Help with Your Construction Project?
Successful bidding is the key to unlocking new opportunities and growing your construction business. By following the steps outlined in this guide, you can confidently navigate the bidding process and position your company for success. If you are looking for tools for your next construction job, then look no further! 360MobileOffice can help you find the perfect mobile office for your construction site. Just fill out our 1–2-minute form and you'll receive up to 5 quotes all for free! It's that simple!