What are My Options?
If you plan on working out of a mobile office, investing in a high-quality HVAC system is a must. No one wants to deal with the hassle of having their AC go out during a busy work day. HVAC is usually included with mobile office rentals and purchases. But the quality of the system will, of course, vary from supplier to supplier. Learn more to find out which HVAC system is right for you.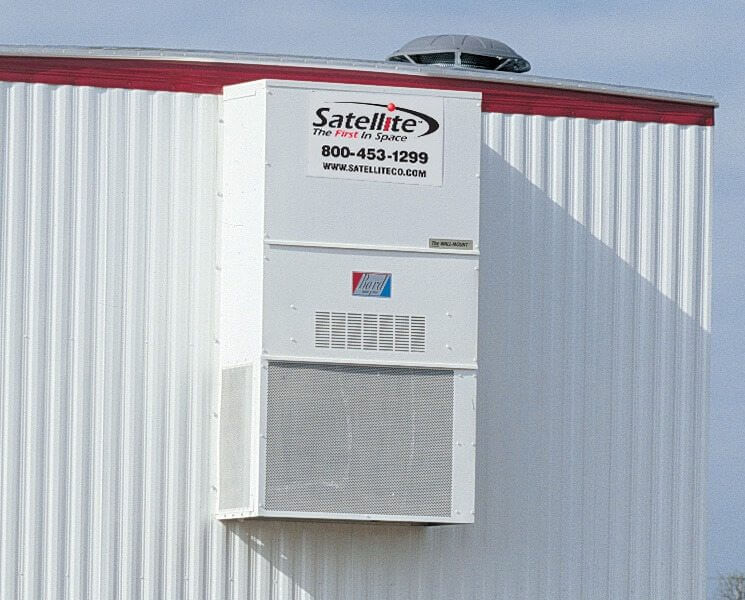 Do mobile office trailers typically come with an HVAC system?
Yes. Heating, ventilating, and air conditioning (HVAC) is commonly available in mobile office trailers. It is basically industry standard at this point. Some suppliers only sell units that have HVAC. Some units have electrical baseboard heating and an air conditioning unit in the wall. If you want a mobile office trailer with an HVAC system, make sure you tell the dealer about your request upfront. They should have a mobile office HVAC option available for you, but it's best to confirm ahead of time.
What kind of HVAC systems come in mobile office trailers?
Most standard mobile office trailers come with HVAC systems that include all of the following:
An air conditioning system, ranging from 8,000 to 10,000-BTU Air Conditioners*
1,500-watt baseboard heater
2.5 ton thru-wall commercial HVAC unit with 5 to 10 kilowatts of heat
*A BTU is a unit of energy needed to heat or cool one pound of water by 1 degree Fahrenheit. It takes between 20 to 60 BTUs per square foot to heat or cool a room, depending on the climate.

Generally, mobile office trailers will have an HVAC system designed for the conditions of your region. If you live in a hot or cold climate, the HVAC system is designed to generate enough power to maintain a comfortable level of heat or coolness.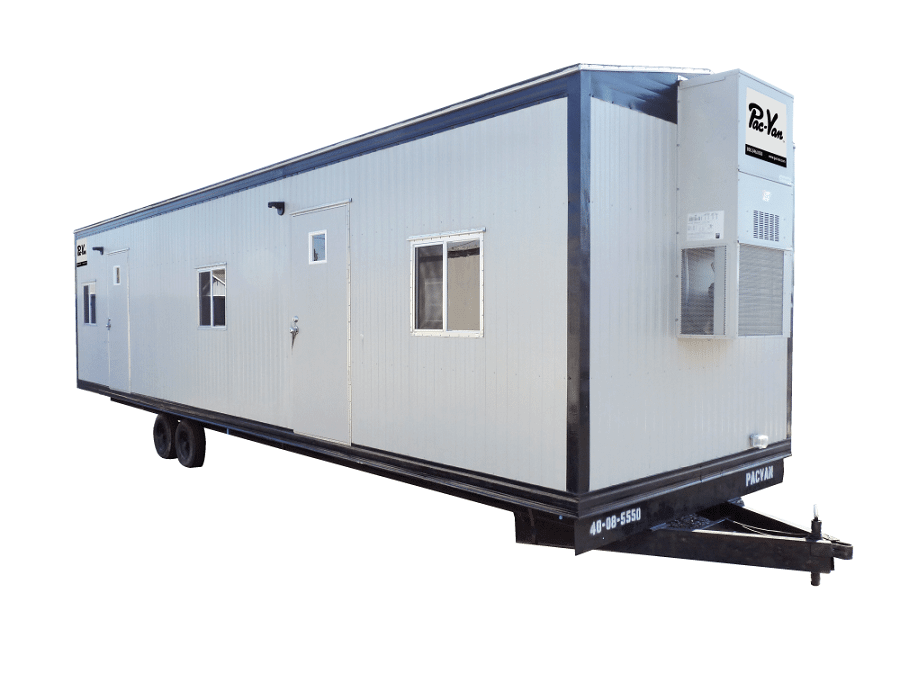 Where are the HVAC units mounted in a mobile office trailer?
Usually, HVAC units are mounted to the front wall, opposite the double doors. Sometimes the HVAC unit has to be mounted on one of the sidewalls. In those instances, the supplier may have to cut a hole in the unit. In that case, it would be the customer's responsibility to install the unit after delivery. However, that is very uncommon.
How do I know which system I need?
For heating, 7 watts of heat per square foot of floor area is typical. Instead of electrical baseboard heating, you can opt for wall-mounted fan-forced heaters. When deciding between the two options, some factors to consider are:
Estimated occupancy
Square footage
Usage
For air conditioning, the BTUs should be adjusted based on the occupancy level. The BTUs should be set to about 500 per person in the room, but can be adjusted according to your comfort level. The number of people you expect in the unit should help determine what kind of system you will need.