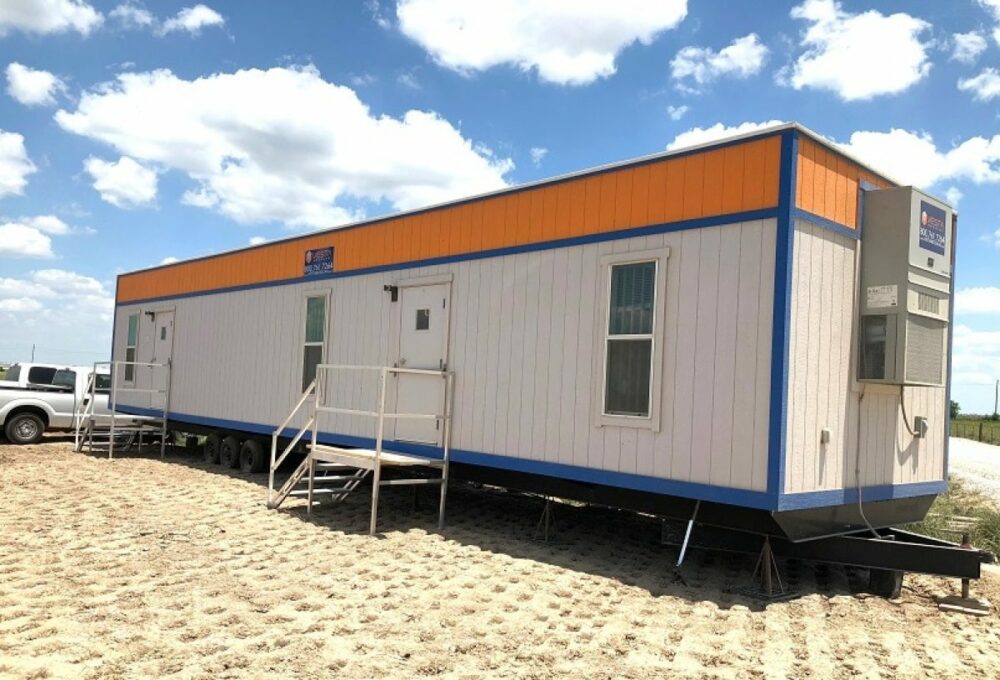 12×60 mobile office trailers are some of the most common mobile offices on the market. These trailers provide enough space for a couple of workers to meet as well as conduct office work. If you are looking for information on 12×60 office trailers including dimensions, cost breakdown, and more, we've got you covered.  
12×60 Office Trailer Dimensions
Length of office trailer: 60 feet including the hitch with the actual trailer size being 56 feet
Width of office trailer: 12 feet wide
Ceiling height: 8ft tall on average
Usable space: Averages around 670ft-730ft in the unit
12×60 Office Trailer Use Cases
For most 12×60 mobile office trailers, you most likely get a layout with 1-2 offices, a bathroom, a kitchenette, and a meeting space. This type of layout is productive for many different industries including but not limited to:
Construction Site Offices
Temporary Retail Locations
Field Offices for Surveyors
Field Offices for Surveyors
Security Stations
Healthcare Clinics
Education Centers and Classrooms
Film and TV Production Offices
Real Estate Sales Centers
Oil and Gas Exploration
Government and Municipal
Event Management and Planning
Transportation and Logistics
Agricultural Operations
Most, if not all, of these industries could benefit from the temporary office space that a 12×60 office trailer. These trailers also come with a wealth of features to provide the same benefits as permanent office space.
12×60 Office Trailer Common Features
While not every manufacturer or supplier of office trailers includes the same list of features, there are some general features you can expect from most products. Also, if you need a specific feature or a custom feature, suppliers can sometimes do that although it will cost you more. Here are some common features you can expect:
HVAC systems available
Electrical hookups and outlets
Indoor lighting
Windows
Carpet, vinyl, or laminate flooring
Insulation
Kitchenette area (sink, microwave, refrigerator)
Restrooms
Steps and ramps
Shelving and cabinetry
Fire extinguishers and smoke detector
Average Cost of 12×60 Office Trailer
Most companies will choose or lease a mobile office trailer. This is because it is often cheaper to rent and have the office trailer installed for you. Otherwise, not only do you have to pay for the mobile office, but you have to bear all the costs for storage, general maintenance, upgrades, and purchasing of furniture and other items. With leasing, the office trailer is delivered to your site, and you pay some flat fees and monthly fees for the mobile office.
Cost will be determined by a couple of different factors:
Features you need
Length of contract
Cost of setup and maintenance
Furthermore, most companies will rent a mobile office trailer from a provider.
| | |
| --- | --- |
| Feature/Size | Average Cost Range |
| 12′ X 60′ trailer (standard single wide) | $300-$700 per month |
| Delivery and setup charges | $1,000-$5,000 |
| Removal costs | $300-$1,000 |
Why Lease?
Leasing also has more benefits to offer, specifically:
Flexibility: Leasing mobile offices offers adaptability in terms of location. They are designed for easy transportation, allowing businesses to have an office and not have to invest in a bunch of infrastructure for the item.
Easily portable: Office trailers can be moved to different locations on a job site or to different locations altogether. Their versatility makes them ideal for businesses with multiple locations or changing needs.
Quick Setup: Leasing a mobile office is a fast and convenient option, providing extra space for businesses in a short amount of time.
Digital Adaptability: As digital businesses grow, trailers can be used as mobile offices for entrepreneurs to set up shop wherever they want, catering to the needs of remote work.
12×60 Delivery Process
Each supplier has their specific way of doing things, however, there is a general guideline that most places follow.
Determine Space Needs: It is critical to evaluate the space needs before beginning the delivery process. Consider the amount of people who will work in the office, the equipment and furniture required, and any unique requirements such as ADA compliance or high-security measures.
Site Preparation: The location for the mobile office trailer must be prepared before it is delivered. This includes making sure the land is level, not prone to flooding, and free of any obstructions. Some businesses may require the site to be removed and leveled, while others may manage this themselves.
Delivery: Typically, the mobile office is supplied on an 18-wheeler tractor-trailer. The delivery time can vary depending on the source and the distance. Some providers may be able to supply the office trailer within a few days, while others may take longer, especially if there are any alterations or special demands.
Setup: Once the trailer arrives at the site, it will be set up, which might involve mounting it on cinder blocks to stabilize and level the structure. If the mobile office trailer includes facilities such as sinks and toilets, they must be connected to the site's existing water and sewer connections. This is usually done after the trailer has been delivered and set up.
Final Inspection: Following the completion of the setup and connections, a final check will be performed to confirm that everything is in order and the office is ready for use.
Handover: After everything has been set up and inspected, the keys to the mobile office trailer are given over to the renting company, and it is ready for usage.
Need a 12×60 Office Trailer?
Are you looking for a 12×60 mobile office trailer for your company? Need it with certain features or specific standards? Don't worry, 360MobileOffice can help you find the right supplier! Just fill out our 1–2-minute form and we'll contact you to verify your information and needs. From there you can relax as up to 5 suppliers will reach out with quotes! This process is 100% free and is easy to use.