Need a Jobsite trailer to plan your construction? 360MobileOffice has you covered! Find out here!
Construction management is a valuable tool for clients in stakeholders when it comes to the construction of a building. Construction management is the process of developing, planning, designing, and overseeing a construction project. This is the lead person that manages all the facets of a construction job.
A construction manager is important because it facilitates communication and direction between all responsible parties during the project. According to Truity, a construction manager may tackle such duties as:
Develop cost estimates, budgets, schedules for completed work
Explain contracts and information to stakeholders, construction crews, etc.
Create Schedule and upkeep of scheduling
Assess risk and design a risk-averse plan
Report and maintain the progress of construction build
Choosing subcontractors and designing their duties
Manage and respond to delays, emergencies, and setbacks
Follow legal requirements for building and safety codes
Construction managers are vital to maintaining a safe and productive work environment.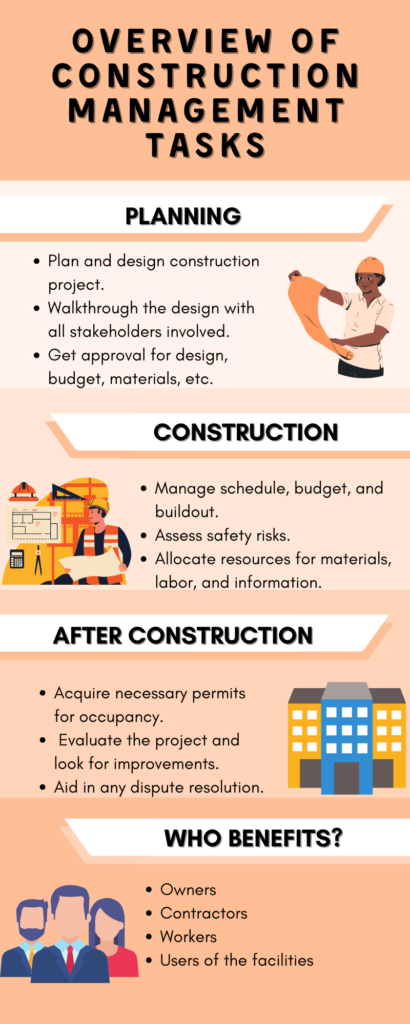 Reasons for Construction Management:
1. Scheduling and Planning
An ounce of prevention is worth a pound of cure, and that's even more true when it comes to construction. Construction managers are critical when it comes to construction planning. The construction manager will work hand in hand with the owner and stakeholders to detail the entire process of the build. This means that they will help define measurable goals, negotiate with contractors, and communicate all procedures of the plan with everyone involved. They may also help design a risk assessment plan to negate losses or time delays. Common tasks could be:
Defining goals and metrics for success
Budget including materials, labor, and risks
Timeline of project
2. Staying on Schedule During Construction
Talk to just about any construction manager and they'll tell you how costly going off schedule can be. Delays in materials, labor, or any other facet will significantly change the cost of the construction. Not to mention, missed deadlines can result in revenue being lost or incentives being missed. Construction managers keep projects on track. They'll communicate with all the contractors involved to minimize delays as much as possible. Additionally, they will work around delays and try to pinpoint them before they happen.
3. Quality Control
Even when all contractors involved are highly reputable, not all aspects of a job will go according to plan. When that happens, it's the construction manager's job to identify those hiccups and work around them. Furthermore, a construction manager may conduct site investigations, ensure safety requirements, and approve changes with the overall construction plan to ensure stability with the construction project. This part of construction management is one of the most critical parts for ensuring construction happens and is a necessary reason for construction management.
4. Management of Supplies and Materials
Construction management is a necessity for managing suppliers and materials for a job. That may be the navigation of suppliers, finding cheaper alternatives, or negotiating deals during a delay. Construction managers will administer these resources depending on the type of job and schedule. This is vital for keeping the project on schedule and on budget.
5. Keep Everyone in the Loop
Even if your construction project is very small, communication problems can occur. When communication breaks down, delays occur, or mistakes are made. A good construction manager eliminates these problems by keeping consistent communication among all parties involved. They may do this through regular meetings or by setting clear agenda for each contractor.
6. Staying on Clear Budget
Most construction managers will estimate costs, draft budgets, and track spending throughout a project. They will then communicate this information to the client, contractors, and any other stakeholders. It is critical that construction managers accurately account for costs and budget setbacks when it comes to delays. Doing so will result in projects adapting to circumstances or adjusting to new timelines. A construction manager may allocate resources in a different way to account for costs or lost time. Early detection of missed deadlines are failed construction will help construction managers spot budget problems early on and adjust.
If you found this article helpful in any way, let us know! If you are a construction manager and are in the market for a mobile office we've got you covered! Just fill out our form and we'll contact you about high-quality suppliers in your area.